The public have been overjoyed with the news this week that many businesses not essential to life, but nonetheless essential to feelings of well-being and normality can open from 4th July. These include pubs, restaurants, hairdressers and, of course, bingo halls.
There has been some confusion among the public and business owners though with the mixed messages surrounding the businesses which are excluded from the list. For instance, while hairdressers can open, nail bars and beauty salons cannot, cinemas and theatres can, but exhibition centres cannot. Among the most contradictory is the fact that bingo halls can open, but casinos cannot. This means that while Rank benefit from the re-opening of Mecca Bingo Halls, its Grosvenor Casino doors must remain closed.
This has proved a big disappointment to the Rank Group and its Chief Executive, John O'Reilly, has been outlining the reasons why. The main one being that they have already taken every precaution possible in the Grosvenor Casino outlets – he said, "Right now, our COVID-safe casinos are all dressed up, but our loyal and patient customers have nowhere to go."
Precautions in place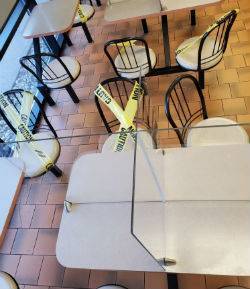 All the possible advice has been taken within the environments of the casinos to ensure that they were ready to open their doors at a moment's notice:
Perspex dividers installed between machines
Perspex screens placed between seated positions at blackjack and roulette tables and at the bar.
Firm procedures for the handling and cleaning of chips and the disposal of cards
Social distancing signage and hand sanitiser stations installed.
Both Grosvenor and Mecca venues have worked in collaboration with the Betting and Gaming Council (BGC) and the DCMS to ensure that all the recommended health and safety measures to ensure player safety are in place.
O'Reilly said,
"Being excluded from the 4th July tranche of businesses, therefore, came as a blow. We're struggling to understand the rationale but rather than dwell on the injustice of the decision.
"We've spent considerable time, money and effort in the past three months preparing our casinos for the safest possible reopening. Customers will not visit venues which they consider to be unsafe and it is very much our job to provide environments which will reassure both our colleagues and our customers by being as safe as they possibly can be."
Business costs outweigh Government support
He went on:
"We've been enormously grateful for government support, primarily through the CJRS, but in order to ready ourselves for reopening we have had to put costs back into the business.
"At Rank, we are burning cash at a rate of £10m per month, even accounting for digital revenues. For every day that our Grosvenor casinos remain closed, the liquidity on our balance sheet is being drained. At the same time, we remain reliant on the Government's furlough payments for the vast majority of our 4600 Grosvenor colleagues which is costing £1.5m every week.
"We are every bit as keen as the Chancellor is to get colleagues out of furlough, back to work safely, and start generating revenues which will deliver tax receipts to the Treasury and get the cash flow moving in the right direction."