Hey, granddad (or grandma)! Do you still sit down each evening, flick on the TV and tune to a single channel, and then watch whatever rubbish is on there? Man, you are soooo stuck in the past! Have you not heard of Netflix, or Amazon Prime Video, or Disney+? There are loads of streaming providers, meaning you can watch what you want, when you want to watch it, and using your Smart TV, tablet, or even your phone!
If you are looking for a comedy to binge-watch, then there's no better comedy to obsess about then 'Friends'. All TEN series of the classic US comedy – that's 236 episodes – are currently available on Netflix UK for you to watch whenever you desire to join those six hot-looking guys and gals in their desirable Manhattan residence.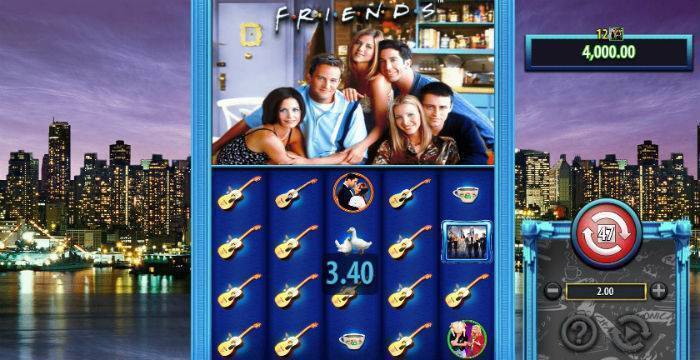 Friends has proven to be so popular there's even now a Friends slot game, created by WMS and released by Scientific Games. It's a 5 reel, 4-row slot with 40 pay lines and plenty of bonus features. Thankfully there's no favouritism with the symbols as the 'friends' themselves only appear in groups on the reels.
At some GVC bingo sites, operated by Electraworks, you'll also find 'Friends Bingo'! With this bingo game you can choose your favourite Friends character, and if that character has the most balls drawn (out of the 90 available) during a game you win a share of the Friends team jackpot.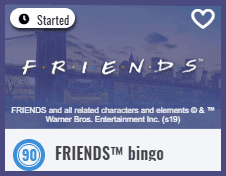 You may, of course, already be something of a Friends aficionado, having enjoyed the ups and downs in the lives of Rachel, Monica, Pheobe, Joey, Chandler and Ross several times over! If you are new to the show, then you are really in for a treat!
Did you know –
The cast might have looked very different, but for certain quirks of fate that brought our six famous 'friends' together:
Ross – Eric McCormack (Will and Grace)
Monica – Leah Rimini (King of Queens)
Chandler – Jon Cryer (Two and a Half Men)
Rachel – Tea Leoni (Madam Secretary)
Joey – Vince Vaughn (Too many films to mention)
Phoebe – Ellen DeGeneres (Ellen and chat show host)

Whether you're a Friends newb or not, why not try our fun quiz to test your Friends-ly knowledge? It's split into 'Newb', 'Pro' and 'Expert' levels, and the questions get more fiendish as the quiz progresses! Good luck!
Let's get started! Here are questions for Newbs!
[1] Which park in New York City do the friends in 'Friends' live close to?
A)Yosemite National Park
B)Central Park
C)Regent's Park
[2] Which of the following was NOT a regular 'Friends' cast member?
A) Matthew Perry
B) Lisa Kudrow
C) Alec Baldwin
[3] Who performed the famous 'Friends' theme tune?
A) The Rembrandts
B) The Picassos
C) The Salvador Dalis
[4] What's the name of the manager of the 'Central Perk' coffee house?
A) Gunther
B) Gerhard
C) Geoffrey
[5] The name of each episode in 'Friends' always begins with …
A) This episode …
B) The one with …
C) The episodes have no names
Okay, so those were easy-peasy! Here are some Qs that may get you scratching your head!
[6] Ross had an unusual pet. What kind of animal was it?
A) Monkey
B) Salamander
C) Chicken
[7] 'Dippy' Phoebe performed a classic song many times during the show. What was it called?
A) Stinky Dog
B) Odorous Otter
C) Smelly Cat
[8] What was the name of Joey's imaginary friend?
A) Maurice, the Space Cowboy
B) Jojo, the Giant Rabbit
C) Lenny, the Friendly Dragon
[9] Which actor made occasional appearances as Ross's father, Jack?
A) Eugene Levy
B) Elliott Gould
C) Eddie Izzard
[10] Which 'Friends' actress was the first to play a role in an episode of 'The Simpsons'?
A) Courtney Cox
B) Jennifer Aniston
C) Lisa Kudrow
Think you're a Friends brainiac? Then try these tricky teasers!
[11] What was the name of the UK comedy series in which Matt LeBlanc starred alongside Steven Mangan and Tamsin Greig?
A) Series
B) Episodes
C) Serials
[12] Where is 'Mama's Little Bakery', Monica's favourite place to get cheesecake?
A) Chicago, Illinois
B) Philadelphia, Pennsylvania
C) Tampa, Florida
[13] In 2020 Courtney Cox played herself in which long-running US sitcom?
A) Modern Family
B) The Big Bang Theory
C) Brooklyn Nine-Nine
[14] In which sport was Lisa Kudrow something of a superstar during her time in education?
A) Lacrosse
B) Tae Kwon Do
C) Tennis
[15] Which character says the final-ever line in the final-ever episode of Friends?
A) Chandler
B) Monica
C) Rachel
Answers: [1] B; [2] C; [3] A; [4] A; [5] B; [6] A; [7] C; [8] A; [9] B; [10] C; [11] B; [12] A; [13] A; [14] C; [15] A.
How do you rate?:
11-15 – You got a friend in me.
6-10 – I'm breaking up with you, but we can still be friends.
1-5 – Consider yourself unfriended.