Urgh, January. Unless you have a birthday in January there is absolutely nothing good that can be said for January. February has Valentine's Day, March has Easter and April heralds the real start of spring. January is just … January – a month slap bang in the middle of winter with absolutely nothing going for it, and killjoys now adding 'Dry January' and ''Vegan-uary' to the mix!
Here are some good news stories that happened in January's past that should give you something to smile about as you look out of the window at the grey skies and try and summon the will to actually get out of bed.
Jan 2019 – Hotel Staff send photo updates from little boy's teddy bear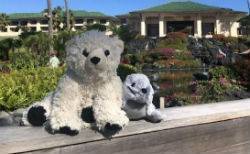 When Anna Pickard's little boy Doozer returned home with her from their New Year vacation in Hawaii, he found to his horror that he had left his best friend – Sutro, his teddy bear – behind.
Without much hope, Anna emailed the hotel – the Grand Hyatt Kauai – to see if Sutro could be found. To her amazement, the hotel replied and said that Sutro was thoroughly enjoying his extended stay, and sent photos of the white bear in the spa, and doing his laundry.
They even sent a photo of Sutro – plus a cuddly seal buddy he had made on the trip – checking out. Eventually Sutro and his seal pal were safely posted back to Doozer. It is unclear as to whether the Grand Hyatt Kauai billed Sutro for his extended vacation.
Jan 2018 – Man asks woman to marry him – turns out … well … read on!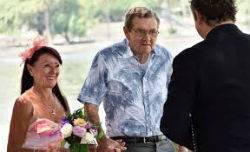 Alzheimer's is a terrible disease, but its good to know that no matter how forgetful a person becomes because of its effects, the 'core' of the person seems to remain intact.
One night, Michael Joyce of Frankton, New Zealand, awoke in bed and was amazed to discover a woman he didn't know in bed with him. Michael did the only thing he could think of to do – he asked the woman to marry him. To his delight, amazement and possible relief, she said that she would.
The next morning Michael asked his new fiancé when they were "doing this". The lady in question, named Linda, suggested the forthcoming weekend, to which Michael happily agreed.
The twist in all this – if you haven't guessed – is that 'Linda' is 'Linda Joyce', Michael's wife of 38 years, whose relationship to him Alzheimer's suffer Michael had forgotten. They successfully renewed their marriage vows on January 20th, 2018. Most of the people involved in the marriage renewal ceremony offered their services for free.
Jan 2017 – Woman cries over spilt milk – 'Car Park Gran' to the rescue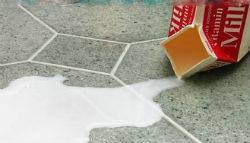 An unnamed woman reached the end of her tether on New Year's Eve in December 2016. Her and her husband were going through a difficult patch financially, and were preparing to celebrate NYE in as frugal a way as possible – just them, their two little boys and a few snacks. The lady discovered she'd no milk in and with her husband at work, she battled NYE traffic to drive to her nearest supermarket in Essexville, Michigan, with two tired and crying children in the back.
After escorting the boys through the maze of shoppers and settling them (still crying) back in their car seats, the unlucky mum dropped the milk she'd just bought. The bottle split and the milk splashed all over the car park.
It was all the lady could take … she stood at her car door with her wails mingling with those of her sons.
Step up 'Car Park Gran'. A senior appeared from nowhere and offered to go in a buy a fresh carton of milk, not taking 'no' for an answer. She wouldn't even take payment for the milk.
A lesson learned – sometimes there is a use crying over spilt milk.
Jan 2016 – Pianist forms new band … at the age of 93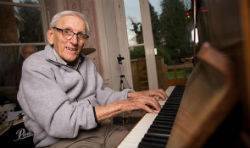 Despite knowing he was moving towards the end of his life jazz pianist Edward Hardy was determined never to stop making music. The trouble is, he had no one left to play with. Edward had played in a jazz quartet for 40 years but all of his fellow band members had passed on.
Edward – and his piano – had recently moved into the Mellifont Abbey Care Home in Wookey, Somerset as he had being diagnosed as suffering from the onset of dementia. After hearing of his love of jazz, care worker Sam Kinsella placed an advert online seeking new members for Edward's band.
To both Edward and Sam's amazement they received 80 offers of musical help – but what was even more astonishing is that three of them came from former band mates, all of whom Edward had not seen for almost 40 years.
The band – with a combined age well over 300 – played one final gig at the Mellifont Abbey Care Home – before Edward finally allowed his jazz hands into retirement.
We are all about the fun here at WhichBingo, so stay with us through January and all 2020 for the best news and views around.