Love it or hate it, a lot of effort went into the production of the 2020 WhichBingo Awards. We know the event will have had the 'Marmite' effect for a lot of people – you either got it and went along or thought 'What are WhichBingo thinking?' We were thinking we wanted to entertain people and have some fun along the way, while recognising the hard work of all the best UK bingo sites around today.
Professionalism Personified
We know first-hand how much work went into the production of the awards ceremony as we were present for the main filming. It's really amazing how professional our celebrities really are! We all know that Linda Lusardi was very ill with Covid-19, although she is now, thankfully, fully recovered. Rustie Lee is awaiting a hip operation and Christopher Biggins needs a new knee! We are very grateful that both battled through the pain to bring us the bingo entertainment event of the year!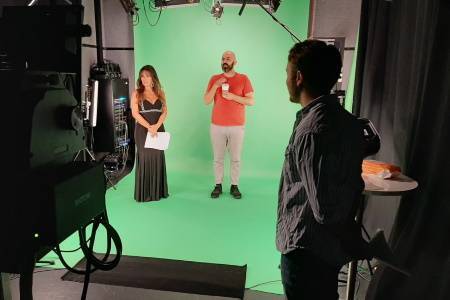 Even more indicative of their professionalism is that, from a basic script, they used their years of experience and obvious close friendship to make the lines come to life and added many of their own.
The wardrobe wasn't extensive and the celebs even provided many of their own costumes. Kudos to Linda Lusardi in particular who put together numerous film-related costumes like Dorothy from the Wizard of Oz when our original theme was going to be epic films – copyright got in the way unfortunately, you would have loved it! We loved the air hostess clip and couldn't believe the transformation from glamorous awards hostess to chic cabin crew which she did in the blink of an eye.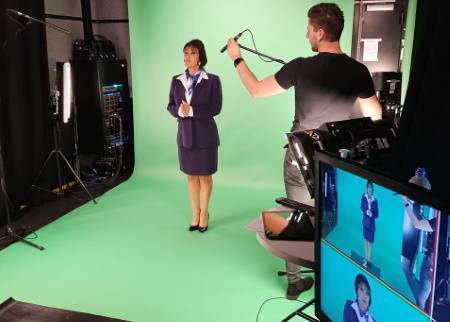 Did any of you spot the deliberate mistake? At the start, all three celebrities should have been glamour personified, but Christopher Biggins forgot his Tux on the day! This could have been catastrophic for our awards but, of course, they turned a crisis into even more on-screen fun.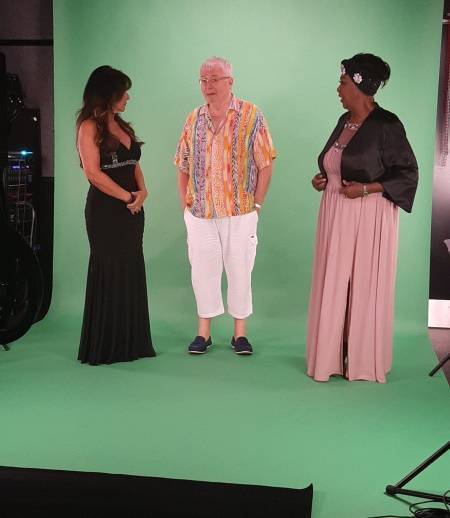 Green Screen Magic
The written word is a wonderful thing and easy to say when you are standing in surroundings that match what you are talking about. Our celebs instead had the joy of a green screen and were reliant on vivid imaginations to picture saying their lines where they were supposed to be!
This did allow the production team to have some fun and we hope that you did too watching the awards.
As the fun little sketches were spread out around the announcements of the winners, there was also voiceover work to be done and that is a huge skill in itself. Imagine having to imagine an audience and trying to build excitement to the reveal of a winner and then congratulating said winner – who is not actually present!
Not as Easy as it Looks!
XLMedia and WhichBingo boss Stuart Simms is the personification of calm and dignified professionalism in business. However, putting him in front of a green screen to introduce the WhichBingo Awards highlighted that although our celebrities made it look easy, it really isn't.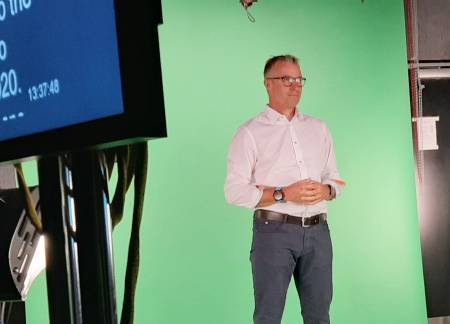 Cameras and autocues and producers scrutinising your every word (and not letting you wear your glasses) really put the pressure on and Stuart admitted to being very nervous, but also excited to be part of the adventure this year.
So, congratulations to all our winners and commiserations to the losers, but it's almost 2021 and time to do it all again!