For some reason, bingo does not feature as heavily in TV and movies as casino games do – but why not? Surely James Bond fans would be inspired just as much if the legendary secret agent is seen dabbing his bingo card in the hope of landing two fat ladies just as if he is seen playing baccarat or Texas hold'em poker? No?
Nevertheless, there have been several brilliant bingo scenes in movies and TV shows. Here we countdown what we think are the best five such scenes in the history of both the big and the little screen.
[5] Rampage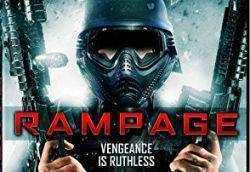 You may not have seen Rampage, especially if you do not live in Germany. It received a theatrical release there, but it was a case of 'straight to video' everywhere else. Released in 2009 and directedly by Uwe Boll, it features a young man who becomes so disillusioned with the mundanity of his life that he chooses to go on a killing spree.
After fire-bombing his local police station our antagonist shoots a coffee shop owner who served him a bad coffee earlier in the movie, then two police officers who survived the attack on their HQ. Next, he kills all customers of a salon.
Heavily armed, our 'hero' walks into a bingo parlour with the intent of killing all present … but decides that all the players there are so close to death anyway that it just wouldn't be worth the bullets. Eventually, the shooter blames all the killings on his (soon-to-be-ex) best friends and gets away scot-free.
[4] Hotel Transylvania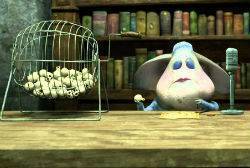 It's only a brief scene, but it's a good one. The residents of the spooky hotel engage in a bingo game, but with a difference. The balls have been replaced by tiny rat skulls which are shaken around a wire tombola. When drawn, the haunted skulls whisper their number to the glum monster glumly in charge of the game, who then announces them … glumly.
In the scene, one happy resident announces her success in filling up her bingo card … only for the player next to her to snatch up her winning card and gobble it up while, in her excitement, she is not paying attention.
[3] Bad Grandpa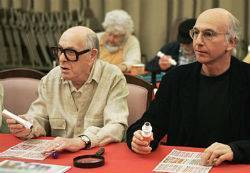 In truth, the less said on the whole about Bad Grandpa the better. The 2013 Jackass-inspired movie about the world's worst grandparent (play by Johnny Knoxville in heavy make-up) was panned by critics and rightly so, but it does feature at least one funny scene, which happens to take place in a bingo hall.
In the scene, 'Bad Grandpa' infiltrates a real bingo hall and plays bingo like no other bingo player. He invites old ladies to play 'strip bingo', drinks the bingo dabber fluid and finally gets out a blender to mix margaritas. That final step over the line was one too much for the bingo hall security guards and the pesky pensioner was asked, impolitely, to leave.
[2] Babadook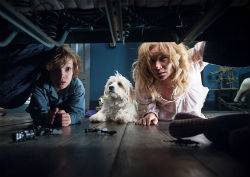 If you are a fan of the horror genre and you haven't seen Babadook then you are in for a treat. The Babadook is about a malevolent spirit hiding in the pages of a book (the title, 'Babadook', is an anagram of 'A bad book'). Despite many efforts, the book cannot be destroyed or even thrown away.
One victim of the book (Amelia) works in a care home, and the film features a rather limp game of bingo. Despite the lack of enthusiasm from the bingo players, Amelia does her best to inject a little fun into proceedings, but fails miserably. It portrays her life down to a tee – trying to make the best of a desperate situation but she is only fooling herself if she thinks that things are likely to get any better.
[1] Better Call Saul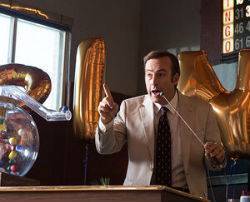 Not only is Better Call Saul one of the best TV shows of all time, but it also features bingo on a regular basis. The Breaking Bad prequel charts the gradual 'turn to the dark side' of lawyer Jimmy McGill, who would eventually become the unscrupulous Saul Goodman, the attorney of Walter White.
McGill had a volunteer role running bingo at a senior's home. In one series arc, he involves one kind old lady in an insurance scam that leads to her losing all her friends. Realising what he has done, Jimmy successfully plots a way in which he 'accidentally' reveals himself to be a scammer, absolving his victim of blame and restoring her social standing.
There you go, bingo-lovers. Have you spotted bingo-related scenes in your favourite movies that you think should have hit the top spots in our list? Why not let us know? Until then, happy bingo playing and happy movie watching!