It's a brand new year and that time when everyone feels every step of the long road to January pay day and feels the weight of the bills coming in from all the spending on Christmas good will and good cheer, not to mention all the good food.
In the past various publications have come up with different ways we can all save money during the year that make it seem less of a chore and more of a challenge to be met on which we won't be beaten. The most famous of these is the double-down challenge. You start on day 1 by putting 1p in a jar. The following day 2p, the day after that is 4p, then 8p and so on. This sounds great, but very soon it becomes totally unmanageable and unrealistic. By day 15 you are having to find £163.84 and by day 30 it's a huge £5,368,709.12!
This year The Metro has discovered a new savings challenge that is much more realistic and have dubbed it the 'bingo money challenge'. As you can imagine, this piqued our interest and if you succeed at this bingo game you will have saved a very nice £1,378 by the end of the year.
How does it work?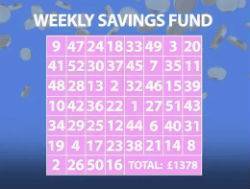 For this game you need the 52 square bingo card shown below. The numbers 1 – 52 are scattered randomly around the card and marking off the numbers is entirely down to you. This is a game you are playing entirely against yourself and you will, therefore, ultimately be the winner.
Each week you set aside the amount of money into savings that correspond to a number on the card. So, this week for instance just after Christmas and before pay day you may choose to just save £1 – you then tick off that number. On the week you get paid in January you may be a little better off, but still have some credit card bills to pay, so may opt to save £20. On February pay day you may have cleared your bills so may be able to set aside the £52.
All up to you
The beauty of this game is the lack of pressure and being able to meet the weekly challenges at a rate that suits you, while still offering a nice guideline and the target of over £1,000 as a great incentive to keep going.
For people who love to play online bingo, this game is in keeping with their favourite hobby and may at the same time help to focus the mind on setting money aside as well as depositing it into their favourite bingo site. It may be that on the week when one of the bigger amounts is required it may be necessary to play a little less. If someone is lucky enough to have a decent win one week, this would be a great time to put away one of those bigger amounts too.
This really does seem like a win/win savings scenario to us and will definitely be giving it a try.
Other fun savings ideas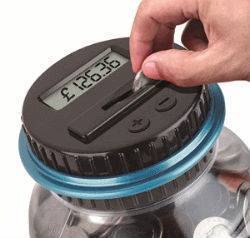 We sometimes think that the people that come up with some of these ideas must be seriously rich. Another one doing the rounds right now is the Fiver Challenge. For this one you start week1 by saving £5. In week 2 you put away £10, then in week 3 it's £15, week 4 it's £20 and so on. This means by week 52 you need to put away £260 and in December the total for the 4 weeks would be £1.010! You might have saved £6,890, but most people wouldn't have been able to afford to eat by that point.
Instead, we suggest more realistic targets and, as bingo players, maybe the money could come from your bingo budget, so you won't even miss it. If you usually spend £20 a week on bingo, why not save £10 of it instead. If you spend £50 a week, put aside £25 and so on. If you play on one particular bingo site maybe you could lower your limit to help you stick to your savings resolution. Just think, just £10 a week put aside is a nice £520.
We love the idea of the Bingo Savings Challenge and wish everyone the best of luck – and remember, in this game everyone's a winner!