Playing bingo can be thirsty work, particularly if you've had to shout out to claim a win. So, many people understandably took the opportunity to refresh their taste buds by claiming a free drink at their local Buzz Bingo club to celebrate Father's Day.
One of the biggest UK bingo chains helped players to mark Father's Day 2021 with a refreshing freebie.
There are 91 Buzz Bingo halls across the UK, and depending on where players lived, they were able to take advantage of a special free drinks offer.
Customers in England were invited to claim a free pint of Carling, while customers in Scotland (due to current restrictions on the sales of alcohol indoors) were able to claim a free soft drink.
According to a spokesperson for Buzz Bingo, "nothing beats a good catch up with friends and family over a free pint and game of bingo".
What other offers are running at Buzz Bingo?
If you missed out on the operator's Father's Day drink deal, you needn't feel blue as there are plenty more promotions to enjoy this before the month ends.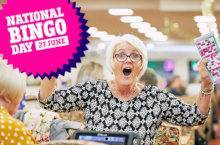 For example, Sunday, 27th June 2021 happens to be the UK's first-ever National Bingo Day, and Buzz Bingo is celebrating all week long. This is culminating in a special Cash Climber Jackpot Escalator in the Value Room between 6pm and midnight. Also, make sure that you look out for our recent posts on how bingo players can get involved in other National Bingo Day events!
Buzz's Rise and Shine guaranteed jackpot game has already awarded a minimum of £15 to the lucky winners of each penny game. Bullseye Bingo games are also running in the Club Room between 21st and 27th June, and the full house, one-line and two-line prizes are all worth a fantastic £50.
More reasons to celebrate
In other news, those of you who are enjoying being able to get back to playing bingo in person will be delighted to hear that Club 3000 has confirmed it will be opening two new bingo clubs in 2021.
The Wigan club at Robin Park is due to open within the week while the Kilmarnock club is set to open by the end of the year.