One of the UK's biggest online bingo operators, Buzz Bingo, has just launched a brand-new platform called Buzz Live.
Buzz Live offers players the chance to enjoy live games via a new online lobby where the games are presented by live hosts in an interactive format.
One of the highlights of the new platform is a new event called Buzz Trivia Live. It's free to play, and there's up to £500 on offer to players who manage to answer 12 questions correctly.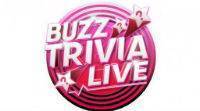 Buzz Trivia Live is a knockout-style game that runs nightly at 9.15 PM. Everyone who takes part gets asked 12 questions. Players only have 10 seconds to answer each question and all participants who get all 12 questions right take home a share of the £500 prize pool.
The site's first live stream took place on 18th February 2020 and was simultaneously broadcast on the brand's website and Facebook page. Buzz Live Product Manager, Roger Knowles, told us how the team gave away bingo bonus cards live on the show, as well as giving contestants the opportunity to win Roger's winnings up to a value of £250.
Roger Knowles has been producing and hosting live streams for more than four years, and he says that the Buzz Live stream was the most popular one that he's hosted so far. The event, which ran for one hour in total, "flew by", and Roger says that he enjoyed every second of it.
He also confirmed that more live events are planned for the near future and that members should stay tuned to the website or the Facebook page for further details.
Buzz Bingo's Chief Digital Officer, Stevie Shaves, is also excited about how the new site is shaping up, and he's "confident that the Buzz Bingo community will love it".
To access the new Live portal, members of Buzz Bingo should look for the "Live" link on the main drop-down menu.
Other games which are available on Buzz Live include All Bets Blackjack Live, Spin A Win, Quantum Roulette Live, Hi-Lo Live, and Buffalo Blitz Live.
All Bets Blackjack Live uses 8 decks of playing cards and is played against a live dealer at a real blackjack table.
Spin A Win is a Wheel of Fortune-style game that's hosted by a representative in the live studio. All players need to do is guess which segment the wheel will land on by placing bets on one or more numbers before the timer runs out. Optional side bets such as odds, evens, and multiplier are on offer too.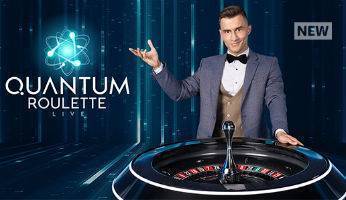 Quantum Roulette Live uses a real roulette table with a live dealer. Each wheel has 37 segments which are numbered 0 to 36. The 0 is green while the other segments alternate between red and black. Special events can occur mid-game to make it even more thrilling as well as enhance the multipliers that are on offer. For example, Quantum Leap can double or triple multipliers while Quantum Boost can increase the multipliers by 50x.
Hi-Lo Live requires players to guess whether the next card will be the same or higher or lower. The playing card deck doesn't use 10s, and Aces count as high cards.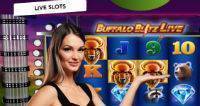 Buffalo Blitz Live brings the excitement of Playtech's 6-reel, 4,096 ways-to-win Buffalo Blitz video slot into a live studio environment in which players can enjoy the fun together. The game features interactive free game rounds as well as a 5,000 multiplier. Members can also choose to play Buffalo Blitz Live at the same time as Spin A Win using split-screen mode.
To start playing one of the above games at Buzz Live, players must start by choosing a nickname. They can then enter the live lobby where there's a list of game thumbnails that show how many people are currently participating in each game, as well as how much it costs to play.
Buzz Live also hosts several other live casino games by Playtech including Sic Bo Deluxe, Casino Hold'em, Age of the Gods Roulette and Unlimited Blackjack.