The Queen's Platinum Jubilee celebrations are kicking off with street parties, gatherings and huge events across the country, but we've got a great way for you to celebrate her majesty without leaving your living room – Jubilee Bingo!
You might already be planning to catch the Queen's Birthday Parade on the bank holiday Thursday, June 2nd, when Trooping the Colour begins, and you can enjoy the BBC's Platinum Party at the Palace concert on Saturday, June 4th where Queen, Duran Duran and Diana Ross will be performing.
There's also the Epsom Derby taking place on Saturday, June 4th at 5:30pm, and The Queen and her family are expected to attend.
Throughout the jubilee celebrations there will be ample opportunity to indulge in quintessentially British pursuits, and you can tick them off as you go with our Platinum Jubilee Bingo card!
Simply download and print off your card, and perhaps share a copy with family and friends. Then cross off each square when you successfully complete it.
Here are the oh-so-British activities we've got on this year's card: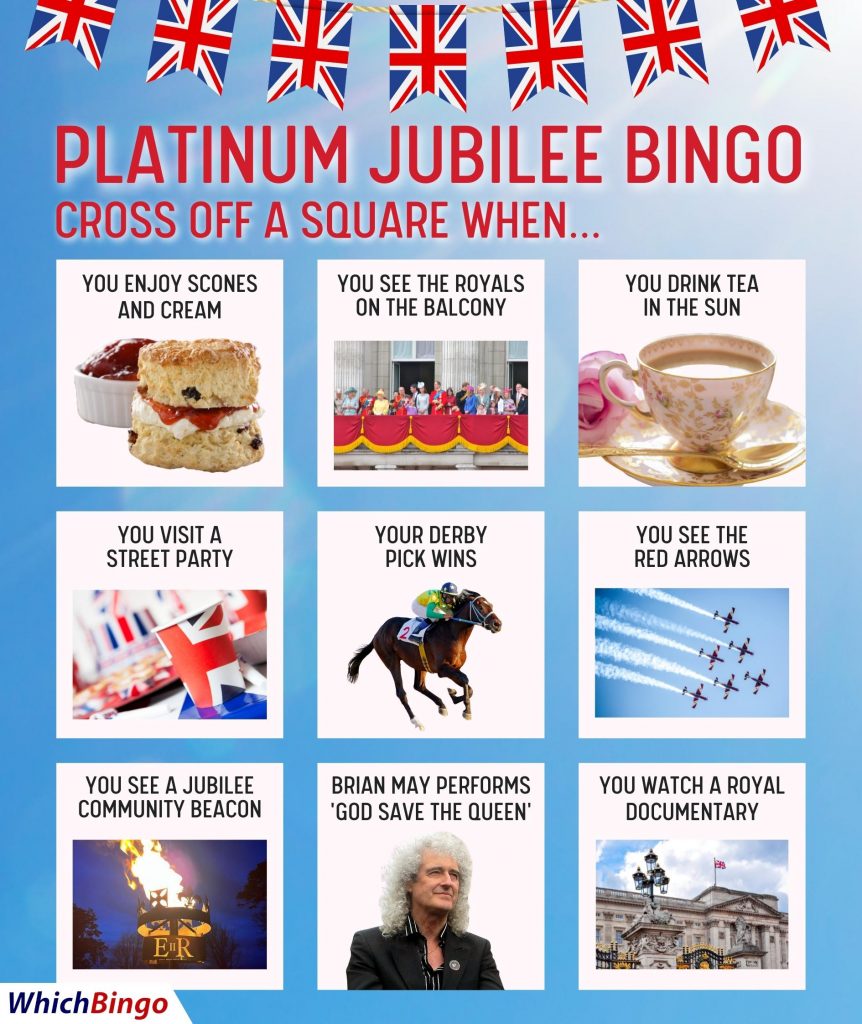 1. Enjoy scones and cream – Is there a more British taste than freshly baked scones with jam and cream on a summer's day? Especially with a cup of tea! What better excuse do you need to get a brew on and dish up some cakes than the first square on our Jubilee Bingo card.
2. Spot the royals on the balcony – The Royal Family will be the centre of attention throughout the weekend-long celebrations for the Queen's Platinum Jubilee and no doubt certain members will be waving to the crowds from the balcony at Buckingham Palace, in time-honoured tradition. Cross them off your card if you spot them!
3. You drink tea in the sun – We make no apologies for including a second tea-related square on our Platinum Jubilee Bingo card, given how many millions of cups will be quaffed in her majesty's honour. If you happen to sip a brew in the sunshine, you can cross off this square!
4. You visit a street party – It's not often these days that the British tradition of a street party takes place, but you can be sure there will be some tables set up in the streets for the Queen's Platinum Jubilee. If you manage to grab a seat at one of the Big Jubilee Lunches planned across the country on Sunday, June 5th, you can cross this square off your Jubilee Bingo card!
5. Your derby pick wins – The Derby at Epsom will tempt millions to part with their cash in the hope of backing a winner, and if you're lucky enough to do so you can enjoy the added bonus of crossing off the fifth square on your Jubilee Bingo card.
6. You see the Red Arrows – Summertime celebrations in the United Kingdom would not be complete without the distinctive sight of the Red Arrows soaring overhead in formation, trails streaming out behind them in red, white and blue. If you spot them, give yourself a pat on the back and a cross on your card.
7. You see a jubilee community beacon – Across the UK, the Channel Islands, Isle of Man and UK overseas territories, community beacons will be lit across the four-day Jubilee Weekend, along with 54 Commonwealth beacons that will be lit in all capital cities of the Commonwealth. If you manage to spot one you are one step closer to calling "jubilee bingo!".
8. Brian May performs God Save The Queen – Ed Sheeran has been tasked with performing and singing the national anthem in front of the Queen's official residence as part of the jubilee finale on Sunday, June 5th, but with Queen performing at the BBC's Platinum Party at the Palace on Saturday, June 4th, you can bet Brian May will be tempted to bust out his own rendition. If he does, and you hear it, cross it off your card.
9. You watch a royal documentary – There are hundreds of documentary films about the Royal Family, and television schedules will be stacked full of them during the jubilee celebrations. Chief amongst these is Elizabeth: The Unseen Queen on the BBC which has never before seen recordings and pictures by the Royal Family themselves. If you manage to sit through a whole one, you can cross it off your card.