Welcome to the Chat Host Job Application Hints and Tips page. Here we have given you industry expert advice on applying for a Chat Host job. From preparing your application and CV to interview tips.
Select the hints and tips information most important to you, the links below will take you to the relevant section:
Community top tips
Covering letter and CV tips
Technical advice and help
Operator advice
Interview advice
This vital information will be constantly refined and updated and we hope it helps you secure that Chat Host job! Our Chat Host job page is found here.
Community Top Tips
Preparation
Learn about the bingo site you're applying to work for. Fund it, explore it inside and out and, if you get an interview, mention all of its positives.
Join a free site, get chatting regularly and you may get noticed. It's also a good way to learn more about online communities.
Be patient, you may have to wait a few weeks until you hear something back about your application – don't keep emailing them.
Be persistent, keep applying and remain positive – even if you get rejected, if you can try and get some feedback on your application.
Experience
If you don't have the level of experience the job you are applying for requires, why not offer to volunteer and show a willingness to gain some valuable experience?
On your application be yourself; tell them about your work experience and achievements.
If you don't have relevant Chat Host experience, do you have any similar experiences?
Show that your experience has made you open to new ways and methods of working and listening to advice?
Covering letter and CV
Always include a cover letter with your CV. A covering letter provides you with the opportunity to tell your potential employer that you have the necessary qualities for the job. It should have a personal touch, show passion as well as enthusiasm for the job you want.
Covering letter
Try to address the employer, what is their name?
Use the opening paragraph to grab the employer's attention, give them reasons you're qualified for the position, don't make it boring.
Personalise the cover letter to the job that you're applying for. Speak of the requirements of the role.
Don't include the words 'job responsibilities and duties'. These are part of your job description which will be on your CV; they're not part of your work experience.
Focus on what you've accomplished at previous jobs. How you made the job your own and what made you such a valuable employee.
Don't use 'wordy' phrases, keep it simple.
Avoid negativity.
Keep it short! No more than 3 sentences per paragraph and the whole thing being less than a full page.
Sign off with personal thanks.
Check your cover letter for typos, incorrect grammar or misspellings.
CV (Curriculum Vitae)
Add your full name and address to the top of the CV.
Place any experience or achievements up front.
Tailor your CV to the job you're applying for.
On your application don't add too much personal information, stick to what they want to know – they don't need to know how many children or pets you have unless they ask.
If you've had more than 3 jobs, only go into detail about the 3 most recent ones that are relevant to the job you're applying for.
Keep your job responsibilities to the core duties.
See things in a positive light, even if you hated the job you did before or if you were dismissed, at this stage they don't need to know that.
Don't lie.
Avoid salary information or anything that might discriminate against you. (DOB, race, gender, disability or marital status) it's not relevant.
Keep it clean, neat and professional. They don't need to know about your personal home life.
Look online for CV layout and designs.
Don't include referees, it takes up space. Say they'll be available on request.
For a comprehensive guide to writing an effective Chat Host CV we recommend that you visit our dedicated article on Chat Host CV writing which includes in-depth explanations of how to structure you CV, what to include, expert advice, hints & tips as well as a downloadable CV template. You can find the article here.
Technical advice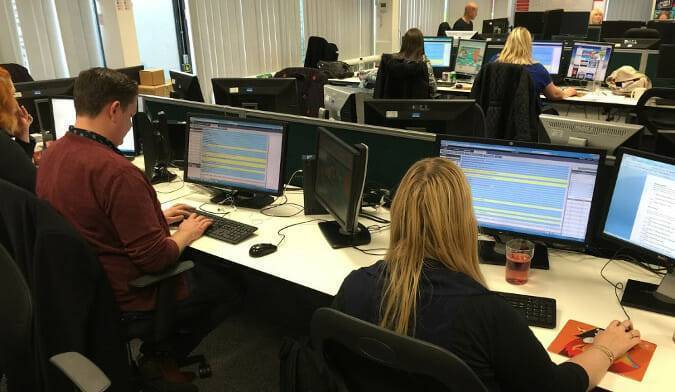 If you're applying for a work from home CM job, then it is important to ensure you've got all of the equipment you'll need for the role. You'll also need a space at home to work from, ideally away from any distractions of the home such as other family members.
Demonstrating that you've got a reliable internet connection and a professional workstation will make your application stand out from the crowd, and help you become a better chat host.
Create a space to work
As a chat host you are likely to work long shifts and so it is important you get your work area set up with a desk and a good chair that is comfortable to sit in for long periods. Do not expect to sit on the sofa with your laptop and be able to everything that is expected of a chat host.
Chat hosting involves a lot of multitasking and switching between browser windows and other programs, so our top tip is to set yourself up with a dual-screen display. This will make doing multiple tasks so much easier, and it really isn't that difficult to set up.
Install the software you might need
Depending on what operator you end up working for, you may need access to different kinds of software to help with planning chat games, communicating with your chat team manager and reporting back after your shifts.
The basics you should probably arm yourself with (and ensure you know how to use) are Microsoft Word, Microsoft Excel, Notepad and Skype. Have a look at the job application you are going for, and if they mention any specific programs, track them down and get used to them before your interview.
Have a backup plan
Operators will want to be reassured that you've got a reliable internet connection or even a spare computer, as there is nothing they hate more than having to find cover at the last minute because your internet has gone offline or your PC has just crashed.
If you have access to a second computer, or internet at a friend or relative's house, mention this in your application. It will prove you've thought about what could go wrong, and you're prepared.
You could even purchase a pay-as-you-go USB modem stick (aka internet dongle). These can be purchased from as little as £15. Top one up just like you would a pay-as-you-go phone and if your main internet connection goes down, you just plug it into your machine and get back online instantly.
Operator advice
We are consistently communicating with the online bingo industry and we've been fortunate enough to catchup up with industry expert and bingo Chat Manager for Spin Genie; CMSinead.
We asked CMSinead for her views and advice on making a successful Chat Host job application:
When a potential chat host is applying for a position we look for someone with experience, although this isn't always necessary, as some online bingo players make really great hosts due to their experience from the players side as well as watching how the hosts interact with them. We also look for how they word themselves as this is key to their personality. Chat hosts are the example of how a chat room should run, they should always present themselves in a friendly, bubbly outgoing, polite manner.

Chat hosts must at all times be team players who can work flexible hours have a passion for bingo, be self motivated and also be able to work independently. All of theses key things should come across when applying for a position .
Excellent and helpful advice above from CMSinead from Spin Genie, we will keep updating this section with more industry advice as and when we get it.
Interviews
If you've been successful with your application you will more than likely be invited for an interview, these may be conducted face-to-face or you could do one via video streaming using Skype.
Below are a few pointers to consider whilst preparing for your Chat Host interview.
Show the interviewer you're serious and passionate about the Chat Host role; don't just ask about the pay, holidays or hours until the end of the interview.
Be yourself, explain to the interviewer why you are the right fit for the job – back it up with your C.V, tell them about your experience and achievements.
As mentioned above, this page will be regularly updated as and when we get more application information, keep checking the page for more updated content and we wish you the best of luck with your job applications.
Why not take a look at our Chat Host section and go to the Chat Host jobs page as they are continually updated.
If you've got advice, hints and tips you would like to contribute with or share, please leave a comment below and we may include it.
A special thank you to our expert community for their excellent contributions to this piece (in no particular order): Michelle Read, TL Mimi, Scar Scarlet, Daisy Elle, Bloom ch and CMSinead.
More Chat Host content
Want to read about how a real Chat Host goes about their job, or do you want help with your Chat Host CV? Or, maybe your just after applying for a Chat Host job? Click one of the images below and read more;