Laura and Kade Ferraiolo hit the jackpot on New Year's Eve 2019. As billions of people around the world were waiting for the clock to strike midnight they were basking in the glory of their BIG win.
When the then newly-weds headed out for a night of fun at Dabbers Social Bingo they never expected to win anything, let alone a week in a luxury villa in St Georges, Grenada. But lady luck was on their side as their numbers appeared faster than most of the other players and it wasn't long until they had a full house.
Drama on the bingo floor!
But they weren't the only contestants to shout BINGO and that's when the drama really started!
This is when the tie-breaker came in. Forget a coin flip or rock, paper, scissors – at Dabbers they like to do things a bit differently. An amazing dance battle was deemed the only way to determine the rightful winner. The entire audience went crazy as the two couples went head-to-head in a bid to out-dance each other and win their dream holiday.  
In this case, fate could be said to have provided a helping hand as Kade is a professional dancer and yoga instructor, and really came into his own. He swung his partner round so fast her feet barely touched the floor, and encouraged by the cheers the dance moves got wilder. Having met whilst both in the Mamma Mia Musical their relationship had come full circle as they were crowned the champions!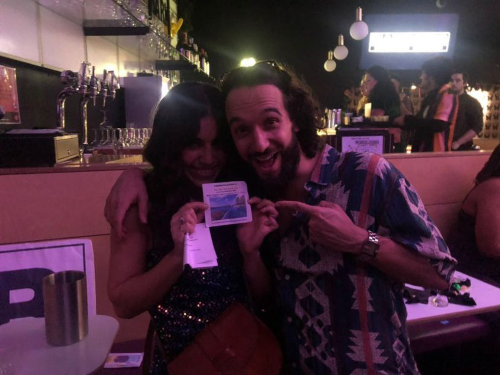 Honeymoon holiday delayed
After getting married on 29th May 2019, Laura and Kade put their honeymoon on hold for work commitments, and then Covid put an end to their 2020 dream trip. Honeymoon plans had been booked and re-arranged again and again until Dabbers was finally able to send the winners on their well-deserved honeymoon, exactly two years after their wedding, in May 2022.
"Honestly, it was crazy' recalls Kade; 'I couldn't believe what was happening and I've been saying I won't believe it until we are there. It was probably the BEST NIGHT out we've had, it was just brilliant!"
For those looking to get in on the fun, Bingo Voyage takes place every Friday at Dabbers Social Bingo.