WhichBingo's 2020 Online Bingo Annual Report reveals a lot about UK online bingo player's habits and approach to the game. One of the most interesting details to emerge was the importance that both players and operators place on reviews of bingo sites and the impact players' own reviews can have.
Which bingo sites do you trust?
We found that 58% of the UK online bingo players surveyed said that they were more likely to trust a bingo site that responds to player reviews on WhichBingo. Only 32% of respondents said it made no difference to them, while 10% of the players surveyed responded by saying that it made them less likely to trust a site.
There are a number of reasons behind this. Firstly, the best UK online bingo sites work hard at creating a sense of community amongst players. Whether it's chat hosts and side games, the style and language of the site, the social media presence, or the number of methods players can use to contact customer services, the most popular bingo sites do a good job of engaging with players using these and other means.
This has meant that player expectations are high with regard to communication, and these survey results tell us that bingo players value and appreciate sites that go that little bit further to listen to them and respond to their questions and queries. This is one of the reasons why sites that respond to player reviews on WhichBingo are the ones that players trust the most.
Why WhichBingo reviews are important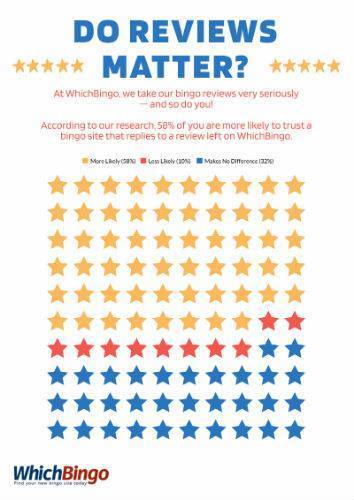 This survey data also shows us why our reviews of the best UK online bingo sites play such an important role in helping players choose where to play.
To begin with, our reviews are written by experts and are designed to provide a comprehensive break down of every aspect of a site, from the signup deals, to the game and room types, to the other games on offer. Our aim is to help you find out as much as possible about a site before you invest any of your hard-earned cash with them, and as such we like to think that our reviews are pretty influential. This is demonstrated by the fact that so many online bingo sites clearly read our reviews too!
However, while we like to think that we are experts when it comes to reviews of bingo sites, we appreciate that you know what you're talking about just as much as we do. This is why we always welcome comments on our reviews, as well as inviting our readers to submit their own reviews of the sites we feature.
We think this is important because it is another means of giving direct feedback to bingo sites on what they do well as well as what they could do better. Also, it would seem to be effective, as the bingo sites that genuinely value their players' opinions will respond to these reviews. This means they are listening to what players want, which is why so many of you consider these sites to the most trustworthy ones at which to play.
This is why we always encourage you to share your opinions and take the tome to create your own reviews of the sites we feature — you never how much impact it will have!