Christmas is supposed to be "the most wonderful time of the year", but for those who are less fortunate, the festive season can be particularly tough.
So, once again, Mecca Bingo is lending a helping hand by launching a charity campaign called Everyone Deserves a Christmas.
The fundraising appeal will allow the operator to work alongside local charities to provide families who are struggling to get by with 4,000 hampers worth £50 each.
How can players help?
From now until 20th December 2020, players can do their bit by taking part in a choice of Charity Christmas bingo games in rooms like Lucky for Some, Penny Lane, Two Little Ducks, Rollercoaster, and Main Event between midday and 7.30 PM from Monday through Saturday. And, on Super Sundays, the games will take place every hour, starting at 8.30 AM and ending at 11.30 PM.
Mecca will be donating all of the profits from these charity games to its Christmas appeal while players are being encouraged to follow the brand on social media to see how they can help out their local communities by donating time, money or food.
As well as enlisting the help of 10 national and local charities and organisations including the Trussell Trust, Haven, Crisis Telford, Exeter City FC, One Love Soup Kitchen, and the Wellbeing Service for Children and Young People, Mecca Bingo clubs across the UK are already starting to raise awareness of the Everyone Deserves a Christmas campaign.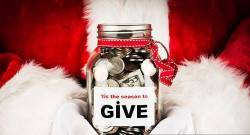 For example, Mecca's Taunton club is looking forward to bringing "a little festive cheer to those most in need" according to the venue's general manager, Davina Warden, and both the club and its customers will be helping to raise money for their local Trussell Trust foodbank.
Meanwhile, Mecca Bingo in Wrexham is asking local businesses to act as sponsors for the hampers and donate any useful items such as shopping vouchers, Christmas cakes, and crackers.
Even if not allowed to re-open to play in your area, your local Mecca Bingo hall is likely to be pulling out all the stops to help those in need and would appreciate all the help they can ger.