Foxy Bingo is one of the jewels in GVC Holding's crown, and this month, it's shining more brightly than ever as it prepares to celebrate its 15th birthday.
The fox has been very busy over that time and has been at the forefront of making online bingo the acceptable and fun pastime it is today. Who can forget all the many musical adverts that have graced our TV screen or seeing Heather Graham emerging from the iconic head?
To mark its 15th anniversary in style, the bingo brand has "lined up some crackin' Foxy-brations" which include four special events.
Foxy's Birthday Surprise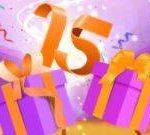 First up is Foxy's Birthday Surprise, which there aren't many details about but then again, if there were, it would hardly be a surprise now, would it? All we know is that members of the site can "enjoy a bingo bash in any room" apart from the Carers UK Charity room "to open a birthday box for treats".
18+. Dep & spend £5+ on any bingo game (excludes Carers UK Charity) for 1 pick-a-box per day. Valid 24hrs from time of credit. Ends: 22nd Nov. Various wag req. T&Cs apply
£15k Birthday Bash Slider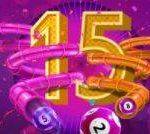 The second event is the £15k Birthday Bash Slider which will be held at 9 PM on Saturday, 21st November 2020. Players are invited to pre-buy their tickets via the lobby for 50p each so that they can play for up to £15,000.
As the £15k Birthday Bash Slider is a sliding jackpot game, it gets easier to win the game as more balls are announced. However, the prize fund shrinks the longer it takes to declare a winner. The minimum amount of money that's available is £7,000.
18+. Game plays in £15K £15K Birthday Bash Slider room. Ticket price 50p. £15,000 Sliding bingo game. £7,000 Guarantee. Game plays 21st Nov 2020. Available for pre-buy from 2nd Nov 2020. T&Cs apply.
Foxy's Party Cards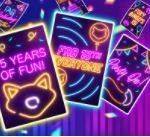 Foxy's Party Cards runs from 2nd to 22nd November and it allows funded players who meet the qualifying criteria to open a special birthday each day. Once a player opts in, they will need to follow the onscreen instructions to find out what rewards are up for grabs. Just some of the prizes that could be won include deposit deals, £1,000 cash draw entries, and tickets to the £15k Everyone's a Winner game.
18+. UK only. Promotion contains various daily offers with varying wagering requirements. Each daily offer valid for 24hrs. Ends: 22nd Nov 2020. Full T&Cs apply.
£15k Bday Everybody Wins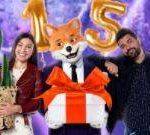 £15k Bday Everybody Wins is an extra-special bingo game which ensures that every participating player goes home with a treat from the prize pot regardless of whether they win or lose. Tickets cost 50p each and the game will be run at 9 PM on Sunday, 22nd November. There's £2,500 for a full house, £1,500 for two lines, £1,000 for one line, and a share of a £10,000 bingo bonus for non-winners.
18+. Game plays in £15K Bday Everybody Wins room. Ticket cost: 50p. £15K EAW game. £15K total prizes. £5K in Cash to FH, 1L, 2L. £10K shared as Bingo Bonus to all other players who have purchased tickets. Bingo Bonus carries 1x wag req. Plays: November 22nd. T&Cs apply.
Nobody does a birthday quite like Foxy Bingo so check it out this month and help the dapper fox celebrate 15 fantastic years.