Us Brits will never get bored of bingo … or will we? There's the UK, 90-ball version of bingo and the US, 75-ball version of bingo and a few other variants – enough to keep anyone occupied for hours on end. Could someone though invent a brand-new version of bingo that takes this age-old game to the next level? Well, Relax Gaming may have done just that with the release of a brand-new online bingo game at Unibet – HexaBingo.
The name 'HexaBingo' probably already has you thinking – you're imagining a bingo card that's made up of hexagons, aren't you … just like the playing board on the classic UK teatime quiz show Blockbusters. Well, you are just about there, but there's a lot more to HexaBingo than that!
How many players?
With HexaBingo you are just competing against two other players, not an entire roomful.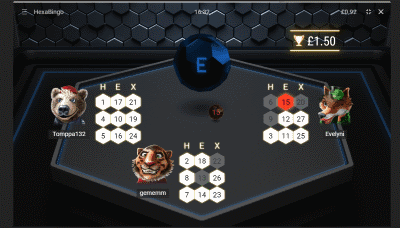 For a start, instead of an entire room full of players, it's a case of you versus just two other players when it comes to any single round of HexaBingo. You choose your stake – any value from £0.50 to £100 – and await two other players to join you. When you have a full squad ready to play, the bingo entertainment commences!
What can I win?
The potential winning multiplier of your stake flashes through the HexaBingo prize grid, where a multiplier valued between 2x and 1,000x is available, as decided before the first ball drops. You could be playing a game for as much as £100,000!
The pace in HexaBingo is fast and furious as each card has only nine numbers. The prize you are fighting for is displayed at the start of each round, so you know precisely how much money you are playing for. The nice thing is that whatever your stake, if you are the winner the lease you will win is double your stake.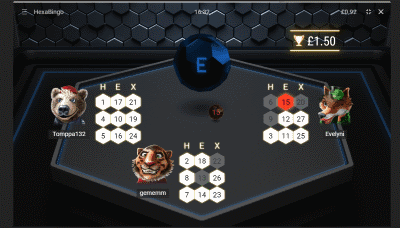 Another added dimension to this game is that you can see your opponent's cards, so you can see who is closest to snagging the big prize. That really gets the adrenalin pumping! The first player to complete a horizontal line is declared the HexaBingo champ!
Once the game has concluded you can all play again for the same stake or choose different stakes or different players – the choice is yours!
Unibet is championing HexaBingo as 'the new face of bingo' and to launch this new game they are offering a couple of special deals and promotions. Make sure you check out the Unibet HexaBingo page for information about the bonuses available as you commence your HexaBingo career.
Will we ever look at bingo in the same way? It seems that moving forward the most successful bingo sites are going to be the ones that make the effort to innovate like this. If you are bored of the usual forms of bingo or just want to give a new bingo variant a chance, why not head to Unibet today and see what HexaBingo is all about?