A famous face will soon be appearing at British online bingo sites and casinos thanks to an exciting new partnership between Real Dealer Studios and Vinnie Jones. The professional footballer-turned actor is the first celebrity who has been picked to front some of the developer's newest RNG table games.
More about the deal
Real Dealer Studios specialises in creating cinematic online casino games. Over the coming weeks Vinnie Jones will be heading to the developer's HQ to begin filming footage that will be used to bring a unique and immersive playing experience to some of Real Dealer's latest games.
Vinnie will get to host a number of casino titles which will initially go live via the Games Global platform. He will star in both blackjack and roulette games which Real Dealer Studios says will allow players to enjoy "front-row seats to our own cinema-style showing".
What are RNG casino games?
RNG casino games fall somewhere between traditional online casino games and live dealer games. They use video footage of hosts and dealers to give players a personalised, one-to-one experience, but as they are not broadcast live, they rely on RNG software to ensure fair and random outcomes.
What other games is Real Dealer Studios famous for?
The company has been creating well-known games since 2019, and so far, it's managed to stay on everyone's watchlist by working alongside professional actors, directors, and film industry experts to create a rapidly expanding games portfolio.
It has created both traditional casino games for blackjack and baccarat fans, as well as money wheel games and themed titles. Just some examples that you may wish to look out for are Real Spooky Roulette, Fortune Finder with Holly, Real Roulette with George, Real Baccarat with Sarati, and Turbo Auto Roulette.
More about Vinnie Jones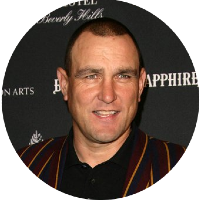 Vinnie Jones, who has just turned 57, originally gained fame as a professional midfielder who played for five major football teams between 1984 and 1999, including Chelsea, QPR, and Leeds United.
Despite inheriting a reputation for being a "hard man" on the pitch, Vinnie has shown that he has a softer and more humorous side when appearing in TV ads and on talk shows. He has also gone on to become a famous Hollywood actor who has appeared in multiple blockbusters like Lock, Stock and Two Smoking Barrels, Gone in 60 Seconds, Snatch, and Escape Plan. In addition, he appeared in the 7th series of Celebrity Big Brother.