It seems like a million years since Peter Andre first appeared on our radios and TV screens singing the first of his many pop hits, Mysterious Girl. In reality, it was 24 years ago that the Aussie heartthrob first entered the UK charts and swiftly rose to number 2 back in 1996.
In the years since, Peter has gone on to record further songs and albums, as well as make a plethora of TV appearances, including reality shows with now ex-wife, Katie Price, and entertainment series like Odd One In, Sunday Scoop, and 60 Minute Makeover. Plus, he's even been a judge on Your Face Sounds Familiar and a contestant on the 13th series of Strictly Come Dancing.
With so much going on in both his personal and public lives, you wouldn't think that the 47-year-old would have much spare time for anything else.
However, one of Peter's not-so-secret secrets is that he's a big fan of bingo, or at least working hard to promote the best bingo sites. Since his rise to superstardom, he's buddied up with several online bingo operators to help promote both charities and bingo brands.
The latest partnership will see our favourite Aussie perform his first-ever hit song, Mysterious Girl, live at MeccaFest at the Blackpool Tower in May 2020. Yes, this is just the latest bingo-related event that Peter has been chosen to star in.
(Unfortunately this event was postponed due the Coronavirus outbreak, but we hope the event will still go ahead at a later date).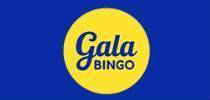 It was back in 2012 that Peter was asked to front a new TV campaign for Gala Bingo – one of the UK's biggest online bingo operators. The ad campaign followed a complete makeover of the Gala Bingo website including its logo, the latter of which was reported to have cost several million pounds.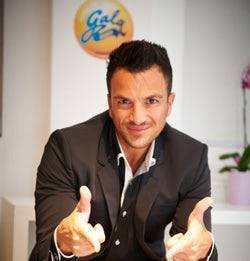 Using the slogan "Win Win Bingo", the ads saw Peter encourage new players to come and try the site with an "if you lose, you get your money back" offer. The promotion was also offered to existing players to help with customer retention.
What made Peter's partnership with Gala so noticeable, and as some would say, controversial, is that it was the first time that a UK bingo brand had used a male celebrity to lead its TV ad campaign. However, the operator had undertaken consultation as well as player surveys before making its final decision on its new frontman, and it claims that Peter Andre came out top of all the celebrities that were originally considered.
In 2015, Peter went onto work with one of Gala's rivals, Wink Bingo, to help it promote a popular cancer research charity, a cause that was close to both their hearts.
Following the untimely death of his brother, Andrew, in 2012 from kidney cancer, Peter has continuously worked with Cancer Research UK to encourage people to raise money through the Pete's Champions initiative.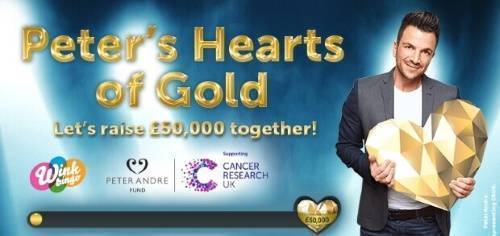 It's no surprise that a man who's well-known for his generosity and kindness was asked to join forces with Wink Bingo in the operator's Hearts of Gold campaign. Throughout the promotion, players were given the chance to win up to £5,000 while contributing a donation percentage to Cancer Research UK. The daily games earned a 10% donation while the weekly and monthly games contributed 20% and 30% respectively, all of which were based on the number of tickets purchased. The Hearts of Gold campaign helped to raise a massive £50,000 for the UK-based cancer charity.
As the kind of guy who's up for anything, Peter was also asked to appear on Radio 1's Innuendo Bingo with Scott Mills and got very wet in the process!
Now, in 2020, he's coming back to 'number 35' – Jump and Jive – at the star-studded event known as MeccaFest, which will coincidentally also feature Scott Mills! This is a unique event set up by Mecca Bingo, and it will feature live music, dancing, and a host of celebrities. If successful it may become an annual event.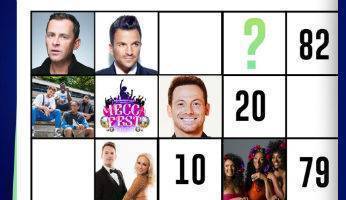 The 2020 event will see Peter Andre entertaining 800 lucky Mecca Bingo players who've won exclusive entry through special games and promotions, and he'll be joined on stage by Sister Sledge, Scott Mills, Rak-Su, Joe Swash, Katie McGlynn, Charlotte Crosby, and many other famous faces.
Over the course of the evening, players will have the chance to win a share of an incredible £100,000 prize pool, and we're sure that the hosts and celebs will be cheering every single winner.
We wonder what the coming months and years will hold in store for Britain's favourite, bingo-loving celebrity? How about a link-up with Britain's favourite bingo site, tombola?
Update July 2020: Peter Pays a Visit to MrQ.com
Well, now we know. Peter has not abandoned his bingo roots and has been seen actually playing a game of bingo, via Zoom, with a bunch of his tour band pals. The visit to the unique MrQ.com bingo site came to light as part of the 'Life With the Andres' YouTube show and highlighted one of the things to group did when they came together, virtually, during lockdown.
The surprising thing from the clip is that it would appear the Peter Andre has never played online bingo before, despite all his publicity efforts on behalf of the bingo brands shown above. He was quite amazed by the speed of the whole thing, that the system marked off the numbers for you and sorted the tickets for you. He even managed a modest win of a whole £0.87, as they clearly visited MrQ.com at a very quiet time.
Peter commented on the experience of playing online bingo as "the most random, but fun thing" that he has done!