Chat Host jobs can be few and far between, and we know the standard of applicants and application volumes are usually high. But, that doesn't mean you should be put off or worried about applying. You're good enough.
You may see or hear potential recruiters ask for a CV, Curriculum Vitae or résumé – essentially they are the same thing, a document designed to sell yourself.
We know that writing a CV can be tricky, especially if you've not written one for a while so we've created this page to help you write an effective Chat Host job CV.
This content now contains detailed information on how to write an effective Chat Host covering letter – you can view this information by clicking here.
To help you get the most out of this page we've added links below to help you navigate around the page and to find the section you want with ease.
How to structure your CV
How to present your CV
Content of your CV
CV tips from the experts
Downloadable CV template (tailored for Chat Hosts)
Helpful CV facts and figures
Frequently asked questions
Covering letter help
So, you want to write a Chat Host CV? You may have spotted a recently advertised Chat Host position on our Chat Host job section and want to apply. The first steps we need to take are to get your CV written with structure, including all the important content an employer wants to see, and make sure it's presented well in order to maximise your chances of securing an interview.
How to structure your CV
When writing your CV, it is important to remember that you are selling yourself to a potential employer. This means that you're not writing your CV for you, you're writing it for someone who might want to employ you.
With that in mind, it's important to keep your CV easy to understand and to the point.
This is why the structure of your CV is so important. Your CV has to be easy to read, so that the person looking over your CV can find the information they want easily and quickly. Don't worry! We'll guide you through this below.
To start your CV should be split into clear sections, usually in this order (don't worry, this is covered in the downloadable CV);
Personal details
Personal statement (optional)
Key skills
Employment History
Education
Hobbies and Interests
References
The video below created by Monster Jobs gives you a great visual explanation of what to include. The video is only 3 minutes long and well worth watching.
It's best if you underline or bold each of the sections detailed above the video – You'll find this information detailed in the downloadable CV template below, so don't worry, you'll get to see an example.
It's worth remembering that employers often have to read through CV's outside of work hours, and they may have already read through hundreds of others by the time they get to yours, so making your CV easy to read will no doubt increase your chances of getting an interview.
How to present your CV
Presentation is very important when writing your CV. Your CV might have a good structure, but if the letters are too small and/ or different sizes as well as having lots of spelling and grammatical mistakes, you're reducing your chances of getting noticed.
Make sure you stick with one font (type of text) for the whole CV. We recommend using Arial font and two consistent sizes of font, a larger font for the headings, and smaller for your detail and explanations.
"A CV should be typed, a hand-written CV can look untidy "
This will make your CV look clean and professional which should encourage employers to continue reading it. Another tip to point out is that lists can also prove important with CV writing.
Why? Well, lists can help you give the person reading your CV a quick, efficient dose of information about your key skills without spending too much time trying to find it. We recommend using bullet points as they are great for listing your skills and academic achievements neatly – you want these to stand out to an employer. And remember, a CV should be typed, a hand-written CV can look untidy.
Need to go over what you've read so far? Maybe make a brew and go back to the top and explore some more.
Content of your CV
The next step is to consider what information to include and exclude in your CV. Including everything you have ever done in your life will serve no real purpose, and could possibly result in an overly long CV that an employer might become bored of reading.
For best results, you want to tailor your CV to match the requirements of the job you wish to apply for.
A strong CV should contain the following information;
Contact Details – Full name, Address, Phone number and Email address in that order – this is critical.
Education – a list of school/ academic achievements in order of most recent, along with any other professional or in-house qualifications.
Referees – Provide at least two people who can provide positive comments of you and or your previous employment or experiences, such as past employers.
Skills – List the skills that you have that best match the job you are applying for. For example, the ability to work in a team, manage people, customer service skills, or specific computer skills;
Work Experience – Give the employer a list of previous jobs that are relevant, or any form of relevant work you have done in the past, along with details of your job position and examples of day to day tasks you had to complete.
It's worth noting that if you keep each part relevant the employer will more than likely remain interested. If you're applying for a Chat Host job but write a large paragraph about the swimming pool life-guard job you had – that might not really be seen as relevant.
Selling yourself
When you write a CV you need to think of skills or experiences you have acquired over the years that will make you stand out from others that apply. Some recruiters call this the 'unique selling point' or USP – something that stands out from the crowd that not many people have and makes others take notice. Maybe you have a USP? If so, make sure to include it.
The video below gives another good visual account of what a USP is and how to include it in your CV.
You could also add a short personal statement or profile of around 50 words to your CV – this is optional, not a requirement. The personal statement would normally be found at the top of your CV below your name and contact details.
With the personal statement it's worth adding skills and experience that could relate to the job you are applying for, or it could be a brief career summary of yourself. More information on the personal statement can be found on the downloadable CV template document below – download it and take a look.
What to avoid putting on your CV
Information you should avoid including in your CV is as follows;
A Photo of Yourself – an image of yourself is not a required field in a CV, unless the job requires it (such as an acting job) and will usually count against your chances of employment.
Date or Place of Birth – This is unnecessary and can lead to identity theft if the information is mistreated.
Another factor to mention is that if you are wanting to post your CV online, you should exclude your home address, as the information could be used in an incorrect manner, for example, you could be targeted by fraudsters etc.
A couple of sections below you'll find a downloadable CV template. The template is tailored to suit Chat Host job applicants.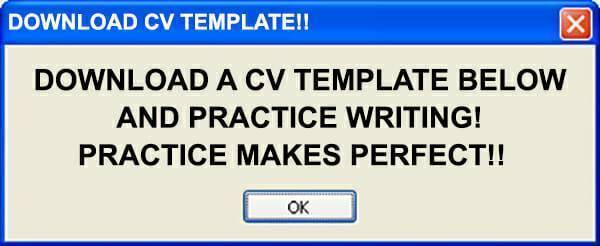 Please feel free to download as many as you like and practice writing a CV.
The downloadable CV template is designed to help give you pointers on what to include, it is by no means going to get you a job by itself – only you can do that – but with the information detailed above, it can help you present a smart, professional CV that should get you noticed. We hope this helps you.
Need to go back over what you've read so far? Go back to the top.
CV tips from the experts
We had a quick chat with Margaretta Timson who is bet365's Chat Host Manager. As an industry expert we asked Margaretta what CV tips would she give wannabe Chats Hosts or those returning to Chat Hosting when applying for a job.
Margaretta looks for these key pieces of information when reading a CV;
Personal statement (50 words or less)
Personal interests.
Approach to work attitude,
Personal interests give a better picture of applicant. For example if the applicant is sporty, then they may work well with a team. Applicants might like holidaying, cooking, music – subjects that are apparent and pop up in most chat rooms.
Soft/key skills such as communication, teamwork, initiative and problem solving.
Flexibility and computer skills are a must.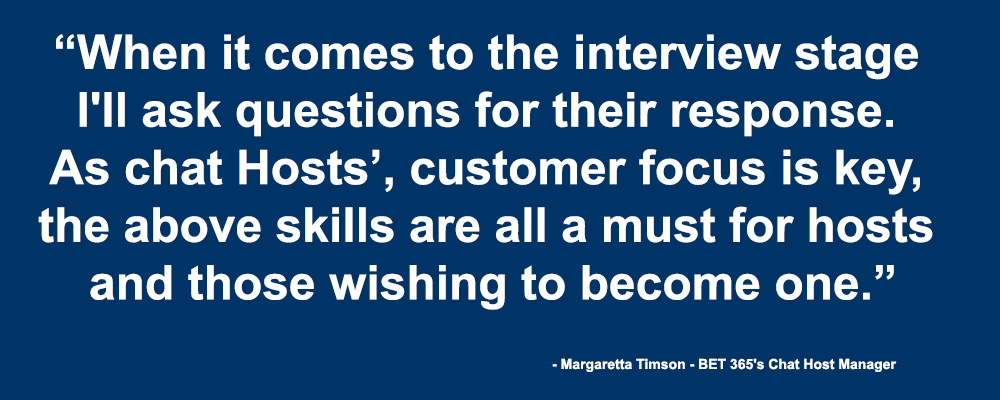 Recently we interviewed Sarah Smout, aka CH Blondie from 15 Network. We asked her questions on how she became a Chat Host as well as including questions on her shift pattern, support and tips for aspiring Chat Hosts. You can read the interview by clicking here.
We'll be adding more expert advice as and when it arrives.
Downloadable CV template (tailored for Chat Hosts)
Click the link below for your downloadable Chat Host CV template (word doc) here:
Helpful CV facts and figures
Below you'll see a graph showing the most common mistakes that cost potential employees the opportunity for an interview – just take a look below, take note and avoid these yourself.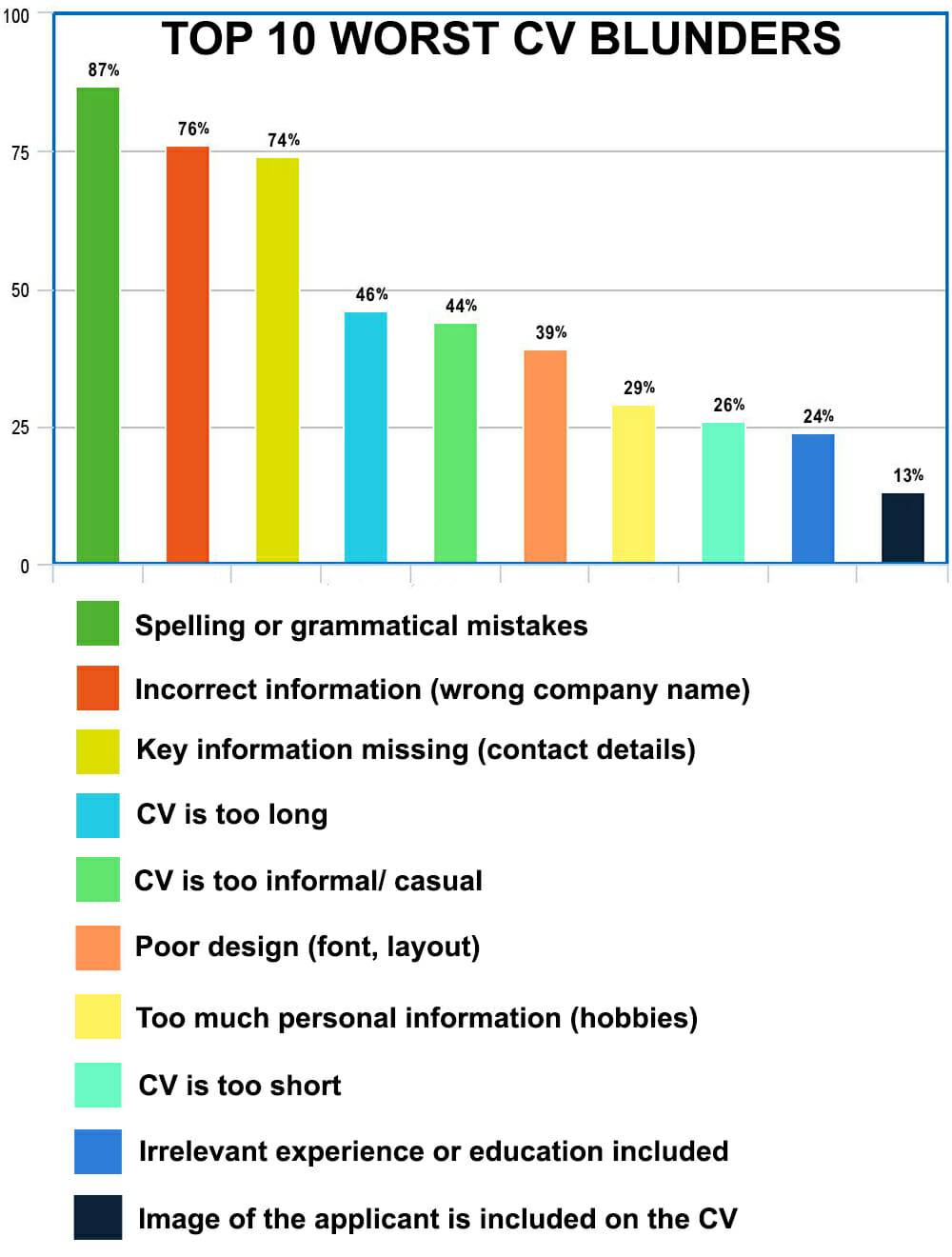 Findings from a recent Telegraph newspaper survey that listed 'phrases that infuriate interviewers' found the below phrases most likely to enrage recruiters;
"I'm a hard worker"
"I work well under pressure"
"I'm a team player"
Other infuriating CV inclusions that get recruiters' and employers' blood boiling are listed below;
Grammatical and typing errors cause business owners the most stress.
Four in ten recruiters hate the use of emojis and cringe worthy quotes.
Using a casual tone and signing off 'cheers' enrages half of employers.
Research also shows recruiters get angry by those with an 'unprofessional' email address.
Frequently asked questions
I've seen a Chat Host job I want to apply for, where else can I go for help with my application?
You can visit our Chat Host Job Application Hints & Tips page. This page will help you prepare for your application, include more information about your CV as well as interview tips and things you'll need to become a Chat Host.
I've heard I'll need a covering letter to go with my CV, what do I need to do?
In most cases this is correct. You'll need to include a covering letter to help employers learn a little bit more about you and your personality before they read your CV. Very soon we'll be adding a 'how to' guide on writing an effective covering letter for you, so keep checking back.
What's a covering letter?
The covering letter gives a little more detail about the person who has sent the CV for a job application. It gives the employer information about the qualities you may provide the employer and makes a statement about yourself and your suitability for the job. Unlike your CV, it should have a personal touch.
Click the '+' sign below to open 'How to write and effective covering letter' section
Including a covering letter with your application is must for anyone that is serious enough to want to secure a job.
Introduce yourself and explain why you are writing to the employer. If you are responding to an advertisement, state where you saw it. This tells the recruiter why they are reading the letter, and it gives them feedback on which of their advertising sources are working. Introduce yourself by stating your name, current status of work (ie job role, company, position).
Why this Job and this Organisation?
Tailor the letter to the organisation and the job description. If you can, ensure that you say something original about the organisation: don't just repeat the text from their publicity material, as this will show lack of initiative.
Talk about the company from the research that you have done to demonstrate an awareness and understanding of what they do. Be specific about why the position is appealing to you, and back this up with evidence from your past employment, or by linking this to your overall career plans, and what you find exciting about the job.
Why Should You Get The Job
Explain why you are well-suited to the position. Refer to the relevant skills, experience and knowledge you have and match what you say to the requirements outlined in the job description. Make sure not repeat what you say on your CV though.
Focus on your accomplishments and the transferable skills that are relevant to the job and make sure you state these, don't assume the employer will necessarily match them to the job role.
Back up your claims by linking to examples that are already in your CV. Focus on what you've accomplished at previous jobs and how you made the job your own and what made you such a valuable employee.
You can make a stronger, more credible case by linking different experiences that highlight similar skills in the job.
Where can I find the latest Chat Host jobs?
You'll be able to find the latest Chat Host jobs by either clicking here or by going to the bottom of this page and clicking the image for our dedicated Chat Host job page.
There's a lot of useful information on this page. You can either go back to the top to read it again, or, select a specific area from the menu below to jump back to your desired destination.
How to structure your CV
How to present your CV
Content of your CV
CV tips from the experts
Downloadable CV template (tailored for Chat Hosts)
Helpful CV facts and figures
Frequently asked questions
You can also keep your eye on the latest job developments on our community page exclusively built for Chat Hosts.
We hope you found this piece helpful and if you feel that their is something we've missed out on, you liked or feel we could improve on we'd be delighted to hear from you. Please leave us your feed back below.
Of course, we'll keep adding additional content to this page as and when we get it. Good luck with your applications.
Send me back to the top.