The arrival of The Kissing Booth 3 on Netflix comes hot on the heels of the second film in the franchise, but amid the excitement about seeing what happens to Elle, Lee and Noah, we wondered: what even is a kissing booth anyway?
The Kissing Booth 2, which was released on Netflix in July 2020, left viewers with a cliffhanger as Elle, played by Joey King, weighed up what to do at a key juncture in her life.
She faced a choice over whether to go to Harvard University to be with Noah, played by Jacob Elordi, or whether to choose to study at Berkeley and fulfill a promise of friendship she made with Lee (played by Joel Courtney).
There is also the simmering tension between Elle and Marco to be explored, following their kiss at the dance competition through which Elle earned the money to go to Harvard.
Swift sequels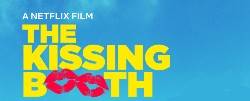 The Kissing Booth 3, which was filmed at the same time as The Kissing Booth 2, meaning that the coronavirus pandemic has not enforced a long wait in between the two releases, revolves around Elle's big decision.
All will become clear on August 11, 2021, when The Kissing Booth 3 hits screens all over the United Kingdom, and all of the main cast will be involved again.
That means fans can enjoy the talents of Joey King as Elle Evans, Jacob Elordi as Noah Flynn, Meganne Young as Rachel, Molly Ringwald as Noah and Lee's mother Sara, and Maisie Richardson-Sellers as Noah's Harvard friend Chloe.
What is a kissing booth?
While the act of kissing, discussions about it, and dilemmas about whether or not to do it play a central role in the film, the title takes its name from a carnival attraction that is seldom seen these days.
Kissing booths, in which a person would sit and charge a fee – typically to raise money for charity – in exchange for a kiss for anyone who pays it, were once seen at fairgrounds and village fetes, but nowadays are consigned to comic strips and pantomimes.
The concept of a kissing booth did, however, play a role in the campaign for LGBT+ rights back in the 1970s, when activist Barbara Gittings set one up underneath a banner saying "hug a homosexual".
Hitting the headlines
She set it up at the national convention of the American Library Association in Dallas in 1971, and when she didn't get any takers she took the bold step of kissing fellow campaigner Alma Routsong in front of rolling television cameras.
Gittings explained: "We needed to get an audience. So we decided, let's show gay love live.
"We were offering free—mind you, free—same-sex kisses and hugs. Let me tell you, the aisles were mobbed, but no one came into the booth to get a free hug.
"So we hugged and kissed each other. It was shown twice on the evening news, once again in the morning. It put us on the map."
So there you have it. Quite the icebreaker, should you need a story to tell your date before the two of you settle down to watch The Kissing Booth 3 on Netflix!