New data from GamCare shows that too many young people simply aren't aware of when gambling "becomes harmful" to them. The problem gambling charity now hopes that its new educational video will help to spread the word on social media as part of its Big Deal campaign.
The independent UK charity Gamcare has produced a new educational video targeted at under 18s in response to a rise in the number of young people using its services over the past 3 years.
The video, which is titled "Viddal, Gambling and the Brain" shows the popular YouTube star and boxer Viddal Riley talk with Dr. Jack Lewis about how gambling can impact brain development in young people. It also includes an MRI scanner that simulates a real-life casino using virtual reality to show exactly what goes on in someone's brain when he gambles.
What has GamCare discovered?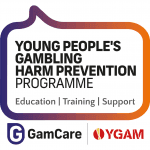 The charity has been examining data from its support services, including the National Gambling Helpline, and it shows that 77% of young people gamble online rather than in person. It also shows that over the past 3 years, 7 in 10 of the young people who have used its services had a personal gambling issue rather than concerns about a friend or family member.
In addition, the Gambling Commission ran an Ipsos MORI survey in 2020 which found that 37% of English and Scottish 11-16-year-olds had gambled in the last 12 months.
GamCare's CEO believes that lockdown has made things even harder for under-18s, describing it as "an extremely difficult year". Calls to its helpline over the past 12 months indicate that more minors are experiencing parental gambling, while also turning to online gambling themselves.
The charity's Big Deal website is a place where young people can find support and information relating to gambling. It also offers 1-to-1 live chat.
More about GamCare
GamCare was founded in 1997 and it aims to support anyone in Great Britain who has been affected by gambling, as well as to reduce gambling-related harm through communication, prevention and education.