Everyone deserves a new image once in a while, and now, Mecca Bingo has decided to treat itself to a mini-makeover for its 60th birthday. It aims to reinvigorate both its land-based clubs and its website and make itself more relevant to today's bingo player, although the app looks like it is still in the queue for work.
If you've recently visited the Mecca Bingo website, you may have done a double-take as it's undergone a renovation in the past week.
The eye-popping pink colour scheme has been retired in favour of a bright white background that contrasts better with the ad banners and text blocks.
The logo has also changed, and it now spells out the word "MECCA" using bingo balls in pink, orange, purple, green and blue.
You can easily check out the latest promos thanks to the rotating banner that sits at the top of the homepage, and at a glance, you can see the great selection of offers available.
The same new-style branding can now be seen in Mecca Bingo clubs across the UK, which were finally permitted to reopen on May 17th.
The reason for the re-brand
It's not the first time that Mecca Bingo has changed its image, but why has it chosen to do so just now?
Well, according to sources, the brand's owner, The Rank Group, has been busy researching the bingo and leisure markets and discovered a need to give its bingo experience an overhaul. It also wanted to create a visual identity that would work as well in digital form as it does in clubs. Hence, Mecca's tone of voice and physical appearance has been altered to give it a more fresh, contemporary and modern look and feel.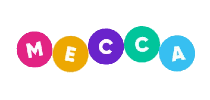 The brand also turns 60 this year and has been holding many competitions and promotions as part of its celebrations. This makes 2021 the ideal time to have a brand refresh to start the journey into the next 60!
According to Rank's Retail Marketing Director, Catrin White, customers are at the heart of the refresh. She also says that the brand-new image and voice are more "relevant and appealing to today's modern consumer".