Can Mecca Bingo 'Mecca Star' out of you?

Mecca Bingo likes to run the big extravaganza events and also likes to give members the chance to shine. If you are an outgoing kind of person and you have a decent singing voice, then this is the event for you.
Running until 28th January 2018 you have the chance to be part of the Mecca Star Song Contest. This is an online event from Mecca Bingo that will have live auditions and an all-star live VIP final at The Belfry on 27th January 2018.
This might give performers a chance to shine, but it is also meant as a bit of light relief as the longer nights set in and people settle down in front of The XFactor. People might not want to put themselves on national TV in front of a scathing Simon Cowell, but might not object to submitting a video and getting up on a smaller stage in front of the likes of soap star Claire King, singer Gareth Gates or reality star Gemma Collins.
The ultimate winner will get the chance to sing alongside some of The XFactor's biggest stars as well as £2,500 in cash – although Mecca Bingo will consider itself a winner too it the event gets traction on social media, the Holy Grail of any business in this digital age.
How to enter the Mecca Star Song Contest
You need to be over 18 and to make a clip of yourself singing that you can submit to Mecca Bingo via [email protected] It must be via a YouTube link or a clear quality, 1-2 minute video file and received by Mecca no later than 15th October 2017.
Mecca Bingo players will get to see 'webisodes' of the event throughout November via social media and early in December the four finalists will be revealed. Plus keep your eyes peeled to WhichBingo too as we will have some exclusive footage just for you to enjoy too.
From that point, and until the 2nd week in January, players will be able to vote for their favourite act by entering the code for the act and spending £2 on bingo.
Along the way players will also have the chance to win tickets to the live auditions and live final via different channels – social media, Mecca Bingo promotion pages and as a Mecca Bingo VIP. The prizes will include hotel stay and dinner and an XFactor bingo game as well as seeing the event unfold live.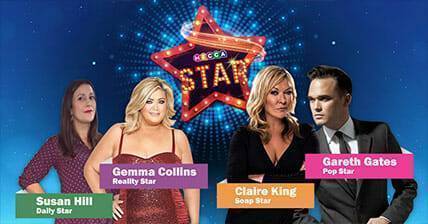 The Live Final
As with all such events, the Mecca Star Live Final is going to be a lavish affair which will see the overall winner crowned. The chance to win tickets to attend makes a visit to Mecca Bingo well worthwhile, although some of the event will be featured on a Facebook Live stream so everyone can be part of the fun.
It takes place on 27th January 2018 at The Belfry from 6.45pm to midnight. Claire King will once again be hosting and confirmed stars of The XFactor in attendance are Misha B and Ben Haenow. The potential star of the show, however, is hoped to be a rare appearance by none other than Leona Lewis (not confirmed at the time of writing, but fingers crossed).
Not only is everyone there assured of a great night, but the first Mecca Bingo Mecca Star will be finally revealed.
This is just the kind of event that players love and it marks Mecca Bingo out from the crowd as being able to offer something a bit different. Even if you can't sing, you can enjoy the ride and be part of the event online or in real life.

20th November 2017
The search for the Mecca Star 2017 is well and truly under way and judge Susan Hill from the Daily Star is keeping readers updated on the progress of the competition.
Susan was thrilled to be asked to be part of this unique contest together with actress Claire King, singer and actor Gareth Games and Charlotte Dawson, daughter of the late comedian Les Dawson.
The journalist has been updating Star readers in print and by way of short 'webisodes' on the online site so you can really get a taste for how the contest is progressing.
Although you may know head judge Claire King from her appearances in Emmerdale, Bad Girls and Coronation Street, she actually started her career in the music, managing and singing in an alternative punk band.
Susan has described the experience as being 'like I was suddenly in an episode of The X Factor….asking: "So, what's your name? And where do you come from? What is it that brings you here today? Have you got what it takes to be our Mecca Star?"'.
The £2,500 prize money is attracting entrants from all over the UK and she states that the standard of the talent she has seen is very high. All is revealed in the special 'webisodes'.