One of the most innovative slot game developers in the industry today is Big Time Gaming, creator of the Megaways and Megaclusters game mechanics. Both of these have added new dimensions to online slot play, with Megaways games, in particular, proving to be especially popular with UK slots players. This has led to a number of well-known slots games being revamped and relaunched to incorporate the ever-changing ways-to-win feature that is integral to Megaways slots.
Now Big Time Gaming has launched another new gameplay style in the form of its MegaQuads slots.
What can you expect from MegaQuads slots?
Slots Vegas is the first game to feature the MegaQuads mechanics, and if the gameplay here is anything to go by, this new innovation looks to be an exciting one.
Four sets of reels
One of the most eye-catching features of MegaQuads slots is the number of reels and how they are laid out on the screen. In Slots Vegas, there are four separate grids made up of 4 reels and 4 rows of symbols, each of which offers 256 ways-to-win. However, the layout of the grids is fluid, and if you hit 2 or more specific symbols, the two grids merge. This gives you 65,536 ways-to-win and the possibility of hitting 8 of-a-kind payouts.
During the free spin bonus round, the grids are linked vertically, while all four grids can potentially merge to create a huge 8 reel, 8-row grid and the potential for massive wins.
High volatility gameplay
MegaQuads slots offer high volatility gaming action. This means that while the payouts during base play may at first glance seem relatively small, multipliers play a big role in these games and create regular opportunities for much bigger wins.
In Slots Vegas, for instance, there are four premium symbols to look out for and each time you hit a winning combination featuring these symbols, its multiplier increases by 1x for each symbol in the win. This not only means ever-growing payouts during base play, but the multipliers are also in play during the free spin bonus round, creating the potential for huge wins.
Free spin feature
Everyone loves a free spin feature. During a MegaQuads free spin round, a number of different features come into play, including the ability to win additional bonus spins. All multipliers from base play carry over into the bonus and can continue to increase while the free spins are being played. In addition, the grid linking changes once again giving you 4,096 ways to win on every spin.
The game's major feature is triggered when you hit 1 or more rainbow wilds on each of the two grids during the free spin bonus; both sets of reels merge to produce a giant grid made up of 8 reels and 8 rows, which gives you a staggering 16,777,216 ways to win.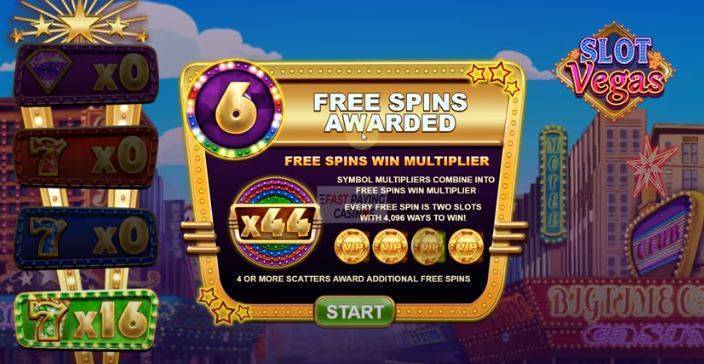 Why should I play MegaQuads slots?
If you like games with progressive gameplay and ever-changing payout potential, then you will love MegaQuads slots.
The gameplay never stands still, with the configuration of the rows and reels, the ways to win and the size of the multipliers always changing. This provides plenty of variety and ensures the action is always engaging.
This also creates an unusual element to the gameplay, in that in one sense you don't want to trigger the free spins bonus round too often, as the biggest payouts come when the multipliers have grown significantly. Therefore, the longer the gaps between triggering the bonus, the bigger the wins. It is this sense of anticipation that is a key aspect of what makes playing MegaQuads slots games so engaging.
The sense of anticipation is even greater once the free spins bonus round has been activated, as you have the potential for a 16,777,216 ways-to-win spin which, when combined with multipliers on the premium symbols, can produce some truly enormous payouts.
Will MegaQuads slots be a hit?
Time will tell whether the MegaQuads mechanics will capture players', and other operator's, imaginations in the way that the most popular Megaways slots games have done, or whether existing slots titles will be adapted to become Megaquads games.
This initial experience of playing Slots Vegas, however, does suggest that players who like high volatility slots with plenty of variety built-in to the gameplay will find much to enjoy in MegaQuads games. It will be interesting to see how long it takes before more games come online that include this innovative new feature.