The past month has seen another fine array of online slots hit bingo, slots and casino sites all over the internet. With new software companies springing into existence all the time, they all seem keen to impress and are releasing games that are both entertaining and exciting.
Here we run down a few of the best online slots that have been released over the past four weeks or so.
The Wolf's Bane (NetEnt)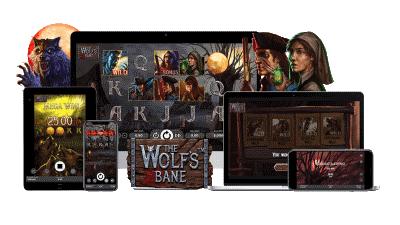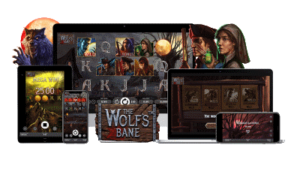 It would be a pretty weird month for slots if a new slot by NetEnt hadn't been released. Of course, the world's number one slot provider released a super new slot in October, called 'The Wolf's Bane' (this was originally going to be called 'The Wolf's Night' but NetEnt apparently had a change of heart).
If you're expecting something different from NetEnt, then prepare for a shock – this werewolf-themed title is simply a clone of NetEnt's 'Wild Wild West' slot.
It's still a fine game, though, with superb graphics and a 96.74% RTP. This slot is set in an ancient village that's suffering from a werewolf problem. It's a suspenseful game full of gloomy images and sound FX, spooky tunes and blood-curdling howls. It's probably best that you do not play this game in the dark, especially if you are of a nervous disposition!
If you enjoy slots with simple features that don't take hours of play to get your head around, then 'The Wolf's Bane' is most definitely for you.
Boom Pirates (Foxium/Microgaming)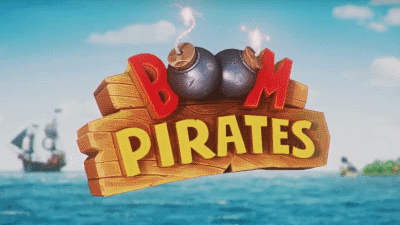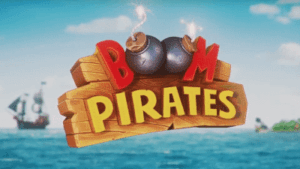 When it comes to online slots, you perhaps cannot go wrong with either pirates, or explosions, or even both! That must have been the thinking behind Microgaming-owned Foxium's latest release, 'Boom Pirates'.
You can't go wrong with lots of paylines either, and there's no other slot that can beat Boom Pirates for paylines as this slot maxes out at over 10 million ways to win. Yes, you read that right – 10 MILLION!
The slot has a maximum playing grid that measures a colossal ten rows by six columns. In normal play a familiar grid of 4×5 forms the reels. If you trigger the bonus game the screen will change to the 10×6 grid, although most of the symbols will remain covered. You are awarded ten free spins and after each free spin there's a chance the pirate ship will fire and blast a few of the pesky symbol-coverings to smithereens. The more symbols you uncover, the greater the number of paylines and the greater your chances of winning big!
Add on superb sounds and graphics and you have a damned fine online slot here!
Tomb of Nefertiti (Nolimit City)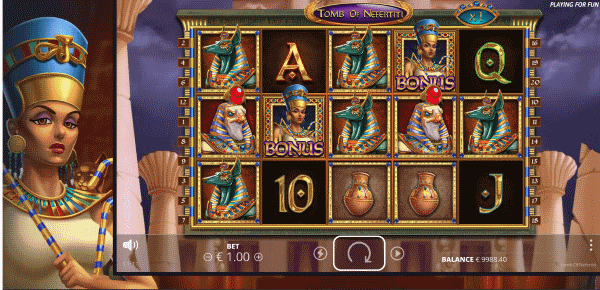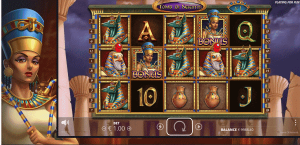 Despite being around over three thousand years ago, the pharaohs of Ancient Egypt still hold a place in people's thoughts. We've already had a very successful slot based around the most famous 'Queen of Egypt' Cleopatra, and there are plenty of other slots that celebrate the legends of the pharaohs.
Now, Nefertiti (in reality, a lady pharaoh who was supposed to be even better-looking than Cleopatra) has received the online slots treatment, thanks to Nolimit City. This is a classic-looking 5×3 slot with twenty paylines and an RTP of 96.19%.
The game has one feature that's really of note – the wild symbol is a 'tomb' of Nefertiti 'raider' who looks exactly like another very famous fictional raider of tombs. The number of pay lines also doubles when a bonus is triggered.
We can't help but think Nolimit City have missed something of a trick here with the 'old fashioned-ness' of this game. However, if you are the kind of slots player who misses the days of simple slots, then this game could be just what you are looking for.
Age of Asgard (Yggdrasil)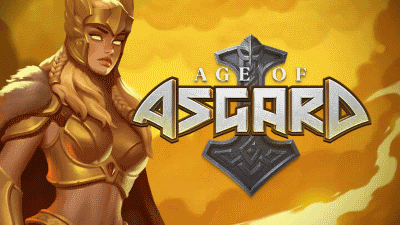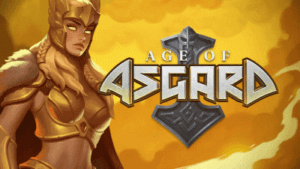 Speaking of simple concepts, there's no simpler a concept than 'good' versus 'evil', surely? It's something that's been raging since our good lord hammered together the universe in the first place, after all! Well, 'Good vs Evil' was going to be the name of the latest slot from Yggdrasil, but the Norse-lovers decided to re-christen their new title 'Age of Asgard' instead.
The goodies and baddies in this slot each have their own set of reels, 3×5 in dimension, and you can win on either. Matters turn up a notch interest-wise if you land a free spins bonus as the reels combine to become a massive playing arena six rows high and five columns across.
Winning symbols can even arrive three rows or (in free spins mode) six rows high! Asgard is where you want to stay, but if you land enough free spins symbols you could end up in Ragnarok, which is where the final battle of good against evil will take place. Here the heat burns away feeble paying symbols, replacing them with more lucrative ones.
A gorgeous game from Yggdrasil with 20 paylines and an RTP of 96.2%.
Rainforest Magic (Play'n Go)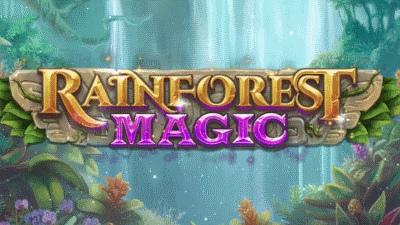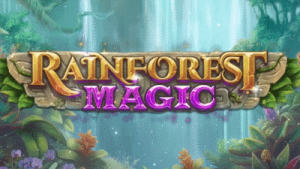 Play'n Go have in recent months grabbed the mantle of 'most prolific online slots provider' from other contenders, including NetEnt. Here's yet another addition to their ever-flourishing line of slots, Rainforest Magic.
We love Play'n Go's games, although we do have concerns that they seem to be treading water with a few of their latest releases, and we have to opine that we think Rainforest Magic falls under that category. If you are looking for originality and uniqueness, then you are simply not likely to find it here.
This slot is populated by all manner of rainforest critters, including parrots, frogs, monkeys and jaguars. The main feature is the shifting reels aspect that is triggered during free spins. Each time you spin, between one and four reels will shift to reveal winning symbols underneath.
A slot that is prettier to look at than is entertaining to play, Rainforest Magic has 25 paylines and an RTP of 96.53%.
Honey Honey Honey (Pragmatic Play)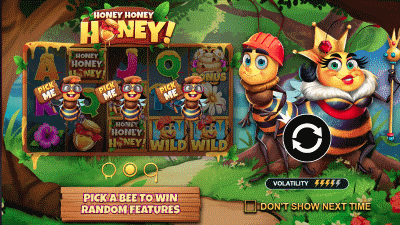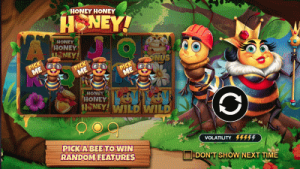 It's perhaps impossible to think of the title of this game without singing it in the fashion of the famous Abba song 'Money Money Money'. Abba do not make an appearance here, even though 'Abba' contains two Bs (oh dear, sorry!).
This Pragmatic Play title is full of bees, including the queue bee herself. The main feature is called (predictably) 'Show Me the Honey' and you get a choice of two side games if you trigger it – 'Sticky Streak Free Spins' or 'Honey Queen Colossal Spins'. The latter option is probably the better choice as some of the symbols on the reels (including wilds) are replaced by 2×2 or even 3×3 versions of themselves. Bigger symbols offer bigger win chances, of course!
The graphics for this game are fabulous although we have to question some of the music choices. For example, what does 'When Johnny Comes Marching Home Again' have to do with bees? Quite a 'bee-cent' effort from Pragmatic Play, but we do 'bee-lieve' we've seen better!
Right! Time for us to buzz off! Join us next month for our round-up of the best slots to have been released over the past four weeks or so.