In this week's news roundup, we look at how the national lockdown is causing bingo players to get creative with DIY bingo cards, and how bingo brands are doing their bit to help their communities during these tough times. Plus, we've got an exclusive deal for you, our readers, from Ted Bingo.
"Have You Ever" Played Coronavirus Bingo?
Finding things to keep you and your family occupied during lockdown can be tough. However, it would appear that bingo players are particularly creative when it comes to creating homemade entertainment.
We've already seen cases of balcony bingo occurring in Ireland, and now there's another way to while the hours away.
The trend is being called "Coronavirus Bingo", and it's being copied by people across the globe, particularly on social media sites like Facebook and Instagram.
Most instances of the game consist of a bingo sheet containing either items or actions that players can tick off once they've completed them.
Sometimes, the actions must be completed in a day or two, but in some instances, you can rely on previous experience to make a full house. For example, many of you may have played the game "Never Have I Ever", in which case, you might score points for having had a tattoo, gone skinny-dipping or drinking a particular spirit. The 'Have You Ever' bingo cards have become viral via Instagram, with more and more people contributing weird and wonderful things they may or may not have done in their lives.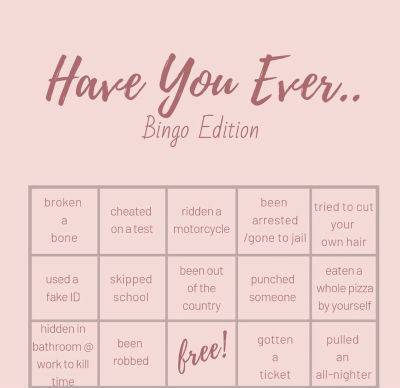 You then tag your friends to see who completes the card to win: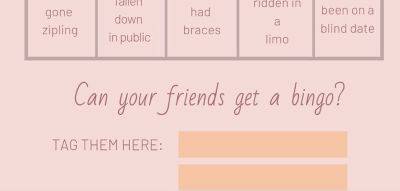 While you can use other people's bingo cards to get started more quickly, you could also make your own using free online software or a paper and pen.
Plus, if you want to get people outside of your household to play along, WhatsApp and Facebook Messenger often allow you to hold video chats for free over Wi-Fi.
Bingo Brands Pull Together to Help Their Local Communities
While bingo halls in the UK may not be able to serve their customers in the usual way due to government-enforced shutdowns, it doesn't mean that their owners or employees have forgotten about helping those in need.
In the last week, we've seen several inspiring stories about how bingo clubs are going the extra mile during national lockdown.
For example, Buzz Bingo in Brighton has offered NHS workers the use of its car park for free. Staff from the Royal Sussex County Hospital have been invited to use the club's 100 bays on a first-come, first-served basis, and as the car park is open 24/7, the gesture should be greatly appreciated by overworked and exhausted NHS employees.
The club's manager, Darrell Sexton, says "this is just a small thank you from us to them".
The Welsh are known for their hospitality, and so it comes as no surprise that both staff and management at Mecca Bingo in Swansea have been keen to help the most vulnerable among us during the Coronavirus pandemic.
The club already supports two local charities as part of the Swansea Together project, and over the past seven days, its team has cooked up hundreds of meals in its kitchen which have been handed out to vulnerable members of the community.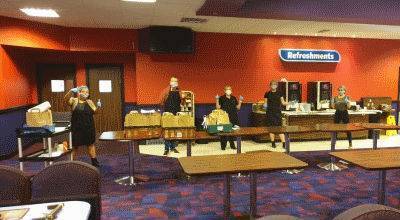 Wednesday saw the first meal deliveries take place, with 186 hot dinners being prepped and cooked by Mecca Bingo staff. At the time of writing, a further 474 meals have been handed out.
To allow the bingo hall to continue its good work, the club's local supplier has confirmed that it will carry on donating food for as long as it's able".
Exclusive Ted Bingo Offer
As a team of bingo lovers who aim to bring our readers unbiased and factual information, as well as timely details of new sites and special offers, WhichBingo is delighted to announce that we've just secured an exclusive deal with Ted Bingo.
To claim, you'll need to enter the promo code shown on our Bingo Offers page when making your first qualifying deposit. It's as simple as that and you'll enjoy a 200% bingo bonus worth up to £40 plus one spin on Ted's Wheel.
As an award-winning site, you can rely on Ted Bingo to bring you the best internet bingo games and slots, as well as generous loyalty rewards and exciting promotions. If you'd like to find out more about the brand, why not have a read of our Ted Bingo review?