This week, we've seen an exciting assortment of news popping up at some of our favourite British bingo brands. There are new games to play, quiz and bingo nights to enjoy at your local pub, a "designer" bingo handbag to buy, the chance to win a car at Buzz Bingo, a new collaboration between Microgaming and Eyecon and as pleas were being made to extend the furlough scheme to help casino employees, we finally got the long-awaited announcement that casinos could reopen.
For all the details and more breaking news, continue reading.
Buzz Bingo unveils its own handbag and gives players the chance to win a car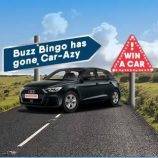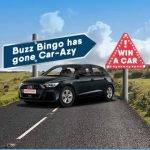 If you're a dedicated follower of fashion, you'll undoubtedly remember when Bella Hadid and various other celebrities started sporting Lulu Guinness' Bibi bag. The bingo-inspired handbag retailed at £175 and sold out within 24 hours of it going on sale.
Buzz Bingo has just announced on Instagram that it's come up with its own version of the Bibi bag, which it plans to start selling on a trial basis very soon for just £1.75. It will also be donating all sale proceeds to the NHS.
We've also spotted that Buzz Bingo is giving away a brand-new Audi A1 this month.
Every day during August, starting at 10am, you can play fun chat games like Car-Azy Words, and Car-Azy Karaoke, and the 11th question of each game could win you entry into the prize draw to win a shiny new motor!
Strongbow Nights campaign aims to boost pub trade through bingo
Whether you enjoy regular Strongbow, a refreshing pint of Cloudy Apple, or a summertime-inspired half of Strongbow Dark Fruits, you'll soon be able to sip your favourite tipple while playing bingo and quizzes down your local pub.
The Strongbow Nights campaign, which was created by Heineken, aims to boost midweek pub trade through a series of trivia quizzes and bingo nights.
Each week, participating pubs will be able to download a new set of quiz questions and musical bingo tracks for the venue to use to provide entertainment for the patrons that have dared to venture out.
Reach for the Bars goes live with GVC brands
Reach for the Bars is the name of an exciting new game which is exclusively available at GVC Holdings' brands like Gala Bingo and Foxy Bingo. It includes Super Wilds, a special Diamond game, and a pick-your-own bonus feature. Plus, it offers wins of up to £250,000!
Microgaming creates 7 millionaires in 7 months

Many online bingo and casino players are fans of Microgaming. As well as offering innovative and highly memorable slots like Immortal Romance, ThunderstruckII and Jurassic World, the company operates a progressive jackpot network.
The latest Microgaming press release shows that the company has paid out more than €30m for the year-to-date to lucky winners of some of its most popular jackpot slots such as Major Millions and Mega Moolah.
Incredibly, it's created seven millionaires in just seven months, one of whom was playing at a UK online casino when he pocketed a €1.6m win from a €3 stake.
Eyecon joins forces with Microgaming

Eyecon is a software developer whose games have become particularly popular among the online bingo community. The best online bingo sites could not claim to be the best if they didn't offer players the chance to play this fantastic range of simple, but entertaining, games.
Although the software studio was purchase by Playtech in 2017, it has just signed a deal with Microgaming that will see the entire suite of Eyecon games rolled out across all brands that feature the Microgaming content platform.
Just some of the exciting titles that Microgaming customers will soon be able to take for a spin include Temple of Isis, 99Time, Shaman's Dream, Lucha Rumble and Fluffy Favourites.
Casino's reopen as BGC calls on the Government to extend furlough scheme
The Betting and Gaming Council called on the government to extend the existing furlough scheme to protect employees of land-based casinos following the postponement of the reopening of casino venues in England.
MPs have already urged the government to act fast before 7,000 jobs are lost, and the BGC has added extra ammunition to the cause by appealing to the government to prevent the UK from "permanently losing part of its rich tourism and entertainment heritage".
Extending the scheme does not seem to be an option as the Government instead opted to allow casinos to reopen from 15th August, together with skating rinks, bowling alleys, soft play areas and theatres. Of course, all these must provide adequate facilities for social distancing and hygiene, but we are sure they are more than ready to welcome back their paying customers.
In Wales, casinos are still not allowed to open due to concerns over the spread of COVID-19. However, the Welsh first minister, Mark Drakeford, angered the BGC and casino industry when he recently likened casinos to nightclubs in terms of their risk of spreading Coronavirus.
The BGC's Chief Executive sent a letter to Mr Drake to point out that his comparison of nightclubs and casinos is "neither true, nor fair". He also mentioned how casinos have undertaken extensive work to comply with social distancing measures and are ready and willing to open as soon as they get the go-ahead.