Most of us have had a basinful of being stuck at home, although finally, the end is in sight if the Government roadmap out of lockdown stays on track.
For many people, Sundays have probably been the best days to stay indoors. After all, who doesn't enjoy a Sunday roast along with a good footie match on TV or a boxset splurge?
Recently, Sunday nights have become the highlight of our week as Series 6 of Line of Duty makes its highly anticipated return to BBC 1, bringing us the latest twists and turns in the daily lives of AC-12 and the ongoing search for "H".
And, if you're a bingo fan, the prospect of the next episode is set to be even more exciting as The Sun newspaper has created a special Line of Duty bingo card that allows you and your family to listen out for the show's famous catchphrases.
Last year, Adrian Dunbar who plays one of the show's main characters, Superintendent Ted Hastings, confessed that Ted has become somewhat of a legend for fans of TV bingo, saying "every time I say 'fella', they have to drink a pint".
We've already seen Hastings appear in Episode 1 and, although he featured less than usual, hopefully, there will be plenty of chances for him to get a few more 'fella' lines in before the series finishes later this year.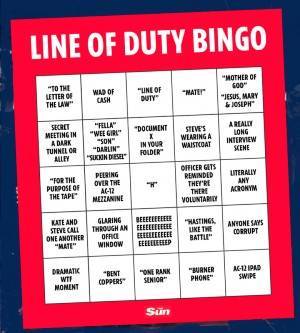 Other commonly-used phrases that The Sun's Line of Duty bingo card requires you to keep your ears open for include "for the purpose of the tape", "burner phone", "mate", "bent coppers", and "H", as well as various scenarios that include a wad of cash, anyone saying the word "corrupt", a really long interview scene", and someone glaring through an office window.
We noted, however, that the ticket may have been put together before the series started, as various new police acronyms have been introduced. Most obvious of these were CHIS for covert human intelligence source instead of CI for criminal informant and DIR for digital interview recorder instead of tape.
While there might not be any prizes for playing along, Line of Duty Bingo is sure to bring down the house! Plus, if you need more bingo in your life, you can also play an exciting range of online games at Sun Bingo itself.