November sees the return of Pragmatic Play's much-loved Snowball Blast games which boast a magical wintry theme. If you want to know how to play and where to play, then read on for the full low-down.
Much as we've enjoyed soaking up the sunshine in Pragmatic Play's Beachball Blast game, we've been wondering how long it would take for the software provider to notice that things have gone distinctly chillier of late here in the UK.
Luckily, they've obviously been listening to our prayers as they've just changed back to the much-loved online bingo variant's Christmas-themed format, Snowball Blast.
The winter version of the game launched in December 2020, just in time for Christmas when many of us were still enduring some form of lockdown. So, it's great to see it return in plenty of time for what many of us hope will be a more 'normal' festive season.
How does Snowball Blast work?
Essentially, Snowball Blast plays in exactly the same way as the basic Bingol Blast does. The only changes come courtesy of the graphics which are now snow-themed.
Snowball Blast is similar to speed bingo due to its fast-paced nature. You can play games for 2p, 5p or 10p, and the room is typically open between 8 AM and midnight daily.
It uses 90 balls and offers just one prize for a full house.
At the beginning of each game, two quick blasts emit more than 50% of the bingo balls onto the screen. The remaining balls are then announced in quick succession until the full house winner steps forward.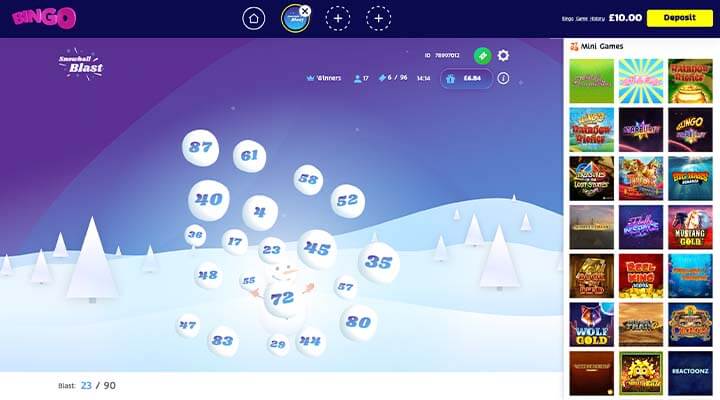 How many versions of the game are there?
So far, there are three versions. The original game is called Bingo Blast, and last winter, Pragmatic gave it a makeover called Snowball Blast. Come the summer of 2021, the provider released a summer-themed version called Beachball Blast. We're keeping our fingers crossed that there could be many more formats in the pipeline!
Where can I play Snowball Blast?
You can enjoy playing Snowball Blast games at any online bingo site that offers Pragmatic Play bingo games such as PlayOJO.