It's not about the written word in an online blog anymore. Tens of thousands of young people– heck, hundreds of thousands, if not millions – regularly treat themselves to the pleasures of watching their favourite 'vloggers' showing off their daily beauty routines, skin care tips, and fashion finds. We get the same information, but on video, with a real person talking to us – a 'video-log' if you will – also known as a vlog!
Now vlogging fans have a new oh so private and fancy activity which takes them into the bedrooms of their friends and online celebs for edgy fun and games. And it's not quite what you think.
Bingo, anyone?
Yes, that's right. Online bingo from Sun Bingo is the latest craze in the 18-35 age group, where young and old alike hope that lady luck is on their side as they compete for hot prizes and cold cash. Long the pastime of grannies in damp church halls and community centres, bingo is now online and ripping attention thanks to a massive makeover of the game and its social media exposure by the creative folks at Sun Bingo and many more.
Beauty Vlogging Catfights Blow Back to Bingo
Sun Bingo will never miss a trend and the ongoing growth that is beauty vlogging is well known and attracts millions of eyes and ears. It is possible to lose four or five million followers and still be successful as James Charles did during his spat with former BFF Tati Westbrook. Her callout of her now ex-partner's alleged sell-out to commercial interests and his bad boy antics led to a massive multi-million subscriber tumble in Charles' following. Ouch!
Some fans are getting sick and tired of the beauty vlog infighting though. That, in turn, has created an opening for online gaming companies like Sun Bingo to fill the gap and to offer alternative entertainment and engagement to the masses.
Are You Gonna Bingo? Vlog Fans Gravitate to Online Social Games
Following the mega-success of last year's Sun Bingo 'Are You Gonna Bingo' ad campaign, with comedienne Jayde Adams, which set an uber-catchy song by the same name with humorous scenes of bingo-playing bosom buddies, Sun Bingo and its creative partners have teamed up once again with Adams to create a vlog that riffs on the beauty vlogs to create a satirical vlogging series that's all about the bingo.
In the six-minute video, Adams plays a Bingo Vlogger in her bedroom with her initially reluctant BFFs, playing the game online with like-minded young ladies in pursuit of bling and bank. Her vlog, in this case, is not a wannabe show-and-tell of what's in and what's out in the world of fashion, style, and beauty, but an entertaining attempt to engage her like-minded fan-base of fun-seeking lads and lasses to embrace the social pleasures of playing online bingo.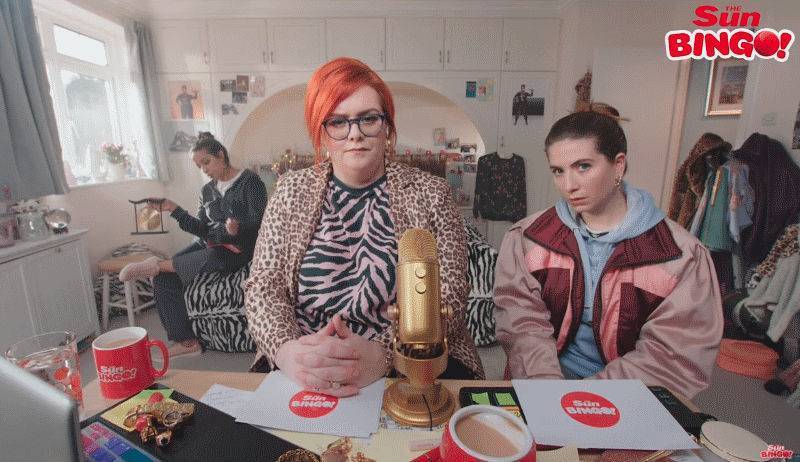 The bingo-themed vlog created by Adams' character Jaz is set in an over-the-top, campy bedroom. Think mixed-gender sleepover on steroids. But the young (and not so young) vlogging teams and their interviewees are not gabbing about the latest skin creams or bikini cover-ups. They want to grab the big bank with bingo, and their road to riches is becoming bingo-playing YouTubers!
The not-exactly-modelesque Jaz is decked out in her trademark leopard-skin coat (we hope not real!) and a zebra-patterned top that matches her bedspread. Perched behind a decidedly phallic golden mic in her not-exactly-stylish boudoir, Jaz introduces her vlog fans to a couple of her rather awkward bosom buddies.
She also interviews her mysterious mate as 'Mystic Megan', a wannabe predictor of bingo balls, who just can't seem to get her numbers straight. Then there's Ted, a supposed "legend" of the game whose "Ted Talk" segment crumbles before it starts when he totally freezes up on live cam. Along the way, fans are introduced to tidbits of how bingo is played, the latest bingo news, plus how to win bingo bling that's up for grabs in the garage, but really belongs to her dad.
So Really, What's So Great About Online Bingo Anyway?
Sun Bingo has clearly invested heavily in an edgy, madcap venture to appeal to a younger audience. Their bet on fun-seeking youth as an engine of market growth seems to be paying off big time. Online bingo is growing by leaps and bounds, in part due to the low levels of attention required, its engaging social dimension, and its simplicity to learn and play.
The basic idea of online bingo is that all players get one or more online bingo cards, usually in a 3-line, 15 number 90 ball matrix in the UK, which can be filled up when the number called out matches the numbers on each card. There are different ways to win, such as calling one line, two lines or the full-house first.
Sun Online Bingo has emerged as a leading player in the gaming niche, breaking new ground both in the variety of bingo games and their generous promotions to reward first-time bingo newbies and loyal players. The site also offers a good selection of online slots to choose from, but the emphasis is clearly focused on the new breed of bingo player.
Head honcho of bingo and games at Sun, Hannah Swales explained the breakout of the new online gaming craze in the young and wannabe young, citing the company's "fun, light-hearted, down-to-earth brand of Bingo." Humour, she thinks, is a lot more engaging than the nagging negativity that has lately afflicted beauty vlogging at the highest levels.
Even a cursory search of YouTube shows a noticeable growth in bingo vlogs. Only time will tell whether new online catfights emerge between Jaz and her crew and competing bands of bingo vloggers.