One of the dilemmas that has faced online slot game developers is finding effective ways to combine technology with the social aspect that has always been a part of bricks and mortar casinos and bingo rooms. As enjoyable as it is to play online slots and bingo, there is no doubt that some players miss the interaction and sense of community that comes with playing with friends and others.
The industry has responded to this challenge in a number of ways. Live dealer games have been an important feature of online casinos for many years, and whether they are broadcast from a gaming room floor or a purpose-built studio, they have enabled online players to interact with the dealer and enjoy an atmosphere that has more social elements than when you play alone.
As a way of further broadening the appeal of live dealer games, developers have now moved beyond classic casino games into new areas, with games like Dream Catcher and Football Studio, as well as side bet and multi-play features that have all opened up a range of new live dealer gaming experiences.
Online gaming communities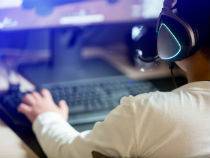 Players themselves have also been extremely innovative in creating gaming communities that have brought a highly social element to online slots play. Taking a cue from PewDiePie, there are innumerable streaming channels on Twitch, YouTube and other platforms, where friends get together to play online slots, while viewers can watch the game being played at the same time. This is a good way of becoming familiar with the gameplay of a slot you don't know, while also sharing in the highs and lows of big wins and near misses.
These channels tend to fall into two categories. One kind tends to be more instructional in nature, taking viewers through a game's set up, bonus features, free spin rounds, etc., so that you get an understanding of how the game is played.
The other sort of channel is where you have a group of people playing together for real money, but the game isn't the sole focus. It's as much about the interaction between friends as the gameplay, with lots of banter going on in the background, and this highly social atmosphere of mates getting together to have some fun while playing slots has seen these sorts of channels grow in appeal.
Other sectors in the industry have also responded to the growing desire for a more social element to online gaming. William Hill, for instance, has changed the direction of its advertising with the introduction of the "It's who you play with" campaign. Their new series of ads feature friends texting each other about their weekend's sports bets, with a focus on the social elements of betting and playing online.
This is in response to the perception that online gaming in all its forms is a somewhat solitary pursuit, while at the same time acknowledging a desire that many people share to have greater connectivity and interaction in their online lives. The campaign also has the aim of deconstructing some of the stereotypes and myths that are widely held about online gaming and the people who enjoy it, in particular through showing more women engaging with friends to talk about their bets.
Live dealer online slot games
Game developers have obviously been keen observers of this trend and we have now seen the advent of the first live dealer online slot game. In late 2019, Playtech released a live dealer version of its popular online slot Buffalo Blitz. This incorporates a unique concept, which Playtech calls "Community Spins" that enables multiple players to all play the same game together.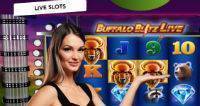 Buffalo Blitz live dealer slot is streamed in real-time from a purpose-built studio and features a game host who provides commentary on the gameplay (although in a more restrained fashion than many of the slot game channels on Twitch!), and there is a chat feature for players to comment and engage with the host and other players, like on a live stream on Twitch or YouTube.
The set-up is similar to a game show in its look and feel (building on the popularity of other live dealer games, like Evolution Gaming's Deal or No Deal), and players select a wager size and the number of spins they want to play for, with the reels set to auto-play so that gaming action is non stop (although players can also request manual spins by the presenter in the chat).
This is an exciting new development and industry observers will be keen to see how popular it becomes with players, and whether other developers now create their own live dealer slot games.
The success of live dealer slots may well be decided by the popularity of the presenters and how invested they are in the game (can they match the enthusiasm of streaming channel presenters, for instance), the level of interaction and engagement of the participants, as well as the overall quality of the gameplay on each slot that is released as a live dealer game.
Five slot games to play with friends
While we await the development of further live dealer slot games, you can still enjoy a form of social gameplay by subscribing to one of the many live streaming channels on Twitch, where you can join the chat and experience all the ups and downs of the gameplay on a range of popular slot games.
Otherwise, you can recreate what the most popular streaming channels do, and get some friends together, pool your resources and enjoy your favourite slot games as a group, revelling in the banter and jokes along the way.
When friends get together to play slots, the most popular choices are often high volatility games, as the wins tend to be less frequent (leaving more time for banter), but the payouts when they come tend to be proportionally bigger, giving you the chance to celebrate long and hard together.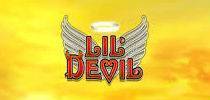 This 6 reel, 4 row, 4096 ways-to-win slot by Big Time Gaming (based on the 1987 single of the same name by The Cult), is the ideal slot game to play with friends because it's a high volatility game packed with features (including lucrative free spins bonus rounds), and so there is lots of variety in the gameplay. The high impact visuals and rocking soundtrack also make this the ideal social slot, as it creates an exciting atmosphere that everyone can get involved in.
Dragon's Luck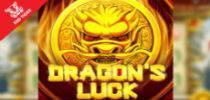 Megaways slot games are always a good choice when you are looking for a slot to play with friends. They have ever-changing gameplay, as the number of lines in play changes with every spin, so there is plenty of variety to keep everyone engaged, while with as many as 117,649 ways to win on offer, there are always payouts coming your way. Dragon's Luck by Red Tiger Gaming is also hugely impressive in terms of visuals and soundtrack, with the fiery dragons making a real impact.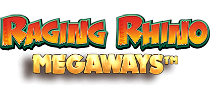 Another Megaways slot (this time by WMS), Raging Rhino is a hugely enjoyable game that is ideal for playing with friends as it has fast-paced gameplay, outstanding visuals and a range of payouts and special features. The cascading reels feature, where the symbols in a winning spin 'explode' and are then replaced by new symbols means that multiple wins can be created form a single spin, which can help raise the excitement levels to fever pitch when you are playing with mates.
Easter Island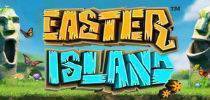 Released by Yggdrasil in 2018, Easter Island is an excellent game to enjoy with friends as it has a number of innovative features that mean the gameplay is ever-changing, so there is plenty going on all the time. Every winning spin is followed by a free re-spin, so there is always the potential for multiple payouts, while the expanding reels add both to the gameplay and the visual experience. The Pacific Island style soundtrack is lively and upbeat and helps to create a real party atmosphere around the game.
Danger High Voltage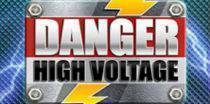 This is one of the most high energy slot games around, and so it's perfect for playing with friends. A 6 reel, 4 row 4096 ways-to-win game by Big Time Gaming, Danger High Voltage has two free spin bound rounds, an eclectic mix of symbols and a pumping soundtrack (featuring the song of the same name by Electric Six), and this combination of innovative gameplay, music and visuals make this an excellent choice when you're playing in a group.