The luck of the Irish is a phrase used around the world, perhaps most of all in March when people everywhere celebrate Irish culture and folklore on St Patrick's Day, but history shows Irish luck can strike at any time.
The phrase is thought to have originated across the world in 19th century America, where some of the most successful miners of the gold rush era were Irish or descendants of the emerald isle.
These days the luck of the Irish is invoked in rituals, traditions, and clothing, particularly among sportspeople, gamblers, and anyone hoping fortunes might turn in their favour!
Horseshoes are one of the symbols of Irish luck, with the country's folklore holding that the metal of a horseshoe can fend off goblins and evil spirits. The debate goes on as to whether a horseshoe should be hung with its ends pointing upwards to collect luck, or downwards so that luck pours onto those nearby.
Perhaps the most famous symbol of the luck of the Irish is the four-leaf clover, which is said to offer magical protection to those who find it. But if you are planning to adorn your St Patrick's Day outfit with a four-leaf clover for good luck, beware: tradition says that your luck runs out the moment you show your four-leaf clover to anyone else!
Lucky Leprechauns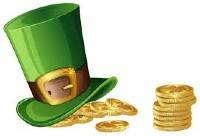 One of the most recognisable images of Irish folklore is that of the Leprechaun, and anyone who plays online bingo or slots games such as Rainbow Riches will be familiar with the lucky connotations of the little character dressed all in green with a hat and buckled shoes.
But in 1989, a discovery on the side of a mountain in Carlingford, County Louth, led many to believe there is more to the Leprechaun story than fairy tales and myths.
Pub owner PJ O'Hare found a small green suit discarded on the mountain near his establishment, along with some small bones and four gold coins, and he displayed them in a glass case on his bar. He told his friend Kevin 'McCoillte' Woods about his discovery, and this sparked the idea of a Leprechaun hunt that continues to this day.
Life on Mars
Over the hills in Newcastle, County Down, the luck of the Irish struck 20 years later. Sean Doyle was playing a slot machine called 'Mars Attack' in February 2019 when he struck it lucky – seriously lucky.
Every regular slots player will have enjoyed the thrill of a big jackpot from time to time, but Sean could hardly believe his luck when one spin on a €10 stake earned him a staggering €4.86 million in winnings from the Paddy Power machine.
Almost as hard to believe as his win was the fact that the very next day, rather than pausing to reflect on his life-changing win, he diligently made his way to work at a restaurant where he cooked meals for happy customers, but perhaps not quite as happy as he was!