The Swedish fintech brand, Trustly, was founded back in 2008 in Stockholm by Joel Jakobsson, Lukas Gratte and Carl Wilson.
In the same year that it was established, the company succeed in signing contracts with several notable internet retailers. However, in 2014, it reached new heights after entering a strategic partnership with the online deal and discount site, Groupon, as well as Paypal, which enabled it to hit the 10 million transaction mark.
Now that Trustly has entered its 12th year of trading, the company's current owners have had time to reflect on their successes thus far.
Impressively, the digital payments systems supplier now supports around 10,000 global merchants and, therefore, the company believes it's now the right time to refresh its corporate identity.
The familiar shopping cart logo has been in use since Trustly first gained an online presence, but it's now being swapped out for a simple yet eye-catching "T" with an arrow in the negative space to make a point.
More about the new Trustly logo
As Oscar Berglund, Trustly's CEO explains, "the new logo is optimised for the checkout environment" which means that merchants who offer their customers the payment method can make it stand out "in a clear and distinct way". The simple "T" will also help consumers to easily "recognise the brand that they know and trust".
What else is changing?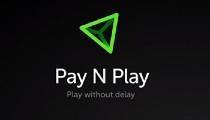 It would also seem that other innovations are afoot at Trustly HQ this week after the company announced that it's set to launch a "Scan N Play" retail payment offering.
Scan N Play was first shown to the world at ICE London in February 2018 when it was still being developed. The system is aimed at users of online shops and gaming sites, and it allows them to play or make a purchase straight away by making a simple deposit via their online bank via Trustly. As part of the process, KYC (Know Your Customer) data is collected by Trustly from the player's electronic bank account and subsequently shared with the merchant along with a unique identifier that allows the merchant to create a unique virtual account for their customer.
The system also supports customer withdrawals by reversing the process described above and still using the same unique identifier, allowing for a simple, fast, and secure transaction.
We're sure that Trustly will come up with even more surprises over the next 12 months, but for the meantime, the company is looking forward to its new logo taking it "forward into the next phase of our journey".