The crossover between tele addicts and bingo lovers has always been a big one so it is little surprise that some of our best-loved online bingo games were inspired by TV shows. But what is it that makes our small screen favourites translate so well into the world of bingo, and why do some TV-inspired bingo games fail to capture the imagination?
Our favourite television shows become part of our daily rituals. We become attached to the central characters and they take on a role in our lives as we tune in to enjoy the twists and turns of their stories and plotlines.
Online bingo is another much-loved ritual, and the people we meet while playing become a big part of what brings us back time and time again, sharing our lives and putting bingo at the centre of the fun.
So it is little wonder that bingo rooms combining popular TV show themes with brilliant games have become some of the biggest hits. After all, what could be better than a natter about what's on the box while watching your numbers come up?
1.Deal or No Deal Bingo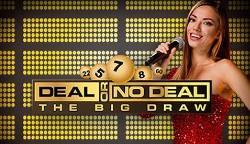 The concept at the heart of the hit game show Deal or No Deal has spawned many online gaming iterations, but only Playtech holds the brand licensing agreement from Endemol Games to run the official Deal or No Deal Bingo game.
The show captured the public's imagination during the years when Noel Edmonds expertly cranked up the tension among contestants and viewers, and Playtech translated it into bingo to brilliant effect.
In 2020, Playtech launched a new live game involving 16 numbered prize suitcases, with one being opened to reveal the player's prize. In addition to the live game, there is a mini draw side game where players can go up against the banker, making Playtech's Deal or No Deal Bingo one of the most exciting TV adaptations in online bingo today.
2.Britain's Got Talent Bingo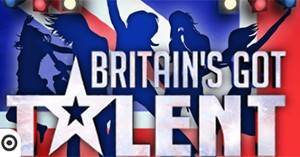 Having given the world an official bingo game for The X Factor, Mecca did not rest on its laurels, instead signing a seven-figure deal to become the official online gaming partner of Britain's Got Talent back in 2010. The talent show had been the highest-rated TV series in 2009, with an average audience of 13.3 million viewers tuning in to see rising stars like Diversity and Susan Boyle perform.
The show's British flag branding adorns Mecca's BGT room, where players can play 90-ball bingo at any time and enjoy special promotions including free bingo during each run of the show.
3.Friends Bingo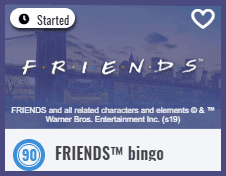 Just a second or two of the theme tune from Friends is enough to put anyone in the mood to kick back, relax, and enjoy some downtime, and it is that feeling that Foxy Bingo and Ladbrokes channelled into their dedicated Friends bingo room.
Friends Bingo was added when Ladbrokes moved from the VirtueFusion network to ElectraWorks in early 2020, following a successful launch at stablemate Foxy Bingo. The game features 90-ball bingo which is popular in the UK and plays in a room featuring Joey, Ross, Rachel, Phoebe, Monica and Chandler, along with the Friends logo and a Manhattan skyline. The game has maintained the atmosphere of the Central Perk cafe for the benefit of bingo lovers.
4.The X Factor Bingo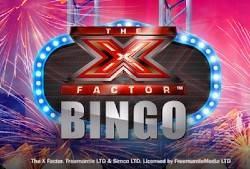 Mecca Bingo's room dedicated to the hit ITV talent show The X Factor might seem like a fairly straightforward 90-ball bingo game, but it really comes into its own when the show hits the screens.
Throughout each of the show's 15 series, since it first aired in 2004, Mecca has used this room to offer free bingo games and special promotions while players chat about their favourite performers. To top it off, the numbers are called in a distinctive X Factor style, creating the atmosphere of the show anytime you enter the room.
5.Coronation Street Bingo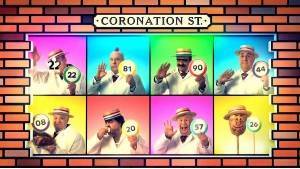 Soap operas have been incorporated into online bingo since the early days when ITV Bingo featured an unofficial Coronation Street room shortly after its launch. In 2013, following the closure of ITV Bingo's Corrie room, Playtech picked up the baton and launched Coronation Street Bingo on Gala Bingo, where players can enjoy clips of Deirdre Barlow, Hilda Ogden and others while playing 90-ball bingo for just 10p a ticket. With such a heady mix of nostalgia and fun, it's easy to see why it's so popular.
Is that all?
Oh no it isn't! The Voice Bingo launched this year exclusively on Buzz Bingo and while it is popular with players there, we will have to wait and see if it is a commercial success when that exclusivity comes to an end. We have also seen Emmerdale, The Chase, and the Crystal Maze being turned into online bingo games with limited success. There are various theories as to why these attempts at TV adaptations don't quite enjoy the success of some of their peers. Crystal Maze Bingo is a particularly valiant effort from Gamesys, with rooms designed in the look and feel of the various zones from the show, and a special Crystal Dome game based on the challenge players take on at the end of each episode.

But perhaps, like Emmerdale Bingo and The Chase Bingo, the absence of star quality let the experience down. If Richard O'Brien himself or even Edward Tudor-Pole had been calling the numbers, it might have been a different story!
And the not-so-successful adaptations
Honourable mentions must go to TV-inspired games that have since departed the online bingo world, including Playtech's Tipping Point Bingo and Who Wants To Be A Millionaire Bingo, as well as Jackpotjoy's Take Me Out Bingo. This just goes to show that a big name TV show does not guarantee success in the online bingo realm.
Can we expect any more crossovers?
There are plenty of shows that could yet be turned into hugely popular bingo games, if the viewing figures are anything to go by. Imagine if David Attenborough could be persuaded to turn his hand to calling the numbers in a Blue Planet bingo game! Perhaps more realistically, a Doctor Who bingo room could be a huge hit, and reality shows like Strictly Come Dancing and The Great British Bake Off are just crying out for bingo adaptations.

One thing is for certain: the trend of hit TV shows turning into popular online bingo games will continue long into the future. And maybe one day the tables will turn and a version of an online bingo game will develop into a hugely popular TV game show watched by millions!
All the bingo sites named above are tried and tested by WhichBingo and licensed and regulated in the UK by the Gambling Commission.