Imagine if you could put on a headset and be instantly whisked away to a real-life casino, complete with the rattling of the roulette wheel, the twinkling of bright lights and well-dressed people everywhere you look. While it might sound like something out of a sci-fi movie, Virtual Reality (VR) gambling could be the future if industry predictions are anything to go by.
Online casino developers are well known for jumping on the latest technology to make their games faster and more immersive and while it's early days, the VR revolution has already started. Last year NetEnt debuted their first VR slot game, Jack's World, based on their popular hit Jack and the Beanstalk. They followed this up with a VR version of their classic Starburst slot. A few other developers have followed suit and are dipping a toe in the VR pond, including NextGen Gaming and Microgaming.
As the technology becomes more widely available, VR is beginning to make waves across many different industries. It stands to reason that the online gambling is going to take advantage of the myriad of opportunities it has to offer. From slots to table and card games, there's huge potential for VR to enhance the online gambling experience on a number of different levels.
VR in physical casinos
Since 2015, VR has been used in a few forward-thinking bricks and mortar casinos, to enhance the gaming experience and make casinos more appealing to a younger, more tech-savvy generation.
If you can make it to a physical casino, why would you need VR? Well, physical casinos often have digital slots and other games on offer to increase their offering, so VR is an obvious next step. There are a lot of ways that VR can enhance the casino experience, for example by introducing more customisation options and giving players the opportunity to play a wider range of games remotely or across a network of casinos.
The benefits of VR for online gamblers
While it's starting to pick up in physical casinos, online gambling is where we're likely to see the most benefits from VR. There are five main benefits that VR could potentially bring to online gamblers.
Greater accessibility for players. With VR as an option, players can enjoy all the benefits of playing at a bricks and mortar casino without having to leave their house. This would mean players who live too far away to visit a casino or who are not able to leave home for other reasons would still be able to enjoy the full casino experience.
A more immersive experience. While most online casinos already make an effort to provide an immersive experience, VR offers the ultimate in realistic and fully immersive technology. Imagine betting on a football match and watching it play out in real time as if you were actually there. Or sitting around a poker table in a casino with your fellow players and the dealer right there in front of you. While live dealer casinos are a decent option for players who want a realistic casino experience, nothing quite beats the feeling of being in amongst it all and soaking up the ambience.
More opportunities for social interaction. It's quite possible that VR casinos could open up a world of social opportunities for players by letting them interact in a face to face way while they're playing. This could be of huge benefit as social isolation is one of the biggest downsides to gambling online vs. visiting a physical casino. Imagine playing bingo in a virtual bingo hall, chatting and laughing with other players at your table. This kind of social interaction would help players combat loneliness and meet likeminded friends from all over the world.
Educational benefits. Imagine if, before you started playing a new game you could take an immersive tour or have a virtual lesson to learn the ropes and practice. What if you were thinking about going to visit a physical casino and you could take an online tour before leaving the house? The educational benefits of VR can help players feel more confident and get more from their online gambling experience.
Greater opportunities for customisation. Customisation is making its way into online gambling more and more, and VR takes it to the next level. With customisable VR games, a player's preferences can be remembered, from preferred casino layouts to favourite games, and used to give them more of what they're interested in the next time they visit.
The obstacles to VR gambling
With all these benefits, how is it we are not all playing at VR casinos right now? At this time there are still a few barriers to VR gambling that prevent it becoming mainstream, but as the technology develops and becomes more affordable and less complex, it's likely that we'll see a lot of these problems disappear.
There are three main issues facing the VR gambling industry:
This is the main barrier for players who are looking to play at VR casinos. At the moment, VR headsets do not come cheap, putting VR out of the reach of the average player. However, as technology develops there is a good chance the costs will go down and at some stage, VR headsets will become a lot more affordable for players.
At the moment, VR technology is a little on the complicated site and it's not really accessible and achievable for the average casino to implement VR into their everyday operations. Again, this is something that is likely to change as the technology develops and casinos fall under pressure to keep up with evolving player expectations.
There are some countries (like Australia) where physical casinos are legal, but online casinos are not. VR walks a fine line between the two and it's possible that regulation could become an issue. This, in turn, could impede the progress of VR becoming mainstream.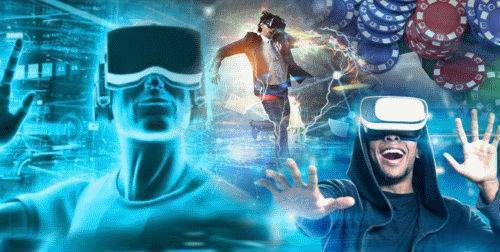 The future of VR casinos
With online casinos and software developers starting to invest more in VR technology, it's looking likely that VR has a dazzling future in the world of online casinos. Whether it's to enhance the current online casino offerings or in the form of completely virtual casinos, we're going to see a lot more from VR in the not too distant future. Stay tuned!