The 2020 Online Bingo Annual Report, published by WhichBingo, contains a host of fascinating data about bingo playing habits in the UK. WhichBingo readers participated in a comprehensive survey that asked a variety of questions about the way they played the game, including what other types of online gaming they enjoyed, how often they played, and whether they played in standalone or networked bingo rooms most often.
What games did we spend the most on in 2019?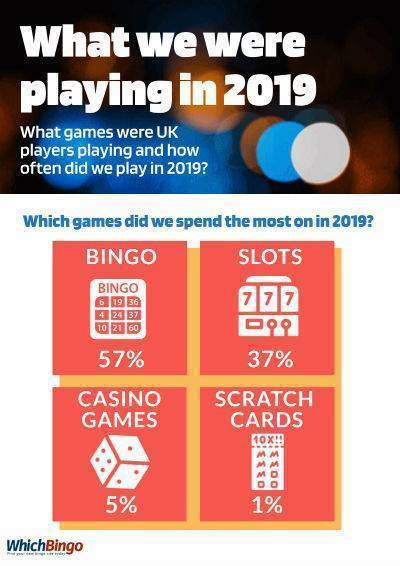 Respondents in the survey were asked which games they spent the most on. Unsurprisingly, online bingo came out on top at 57%. What is significant, however, is that this was up from 49% in 2018.
What this suggests is that online bingo is still actually growing in popularity, and that those people who already enjoy the game are spending more time playing it than they've done before. As a consequence they are, perhaps, becoming less interested in other types of online gaming.
This would seem to be supported by the fact that the number of players who said that they spent the most on online slots games was 37%, down from 45% in 2018. Players who reported that they spent the most on scratch cards, instant win and other games was also down in 2019, from 3% in 2018 to 1% last year.
The only area where there was an increase in participation was casino games, such as blackjack, roulette, baccarat, along with other table and card games. The number of players spending the most on these sorts of games rose to 5% in 2019, up from 3% the year before.
How often did we play online bingo in 2019?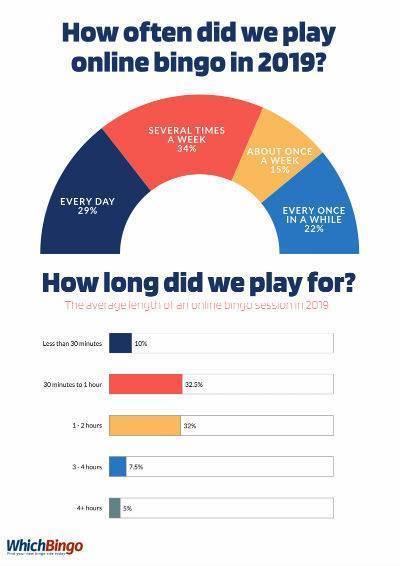 The survey also revealed that there has been a shift in how often online bingo players are sitting down to play.
In 2018, the number of players who reported that they played online bingo every day was 44%; in 2019, this fell to 29%. At the same time, 34% of players said they played several times a week (the same as the year before).
There was a further a change in UK online bingo playing habits revealed, with 15% of players saying that they played about once a week. In 2018, this was only 10% and so it would seem that a considerable number of players have reduced their playing frequency. This would also seem to be supported when you look at the number of people who said they only play online bingo once in a while. This figure was 12% in 2018 and rose to 22% in 2019.
Following on from this, there have also been changes in the length of time people play for in an average gaming session.
In 2019, 10% of respondents said that on average they played for less than 30 minutes at a time, up from 6.5% in 2018. Likewise, the number of players who said their average gaming session lasted for 30 minutes to an hour, which was 17% in 2018, rose to 32.5% in 2019. Players who played online bingo for 1-2 hours on average was roughly the same at 32%, a slight change from 31.5% in 2018.
These changes have also been accompanied by a drop in the number of players who engaged in lengthy online bingo sessions. In 2019, 13% of players enjoyed sessions of 2-3 hours' duration, 7.5% played for 3-4 hours at a time, while 5% of players said they regularly played for more than 4 hours at a time. These figures are all down from the 2018 numbers, at 24%, 11% and 10% respectively.
Networked vs standalone bingo rooms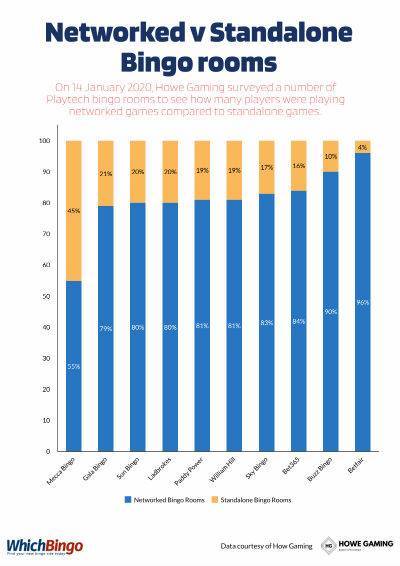 One of the most interesting aspects of the research carried out into UK online bingo players' habits was whether players participated more often in games in networked or standalone bingo rooms.
On 14th January 2020, Howe Gaming took a snapshot by surveying a number of Playtech bingo rooms to see how many players were playing networked games compared to standalone games.
With the exception of Mecca Bingo, where the figures were 55% for networked games and 45% for standalone games, at all the other sites monitored at this time, the number of players in networked bingo rooms was significantly higher than those playing standalone games — in the case of Betfair, for instance it was 96% and 4% respectively.
What this would seem to show is that the majority of UK online bingo players enjoy the opportunities for big jackpot wins that networked games provide, and the appeal of these games is widespread and covers all the major UK online bingo sites.