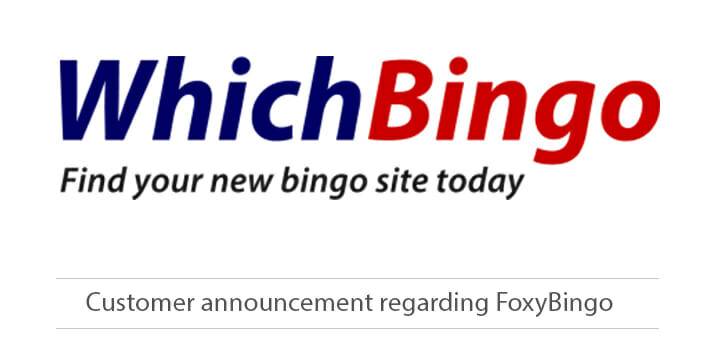 We at WhichBingo pride ourselves on providing impartial and fair reviews of all bingo sites available to UK online bingo players.
We pride ourselves on our impartiality and on being able to provide clear and accurate assessments for the benefit of the online bingo playing public.
As many of you will be aware we have long had an association with FoxyBingo, bringing you their news, offers, promotions and videos, as well as their TV advertising. Indeed they have even previously won WhichBingo awards.
"Unfortunately we are no longer in a position to endorse FoxyBingo"
Unfortunately we are no longer in a position to endorse FoxyBingo or indeed any of their sister sites (Bingo Scotland, Cheeky Bingo, Foxy Casino, Foxy Zero, ITV Bingo, Rollover Bingo, Telly Talk Bingo and Think Bingo).
In withdrawing our support for these sites we make it clear that we do so solely as a result of our business relationship with FoxyBingo and their ultimate owners GVC plc and that the business and commercial confidence in our relationship has been undermined by them as a result of certain actions which they have recently taken.
We make it clear that we have no concerns as to FoxyBingo's ability to honour their promises in terms of promotions and payment of winners.
Of course visitors to WhichBingo are free to make their own choices as to which sites they engage with.
The purpose of making this statement for our readers is simply to apprise them of the situation and express the position which our company has unfortunately been forced into taking.
Nothing contained in the above should be considered as being anything other than a factual statement of events.