As part of the 2020 WhichBingo Online Bingo Annual Report, Howe Gaming undertook in-depth research to determine which bingo site deserves the title of the biggest in the UK.
In order to do this, 20 of the best-known UK bingo sites were selected from among the 264 that were online in 2019. These 20 sites were then monitored every evening at 9pm, long established as the peak playing time for online bingo in the UK, and data on the number of active players at this time was collected and collated. This research was carried out for a month between December 9th, 2019 and January 8th, 2020.
tombola out in front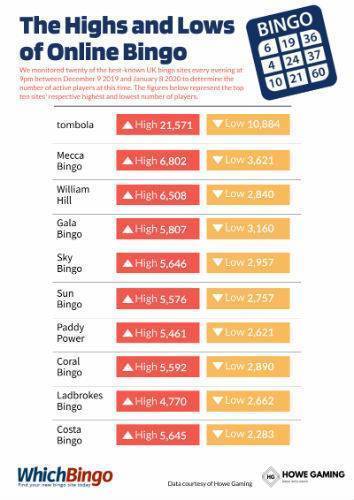 Over the period that the research was undertaken, tombola was consistently out in front when it came to player numbers. It had a larger total number of players, as well as higher daily average player numbers.
In addition, the lowest number of players tombola recorded at 9pm was 10,884, more than 4,000 above even the highest number of players that its closest rival was able to achieve. The peak number of players at tombola was 21,571, on a day when a huge £15,000 jackpot prize was on offer.
The top ten UK bingo sites that emerged from the research in terms of the highest number of players recorded at 9pm were:
What makes the best UK online bingo sites so popular?
There are a number of reasons as to why tombola is now the UK's most popular bingo site. The research suggests that its communication and engagement with players is one of the primary reasons, with significant spikes in player numbers coinciding with special promotions. Connected to this, big guaranteed jackpot prizes also clearly incentivise players, with the largest number of players recorded when a massive jackpot was on offer.
Therefore, if tombola's rivals are looking to make up ground in 2020, they would do well to look closely at the sort of promotions tombola offers, the prizes that players can pick up and their timely communications for maximum impact.
In our view, the best UK bingo sites are also the ones where the player experience comes first. A site has to be user friendly, so that it's easy to find the rooms you want, backed up by a clear schedule of which games are being played and when.
In addition, a variety of ticket prices is always a good way to make games accessible to as many players as possible, as is a range of different prizes and jackpots on offer.
Further to this, sites that offer different versions of bingo are also amongst the most popular. These include 90 ball, 80 ball and 75 ball versions of the game, as well as some other more innovative varieties. Bingo players want choice and to be able to enjoy their favourite games, so the sites where different bingo games are on offer are the ones that most UK players prefer.
We have also found that customer support is an area that contributes to players' confidence in a site, and this combined with communication is something that tombola does extremely well.
The gauntlet is now well and truly thrown down to the other 200+ online bingo sites to raise their game!