What does an egg-laying bunny have to do with the story of Christ? And why do we feast on roast lamb at Easter? WhichBingo went on a hunt through history to find the answers to these Easter mysteries!
While most of us here in the UK learned about the story of Easter as a religious festival at school, it was often unclear why we celebrate Easter by giving chocolate, decorating eggs, and tucking into dinners of roast lamb.
But a bit of digging unearthed the stories behind these Easter traditions, which have their roots all over the world.
A global eggs-travaganza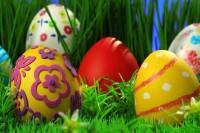 The decoration of eggs, which have historically been seen as a symbol of new life at Easter time, dates back at least as far as the 13th century.
This is a tradition we owe to ancient pagan rituals as much as Christianity, with festivals celebrating the coming of spring having featured eggs in various forms through the centuries.
Christians, marking Easter and the story of Jesus emerging from the tomb, used colourful eggs as part of their celebrations. Eggs were also once a forbidden food during Lent, so Christians through the ages would decorate and eat them joyfully as their period of fasting came to an end.
Keep in mind when you enjoy your Easter eggs that you are upholding a centuries-old tradition!
The tale of a bunny
The Easter bunny is thought to have its roots in the story of the pagan goddess of dawn, Eostre, who was a symbol of fertility represented by her spirit animal, a rabbit.
In ancient Germany, Eostre was celebrated during the Spring Equinox when people were celebrating the coming of new life, and the reason we celebrate Easter at a different date each year is that the pagan solar calendar dictated that it would fall on the Sunday after the first full moon following the Spring Equinox.
"Esotre seems, therefore, to have been the divinity of the radiant dawn, of upspringing light," wrote Jacob Grimm, of the Brothers Grimm.
"A spectacle that brings joy and blessing, whose meaning could be easily adapted by the resurrection-day of the Christian's God."
So what does this have to do with giant egg-laying bunnies? Well, few animals are as well known for their fertility and ability to create new life as rabbits and hares, and it is thought that German immigrants into America brought with them the idea of an Easter Bunny, with edible bunnies appearing at Easter time around the 18th century.
Easter feasting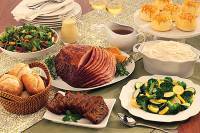 An Easter feast of roast lamb is something people all over the world enjoy at this time of year, and the image of a lamb is pertinent to the religious and cultural history of the celebration.
Jesus is referred to as the "lamb of God" by Christians, and in the story of Exodus members of the Jewish faith put lambs' blood outside their homes to ask for God's protection in a series of terrible plagues.
This Passover tradition carried over into Christianity, with lamb served at Easter given that it was one of the first meats available in farming communities after long, harsh winters came to an end.
So if you are having lamb for dinner this Easter, once again you will be connecting with ancient traditions – while enjoying a delicious feast!