Martin Luther King once famously said, "I have a dream!", and so does 12-year-old Lewis Wright.
Lewis is a young boy from Southport in Merseyside who has been undergoing chemotherapy as he battles leukaemia, and now his friends, family and local businesses are rallying round in the hope that they can make his dream of sleeping with lions come true.
On Tuesday, 29th December 2020 from 7pm, a Zoom Comedy Bingo night aims to raise sufficient funds to send brave Lewis to a lodge in Kent where he can spend the weekend alongside two tigers and their three cubs.
The fundraising event will be compered by a local Southport comedian, Brendan Riley, who is inviting people from Southport and all around the UK to come and join him for a virtual comedy bingo night that will see "every single penny" raised through ticket sales go directly to Lewis.
Brendan has already hosted several successful comedy bingo events on Zoom this year, and he hopes that holding a Zoom fundraiser for Lewis between Christmas and New Year will give as many people as possible the chance to get involved as they won't even have to leave home.
It's being sponsored by a local estate agent and the organisers are asking attendees to wear either Christmas jumpers or fancy dress.
Children can join in the fun for free while adults can buy their tickets for £10 each.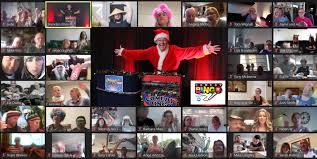 Lewis, who attends Birkdale High School, is known to locals as "Mr Positive" due to his optimistic outlook on life. He's been undergoing regular chemotherapy sessions at Liverpool's Alder Hey Children's Hospital, which his aunt describes as "very gruelling treatment" which "no child deserves".
For more information on this fantastic charity bingo night or to purchase tickets, please call Louise McHugh on 07734 316321.