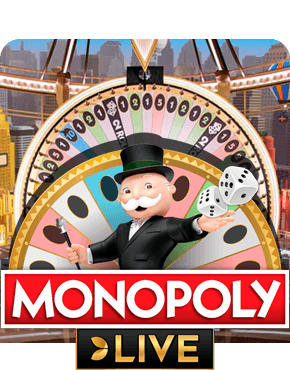 Monopoly Live Review
If you've ever felt intimidated by the serious table games in Live Casinos, then we have good news for you. Your favourite board game is now available as a live dealer game!
Software
Evolution Gaming
Captivating Augmented Reality Bonus Round
The Classic Board Game with More Features
Live Game with Simple Rules
Special Features
the Monopoly Live Bonus Round
Play Monopoly Live at these suggested casinos
Evolution Gaming has designed a Monopoly live casino game that makes this game even more exciting with augmented reality. A charming game host mans the game with a spinning wheel and there is also a fantastic virtual board and a 3D bonus round. Our Monopoly Live review has all the rules and everything else you want to know to get started.
How to play
Although a bit different from the regular Monopoly rules, Live Monopoly rules are pretty simple. The main feature is a wheel of fortune that is a bit like the one in Dream Catcher if you've played that before. Even if you haven't, we promise this is so easy that you'll be playing like a pro in no time.
The game host will spin the wheel, which has several segments on it, and you have to guess where it will stop. The segments are marked 1, 2, 5, 10, 2 Rolls and 4 Rolls. If your guess is correct, then you will pocket a payout that corresponds to the number you bet on. That means if you bet on 2, your payout will be 2x your bet; if you bet on 10, then your payout will be 10x your bet.
Minimum bet is just 10p. Maximum bet depends on what you want to bet on, but it ranges from £500 to £2,500. Whether you're looking for some casual entertainment or for more serious high-rolling wins, Monopoly Live will be suitable for all budgets and playing styles!
If the wheel stops at Chance, 2 Rolls or 4 Rolls, then you will enter a brilliant bonus game in a virtual world.
Chance: Mr. Monopoly will appear with a card. The card will either give you a random cash prize or a multiplier bonus. If it's a multiplier bonus, then the host will give the wheel another spin to see what that multiplier will be applied to. If you have the good fortune to land on the multiplier again, then your multiplier will be multiplied!
Rolls: If you correctly guessed that the Wheel will stop at 2 Rolls or 4 Rolls, then you will enter the 3D bonus game. This is an augmented virtual reality game board including all the traditional features like the Community Chest, Go, houses as well as hotels, and Mr. Monopoly will walk around collecting more cash prizes and multipliers for you.
Jackpot
Monopoly Live isn't a slot, so there is no traditional jackpot prize per se. However, the top prize does go up to a rather impressive £10,000. This can be won when you enter the bonus game when you land on 2 Rolls or 4 Rolls and can pick up some very impressive multipliers than can go up to the hundreds. If you're set on walking out with serious coin added to your pocket, then you may want to keep this in mind as a Monopoly Live casino strategy as you place your bet. Otherwise, betting on 10 can get you 10x your bet, which isn't massive but is still enough to put a smile on our faces.
Special Features
As charming as the game host is, the excitement is all in the Monopoly Live Bonus Round. Remember, to get into the bonus round, you will have to have bet on 2 Rolls or 4 Rolls. Once the wheel stops there, you'll get into the game.
The Monopoly Live Bonus game is quite the experience. It's a 3D, augmented reality game board, which is inspired by the board from the classic game, with skyscrapers, hotels, houses, and colourful hot air balloons. A special set of dice is rolled, and an animated Mr. Monopoly will walk across the board where massive multipliers that easily go up to 100x and 500x along with cash prizes from the Community Chest are all waiting to be yours.
Graphics and Sounds
A perfect combination between live games and virtual reality, Monopoly Live Casino is simply not to be missed. The base game with the spinning wheel is set in a luxuriously decorated studio with Mr. Monopoly sitting next to the wheel while sipping on a cup of tea. The game host is eloquent, and you can always opt into chat. We can't say enough about the 3D Monopoly bonus round either. It's a colourful virtual reality world as you walk with Mr. Monopoly across the game board with all the potential prizes popping up above each square. This is far more realistic and engrossing than video slot games as you're fully immersed into the game board in Monopoly Live and you simply have to experience it for yourself!
Conclusion
Live casino games have been all the rage, but many bingo players have been shy to venture into this territory because we don't feel comfortable with all those complicated rules behind card games. With Monopoly Live Casino a whole new world has opened! It's easy to play and couples fantasy with the human touch as well as generous prizes. Make sure you check out this gem because Monopoly Live is much more than just playing Monopoly online!
Updated February 27, 2022