Bingo Sites with £5 Minimum Deposit
Here you will find a selection of online bingo sites that offer you the opportunity to make a £5 first deposit or even less when you join and some where you will be able to make a re-deposit of a minimum of £5 instead of £10. At some of the sites the 5 pound deposit will qualify for a bonus, but at many while you will be able to make that low deposit and play the games there will be no additional bonus on top.
£5 FIRST DEPOSIT WELCOME OFFERS
The first section above allows you to browse UK bingo sites that you can join with a low £5 first deposit or even less and still enjoy their welcome offer. The second section shows you where £5 deposits are accepted on second and subsequent deposits, but check each site for bonus eligibility on this amount.
£5 Deposit Bingo and Slots Sites
All of the sites below allow players to make deposits for as little as £5, but a deposit of this size will not necessarily make you eligible to claim a welcome bonus.
Therefore, if you want to claim any of the signup bonuses highlighted here, you should check the specific terms and conditions, as you may be required to deposit more than £5 when you initially add funds to your account in order to claim the introductory offer.
What if I want to deposit less than £5?
Sites that accept deposits of less than £5 are extremely rare, as are bingo sites that offer new players a welcome bonus with a £5 deposit. You would probably be looking for a no deposit deal – but to be fair these days you wouldn't enjoy much time on site with such low deposits. If you want to set up a new account and claim a signup deal, you should probably be prepared to make a first deposit of £10 or more.
The reason that our featured bingo sites require a minimum deposit is primarily because of the charges that are applied by banks and debit card companies, although there are costs incurred by operators for facilitating payments using other payment methods as well. No matter how money is moved electronically, there will almost always be a fee incurred by someone somewhere along the line, so instead of passing this cost on to players, most bingo sites opt instead to put in place a minimum deposit amount.
Why do some bingo sites only let me deposit more than £5?
As discussed above, economics dictate that it is not in a bingo site's interests to enable players to make small deposits into their accounts, which is why is most sites have a minimum deposit amount of £10 or £20. They are charged fees for accepting online payments in the same way that bricks and mortar retailers are charged for every debit card transaction, but these sorts of businesses have the option of 'hiding' these fees in the retail price of items.
Bingo sites, however, don't have this option, hence the insistence that players deposit at least £10 at a time, so as to better absorb these costs. Although this can sometimes be frustrating, this arrangement is ultimately better for players than having to bear directly the full cost of making a deposit using a card or payment system yourself.
low £5 Deposit Bingo & Slot Sites
Here we have pulled together a selection of bingo and slot sites where you can make second and subsequent deposits of just £5, but you won't necessarily see a £5 Welcome Bonus. so you deposit and spend your first £10+, get your welcome bonus and then you can deposit lower amounts if you wish to play little and often – or just a little!
What payment methods can I use?
There are a range of secure banking options that UK players can use at our featured online bingo sites. We favour and recommend payment methods that are easy to set up and use, are cost-effective to use, and offer players high levels of security.
PayPal

PayPal is one of the best options for funding your online bingo account, as it is extremely secure and acts as a third-party intermediary, meaning you are not required to share any of your financial information directly with the bingo site. There are also no fees charged by PayPal when you make a deposit into your gaming account, nor do bingo sites charge you for using this payment method.
The only drawback is that it is not universally accepted, although you will find that the majority of sites listed here will accept PayPal.
E-wallets

E-wallets like Neteller, Skrill and ecoPayz are also effective methods for making deposits. These too offer high levels of security in that you are not required to share any of your personal financial information with any bingo site you play at, and the sites that we feature here will not charge you for using an e-wallet to make a deposit. There is also the advantage that you are able to make withdrawals from your online bingo account to an e-wallet as well
The only drawbacks are that there are some ongoing fees associated with operating an e-wallet account, and that at some sites you might not be eligible for a welcome bonus if your initial deposit into a new account is made using an e-wallet.
Pay By Phone

There are a number of payment options available that enable you to make deposits into your online casino account using your mobile phone account, such as Boku, Payforit and Siru Mobile. With these payment methods, when you make a deposit into your bingo account the sum is added to your monthly mobile phone bill or deducted from your pre-paid balance. This is a highly secure banking option as there is no need for any of your financial information to be disclosed to any third parties.
However, there are some drawbacks to using Pay By Phone payment methods. There are limits on how much you can deposit daily (usually around £30), and many bingo sites will charge a fee for making deposits (up to 15%). It is also not possible to use Pay By Phone for making withdrawals.
Pre-paid payment methods

It is also possible to use pre-paid methods to make deposits into your bingo account, including popular and accessible systems such as Paysafe Card and Neosurf. Many players like these because they provide greater control over gaming expenditure, and they are the closest thing to playing with cash.
Another reason for their popularity is that there is no need to set up and manage a separate account, and all transactions can be undertaken anonymously. You are also not charged any fees for purchasing either a Paysafe card or Neosurf voucher, and bingo sites will generally not charge a fee when they are used for making deposits.
The major disadvantage to using pre-paid methods is that they aren't available for withdrawals, so you will need to have an alternative in place when it comes time to cash out.
Debit cards

All of the online bingo sites we recommend will accept debit cards for deposits. Visa and MasterCard (including Visa Electron and Maestro) are almost universally accepted; other cards, such as Diner's Club and American Express, can only very rarely be used.
When it comes to withdrawals, Visa can almost always be used. However, at most sites it is not possible to withdraw to a Mastercard (or Maestro), but we always recommend checking the banking T&Cs to be sure.
The major drawback to using debit cards is that, while deposits are processed instantly, it can be a slow method for making withdrawals. Depending on the bingo site you play at and your card issuer, it can sometimes take up to 5 working days after a payment has been processed before funds are cleared and available in your account.
What to look out for with bingo and slot sites £5 offers
As with any signup deal, you always need to be aware of the fine print with a £5 offer. We always try to ensure that the low deposit welcome offers at the bingo and slot sites that we recommend have fair terms.
For instance, if you are able to claim a welcome bonus, you need to be aware of the wagering requirements that come with the deal i.e., the number of times you have to wager any bonus you receive before you can cash it out, or cash out winnings made from the bonus. You will be able to find this in our review of a site, or in the bonus T&Cs.
You also need to be aware of any minimum withdrawal amounts; at many of the sites were feature here, the minimum amount you can cash out is £10 so unless you have some good wins, you will need to add additional funds before you are able to make a withdrawal if your initial deposit is only worth £5.
In addition, it's important to know whether the deposit method you use is also available for withdrawals; if not, you will need to have an alternative in place when you want to cash out .
£5 deposit bingo sites FAQs
What bonuses can I get from a £5 deposit?
The typical minimum needed to obtain a bonus is £10, but at some bingo sites that minimum is down to £5. The terms are generally the same though – a £5 matched bonus that will give you £5 in bonus money. You can read through the expectations of bonus play by reading the sections about free spins and other bonuses above. Many of our special offers around the site though are offering much more generous deals for your £5 deposit.
How do I make deposits to a bingo site?
There are many ways you can make a deposit to a bingo site, as follows:
Credit/debit card – virtually every single bingo site will allow you to make a deposit using your credit or debit card. The main cards accepted are Visa (debit/credit) and MasterCard (credit).
EWallet – an eWallet (electronic wallet) is a financial services provider that acts as a 'buffer' between your bank account and the online merchant that you want to deposit money to. You fund your eWallet from your bank account, then you use that money to pay online. The world's most popular eWallet is PayPal, but when it comes to online bingo, the most well-known are Skrill and Neteller.
EVoucher – an eVoucher (electronic voucher) is a voucher (or, in reality, a code) that you can use online. For example, if you buy a code for £20, then you can use the voucher code online until all £20 has been used up. The most popular voucher code is Paysafecard.
Pay by Mobile – you can use your mobile phone bill to deposit to a bingo site. Just follow the site's instructions and then the deposit will appear on your next mobile phone bill. Note that only certain carriers and bingo sites will permit this an option.
Direct transfers – at some bingo sites you can transfer money directly from your bank account, or via an intermediary. You can also use Western Union or Wire Transfer.
Cryptocurrencies – if you want to keep your bingo transactions private, then you can use a cryptocurrency at any bingo site that accepts them. The most popular cryptocurrency is Bitcoin, but others such as LiteCoin and DASH are available too.
How much can I win from a £5 deposit?
Not much! How much you win depends upon your chances, pure and simple. You are as likely to lose it all as you are to win anything. Look upon your £5 deposit as the chance to be entertained for a short while.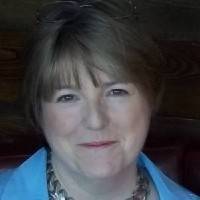 Author And Contributing Editor
Anita is a well-known bingo-lover and has been involved with online bingo since the late 1990's. She has been along for the ride and seen the industry grow and develop into what it is today. She has worked with the biggest names in the industry and has a reputation for being fair and to the point in her writing.