Best Online Bingo Games
Online bingo games – how do they work? How many different kinds are there? Are free bingo games really free? We look at all these questions and more to bring you the definitive guide and all the latest bingo game reviews.
Best Bingo Games by Category
Online Bingo Games
You trust WhichBingo to tell you what's what in the world of online bingo and it starts right here with the basics! Whether you have never played bingo before, or whether you are an old hand at the game, we can, hopefully, pass on some useful information. We'll tell you about all the best bingo games we can find, including 90-ball bingo, 80-ball bingo, 75-ball bingo, 50-ball bingo and 30-ball bingo in some detail and lots of other bingo variants too.
Discover how many numbers are on the bingo cards for each type of bingo and how many times you can win in each game. Lines, patterns, rows and columns – all provide ways to win, but not in every type of game. Check out our guide and you'll soon be an expert too.
A collection of typical bingo features and themes, including anything from 30 ball bingo to 90 ball bingo, to bingo with just pictures instead of numbers or playing cards instead of actual bingo tickets. These games come in all shapes and sizes as operators try to innovate and improve on this traditional pastime. Included in our selection are the popular Cash Cubes, Slingo, Rainbow Riches Bingo, Cinco, Picture Bingo and many more .
Best Sites with Free Bingo Games 2023
Here's a selection of bingo sites that know what players love and have some great free bingo games and free bingo offers.
Free bingo being available means that you can access a bingo room and claim tickets without having to part with any money or bonus funds. The prizes on offer will either be cash or bonus, but the games will play in the normal way – it's just that they are free to play.
Some bingo sites, mainly we find on Dragonfish software, do offer two or three days of free bingo with no deposit required to get you going with them, but often free bingo is made available by a bingo site in the days following a deposit being made, or when a certain level of deposit has been reached. Invites are often issued to different free bingo rooms with different values of prizes depending on your loyalty level or how much you have spent. So free bingo is often being used as a loyalty reward and a 'thank you' from the site for continuing to play with them.
We can help you find the best bingo sites that offer free bingo – some of them are shown above or try our No Deposit Bingo page:
When looking for free bingo rooms and games, it is important that you find the right online bingo site for you. Some sites will match your personality more than others, and offer loyalty bonuses, prizes and bingo rooms that are right up your alley, not to mention a like-minded community of players.
Once you've found the site for you, you'll need to register for an account and supply some documents as proof of identity and address. As a member, you'll have full access to the site's bingo rooms, and get a sense of what's on offer in terms of both free and paid bingo games.
Latest Bingo Game Releases
Game
Name
Software
What We Like
Bingo 30
Tombola

Traditional 9 number grid 30 ball bingo game
10p a ticket and multiple rooms with a £1k potential jackpot

Bingo 80
Gamesys

As well as being an 80-ball bingo game, the number 80 could help you win the Magic 80 Progressive Jackpot
It uses 80-themed graphics and costs as little as 1p to play

Monopoly Big Baller
Evolution

Unique bingo-style game show featuring an AI version of Mr Monopoly
It features a 3D bonus game where you can collect multiplier prizes

Reel Bingo
Tombola

Exclusive to Tombola, Reel Bingo is a cross between a classic slot and a bingo game
It's Tombola's first bingo game that comes with a bonus game

Bingo Boom
Entain Bingo

A bigger full house prize
It includes a side game that you play alongside the 90-ball bingo game

Read Review
Entain Deal or No Deal Bingo 90
Entain Bingo

A gold-and-black studio set with silver cases
Plenty of cash prizes up for grabs

Read Review
Born in the USA Bingo
Mecca Bingo

The Lucky Cash Climber progressive jackpot featured
Play on a simple background that uses an easy-to-understand layout

Read Review
Nevada Bingo
Tombola

Fun Las Vegas theme and Glitzy Graphic
It uses playing cards instead of numbered bingo balls.

Read Review
Fluffy Favourites Bingo
Entain Bingo

An innovative 36-ball online bingo variant
Everyone has an equal chance of winning

Read Review
Spirit Twister Bingo
Playtech/Virtue Fusion

An unique and rather calming Native American theme
The quirky Spirit Animal multipliers

Read Review
Bubble Up Bingo
Gamesys

inspired by the hugely popular Double Bubble slot game
The Super 7 Jackpot is a progressive jackpot

Read Review
How Do You Play the Bingo Games?
WhichBingo exists to show you the details of every online bingo site. Once you decide on a site you would like to play, you click through and register with your basic details. They will also insist on some kind of verification at some point, usually a payment card – this is required by UK gambling regulations.
We'll pass right on to the nitty-gritty of the game as we provide full details of all the ins and outs of all aspects of getting to play online bingo in our How to Play Online Bingo Guide
Choose a room to play in the bingo lobby
Check the price to play and buy tickets
The game commences and the random number generator pumps out the numbers via nicely designed graphics at a steady pace (in reality all the numbers are generated instantaneously, it's just the software is designed to present it in a nice steady slowed down format).
All bingo games software will usually mark any numbers called off your card for you, but some do give the option of 'dabbing' yourself.
Most bingo games pause when a win occurs to show the winner's screen name, so this will happen three times in a 90 ball game – 1l, 2l and full house.
The game ends when the full house is called. No need to worry about missing a win as the software will stop the game if you are a winner, even if you are not watching.
---
Bingo Games Variants
These are the basic forms of bingo games online that most people will be familiar with – and from which almost all the other games on this page are formed in one way or another!
90-Ball Bingo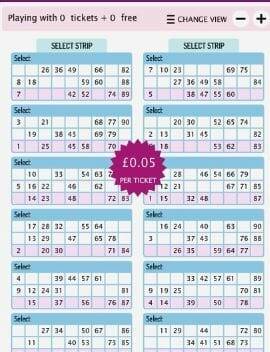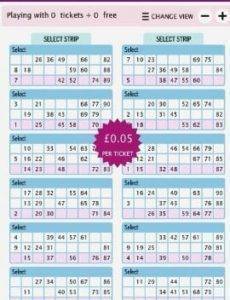 By far the most common variation of bingo in the UK. Every UK online bingo site features a main room that is 90-ball bingo and these rooms often have the biggest prizes. 90-ball bingo is also the game that is played in the high street bingo halls – and if you have ever visited a bingo hall with a complete bingo beginner you will have seen that the game is not as straightforward as regular players think.
Traditionally a 'strip' of bingo tickets is made up of 6 tickets, each ticket bearing 15 numbers between 1 – 90. In each strip of 6 tickets, each number will definitely appear once and once only. That is important to know in a bingo hall, but less so when playing online bingo as the marking is automated and the cards usually move around so your best tickets are always at the top and in view.
Each ticket is a grid of 9 columns and 3 lines.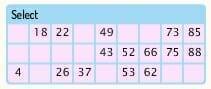 There are 5 numbers on each line – making the 15 in all on each ticket (6 tickets x 15 numbers each = 90). The columns are for set blocks of numbers; 1-9, 10-19, 20-29, 30-39, 40-49, 50-59, 60-69, 70-79, 80-90.
There are up to 3 chances to win in every game; 1 line, 2 lines and the full house. The Random Number Generator (RNG) produces the numbers one by one and the first person to complete a line, 2 lines or the full house wins.
---
75-Ball Bingo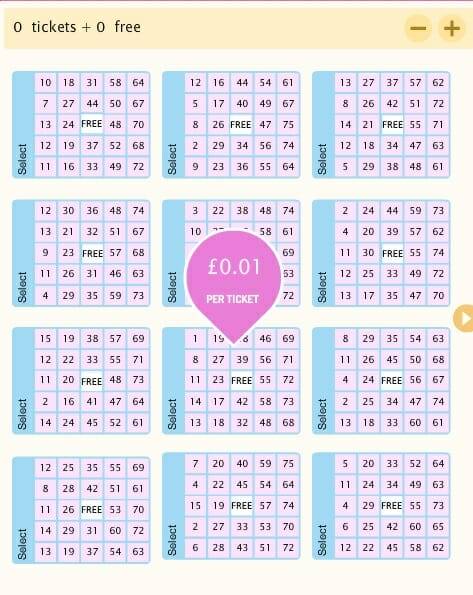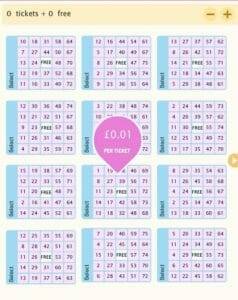 Pattern Bingo
Pattern Bingo – this is very popular in the US, but more and more UK players are falling in love with the format. Different sites operate the game in different ways. The traditional way is just to pay for completing whatever pattern in given out at the beginning of the game. These are patterns that can be made up from the squares on the ticket when they are shaded by being called out.

These games are played on individual tickets containing 25 squares and 24 numbers – the centre square is always free. The ticket is a 5 row/5 column set up. The pattern can be anything from a letter to a number or a cross or a lollipop – any shape you can make from squares. The columns are numbered 1 -15, 16 – 30, 31 – 45, 46 – 60 and 61 – 75.
---
Swedish Bingo

Five Line (also known as Swedish Bingo) – this is also a form of 75 ball bingo that is growing in popularity as it offers so many chances to win. The same 5 row/5 column layout as pattern bingo, but the centre square also contains a number that needs to be called to complete a line.
The first line win can often be either vertical or horizontal, but after that they tend to be horizontal lines only. This does tend to differ if you are playing on any Scandinavian-based sites where they tend to play for the columns, more like 80 ball bingo.
---
80-Ball Bingo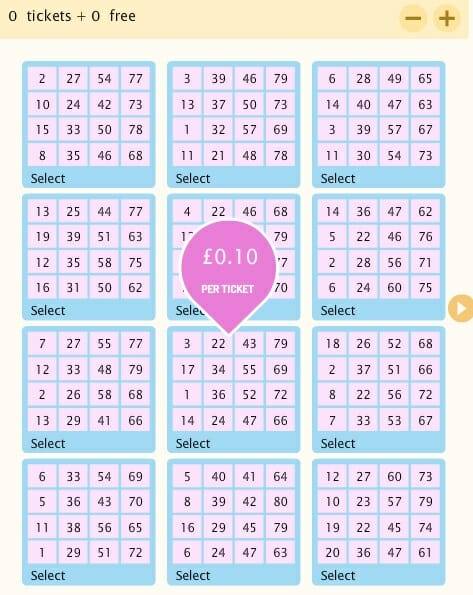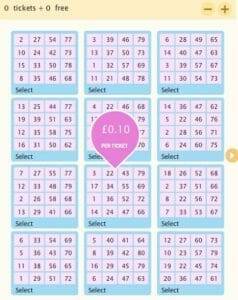 Many people will be familiar with this kind of bingo from the seaside amusement arcades as it is the style of bingo also often known as 'prize bingo'.

There are 4 rows and 4 columns, making 16 numbers in all – and sometimes each column is a particular colour, so the call is 'red 14' or 'white 66'. The columns are numbered 1 -20, 21-40, 41- 60 and 61 – 80.
There can be lots of ways to win ranging from 4 corner numbers, to a diagonal line across the board, a full column or a full line and then the full house.
---
50-Ball Bingo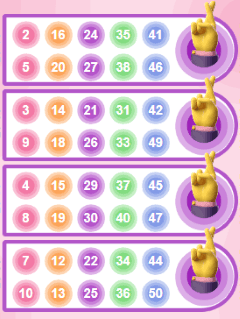 This is a more recent bingo variant to have come about and it can be played in different ways at different sites.
The simplest format is where there is a strip of 5 tickets, each with 10 numbers from 1 – 50. Each number only appears once.

Each ticket is made up of 2 lines of numbers with each column numbered 1 – 10, 11 – 20, 21 – 30, 31- 40 and 41 – 50.
Prizes are paid for one line and the full house
---
30-Ball Bingo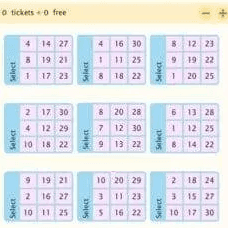 This can be quite a speedy game as it is a simple grid of 9 numbers in 3 x 3 square. The game is often played just for the full house.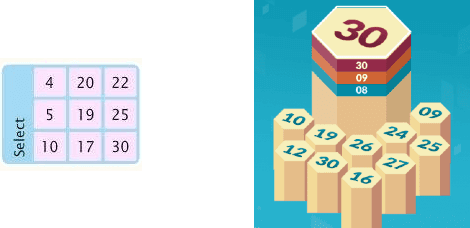 The columns are numbered 1 – 10, 11- 20 and 21 – 30.
Tickets might look a bit different too!
---
Which Bingo Game Is For Me?
The only way to find out the answer to that question is to have some fun trying them all. Some players love to chat, so the steady pace of a 90 ball game is perfect. 50 ball bingo can be exciting as a line can go very quickly and the whole thing can be over in just 21 numbers!
You might love the simplicity of a plain and simple 90 ball bingo game or you might like the creativity and extra features of the 40 ball bingo game that is Rainbow Riches Bingo.
The 90 ball feature games like Deal or No Deal and Coronation Street Bingo are well worth exploring, as those have additional features that add to the excitement. 80 ball bingo is a lot of fun and is growing in popularity all the time due to having so many ways to win.
On another level, it might be all about the prizes on offer and what you can win. If this is the case you will be looking for the busiest rooms that ensure the biggest prize pots.
The best advice is to find a bingo site that looks like it has plenty to offer and then go exploring. We suggest you try as many as you can at low stakes and low ticket numbers and find your favourite. Then come back to our review pages and tell us all about it.
Which Sites Have the Best Bingo Games
Find your favourite bingo game and then click the software name at the top of the table for more information and where to play.
Bingo Game Progressive Jackpots
When you play bingo online, you're likely to encounter all sorts of jackpots such as fixed, guaranteed, sliding, and progressive jackpots.
In this article, we aim to briefly explain what progressive bingo jackpots are, how they work, how you can win them, and where you can find them.
What are progressive jackpots?
Progressive bingo jackpots are offered in certain rooms at many of Britain's best bingo sites, and they typically feature much bigger prizes than those that are awarded for a full house, two lines, and one line.
This is because they're not awarded in every single game, so they have the chance to "progress" into much larger sums than fixed and guaranteed jackpots.
How are they funded?
Progressive jackpots start at a set amount such as £500, and once a day, the pot is topped up with a percentage of the previous day's ticket sales. Therefore, the more tickets that are sold, the bigger the jackpot becomes.
Sometimes, jackpots are site-exclusive, which means that only players at that particular site are eligible to win. Others may be shared across bingo networks which allows them to grow more quickly but also results in more players competing for them.
How much are they worth?
The size of progressive bingo jackpots can vary from room to room and site to site. But, as a general rule of thumb, their starting values can range from £10 to £1,000.
The most popular online bingo sites can offer more generous jackpots as they attract more players and, therefore, tend to sell more tickets than smaller brands.
How to win?
To win a progressive bingo jackpot, you must call a full house within a fixed number of calls (e.g. under 27), and these should be outlined in the game window of the bingo room that you're playing in.
Some progressives include a community jackpot feature, which means that the winner receives a proportion of the prize money while everyone else holding tickets for the winning game receives an equal share of the remainder.
Where to find them?
Progressive bingo jackpots can be found at many of the online bingo brands that you can read more about at WhichBingo.
They're particularly common at Dragonfish and Virtue Fusion sites, as well as the popular standalone brand, Tombola.
---
Bingo Chat Games
Chat games are not actual games of bingo, but games within the bingo rooms. A chat host is often present in a bingo room to keep things friendly and chatty and to answer any queries. Every now and again they will have some bonus funds to give away and to do this they run a chat game.
These can vary from being general knowledge questions to betting on which number ball will be called, but the important thing is that players love them as it gives them the chance to win something extra and adds extra interest to the chat rooms.
---
Bingo Game Schedules
At busy bingo sites, you will find a complete list of all the games of bingo to be played, the times, the stakes and the prizes. Often you will be able to pre-purchase tickets from the schedule list too.
Sometimes a bingo schedule is made available for the bigger promotional games with big prizes so everyone knows when the game will take place and to give them a chance to purchase plenty of tickets over a period of time.
Alternatively, if a schedule is available for a particular room all the time people may be on the lookout for when a particular jackpot feature might be about to pop or when a progressive jackpot has got to bursting point. A schedule means that it is possible to pre-buy tickets even if you can't stay on-site and actively play in the room.
---
Latest Bingo Games News
In Summary
Online bingo has come a long way in a short time and is constantly evolving. From the humble 90 ball game to fancy feature games and games licenced and built around popular TV programmes, the possibilities are endless.
No matter how long you stay at a bingo site, there is no reason to get bored thanks to the wide variety of games, both of the bingo and slots variety, now available and the good news is that the software developers are not finished yet and we are expecting even more versions of bingo to hit the sites soon. Be sure to come back and check out the new developments and in the meantime check out some of the huge range of games you can already play above.
bingo games faqs
How many bingo games are there in the UK? 
The most common bingo game in the UK is 90 ball bingo, both in bingo halls and at online bingo sites. New variants are being added all the time, but in early 2023 we estimate that there are ten different bingo games featuring numbers and lots more that can be classed as picture bingo. There are many different versions of these games and every bingo site has a varied lobby of bingo rooms for you to choose from.
What is the best bingo game to play?
90 ball bingo gives you three chances to win in every game – one line, two lines and the full house and is the most commonly available at every bingo site. In the end it will be down to personal preference.
How do you play online bingo?
To play online bingo you join a bingo site, make a deposit, choose a bingo room from the lobby, buy some tickets and then just sit back and watch the numbers being called as they will be marked off your tickets automatically. When there is a winner the game will highlight this and the game will end.
How many numbers are in a game of bingo? 
90 ball bingo is the most common, but in different variants can be 80, 75, 60, 52, 50, 40, 36 or 30.
Can you actually win money on online bingo? 
Every game of bingo advertises its total prize money before the game commences. Usually the prize is made up from a portion of the money spent on tickets by each player. Every single game produces one or more winners. Most games have cash prizes, but sometimes you will be playing in a bingo room that has slot spins or bingo tickets or bingo bonus as the prizes.
What are the odds of winning at online bingo? 
Every game offers different odds, but it must always be remembered that bingo is a game of chance and luck as it is based on a random number generator. The more cards you buy you more chance you have of winning as you have a larger spread of numbers across the cards you hold. The odds change with every other person that joins the game and buys tickets.
The famous saying in bingo is 'it only takes one ticket to win'.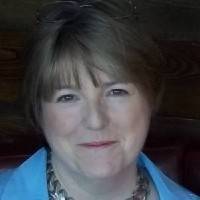 Author And Contributing Editor
Anita is a well-known bingo-lover and has been involved with online bingo since the late 1990's. She has been along for the ride and seen the industry grow and develop into what it is today. She has worked with the biggest names in the industry and has a reputation for being fair and to the point in her writing.