Using Debit Cards At UK Online Bingo Sites
Debit card payments have become increasingly important in online bingo since the use of credit cards to fund various types of gambling was banned in the United Kingdom in April 2020.
This change prompted many online bingo sites to review the way they manage payments and make sure that players can deposit and withdraw as quickly as possible using their debit cards.
We take a look at the types of debit card you can pay with, where you can use them, and the speed with which you can cash out.
FEATURED DEBIT CARDS BINGO AND CASINO SITES
Debit cards: the only universal payment method
While most online bingo sites offer various different payment methods, debit card payments are the only method accepted by all UK bingo sites.
As long as your debit card is linked to a UK bank account, you'll be able to deposit and withdraw at any bingo site, without having to worry about hidden bank charges or complicated administrative processes. This doesn't mean there won't be a fee by the site operator, even though these are rare. If you play at a Jumpman Gaming site you will be charged a fee for each withdrawal, regardless of payment method used.
When signing up at a bingo site or casino, you'll usually be required to submit your debit card details for verification purposes, and this again underlines the importance of a debit card to UK online bingo players for age verification at the very least.
Types of debit card accepted at UK online bingo sites
All four major types of debit card are accepted at most UK online bingo sites: Mastercard, Maestro, Visa, and Visa Electron.
Mastercard users should be aware that there have been problems reported by some players who struggled to make withdrawals to Mastercard when playing online bingo.
If you are using a Mastercard debit card to deposit or withdraw at an online bingo site, contacting the site's live chat or email support should provide you with confirmation of whether or not the site caters for Mastercard payments.
If you do choose to use your Visa debit card at your favourite online bingo site or casino, it is worthwhile checking out whether the site you play at has implemented Visa Direct.
What is Visa Direct?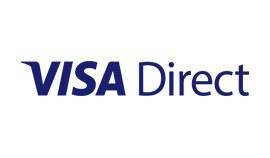 Visa Direct is not a separate payment method. Rather, it is a system that facilitates fast, convenient and secure push-payments. It is especially helpful for making peer-to-peer payments, i.e. you can send money directly from your debit card to another eligible Visa debit card in real time. Overall, Visa Direct offers a faster and simpler payment experience that makes funds available more quickly.
A number of UK online casinos and bingo sites now use Visa Direct to process payments. This means that if you use a Visa debit card or per-paid card to fund your account — and, more importantly, to make withdrawals — you should enjoy a faster and more efficient payment service.
This is because Visa Direct speeds up the payment process by sending payments directly to an eligible card, rather than via a central banking system — all that is required is the card number. This means that if you have a card from a provider aligned to the system, or you have registered your Visa debit or pre-paid card, withdrawals should be quicker (once they have been processed by the operator), and cash should reach your account faster.
Visa Direct benefits
Visa Direct also makes it easier and quicker to shop online, as your details are stored and so you don't need to enter them every time and go through the authentication process (similar to using PayPal Express Checkout).
Therefore, while Visa Direct isn't a discrete form of payment method and doesn't make it possible for UK players to use a credit card to fund a casino or bingo account, it is nevertheless worthwhile finding out whether your favourite site uses the system.
If so, it should mean that you are able to cash out more quickly, as well as enabling you to take advantage of a range of other features that make receiving and transferring money online or via your mobile phone a quicker and more secure experience.
Faster payments by debit card
One of the drawbacks of using debit cards to deposit and withdraw at online bingo sites has, historically, been the lengthy processing times involved.
Debit card users have become accustomed to having to wait between three and five working days for winnings to arrive in their bank accounts after playing online bingo, and this can detract from the excitement of one of the most important aspects of bingo – winning!
However, with many players prioritising debit cards as a payment method since credit card payments were banned, some sites are pioneering new developments to ensure payments to debit cards are made more quickly.
One of the frontrunners is tombola, which has updated its banking system to make Visa Debit withdrawals much quicker. Players at tombola are now making withdrawals by Visa Debit and receiving the payment in their accounts within just one or two hours!
Not far behind are the Gamesys operated sites incuding Jackpotjoy, Double Bubble Bingo, Virgin Games and Megaways Casino to name just a few. At these brands winnings paid to your account in less than three hours is the norm if you use debit card.
Meanwhile at Mecca Bingo, selected customers can receive payments from withdrawals within as little as two minutes thanks to arrangements the site has made with particular banks and payment services.
Players who are part of the Mecca Rewards programme who bank with Barclays, NatWest, HSBC, Nationwide, RBS, Marks & Spencer Financial Services, Cumberland Building Society, Contis Financial or Ulster Bank can all make super-quick withdrawals, and the site is hoping to expand its fast payments to other providers.
To find out which payment types are accepted at different bingo sites, check out our bingo sites by payment method guide.
Other Bingo Payment Methods