Using Trustly at online casinos
Updated November 21, 2023
Trustly is an online payment method that lets you make online purchases immediately through your bank account. Started in Sweden in 2008, Trustly quickly gained wide usage in Scandinavia and has a strong client base in Sweden, Denmark, Finland. Its services have expanded considerably since then and is also now available in 29 European countries, and of course the UK.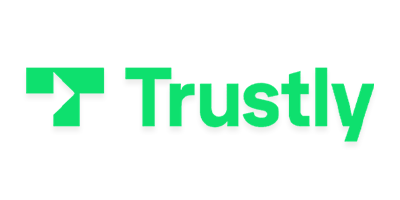 With Trustly, you can make secure and direct payments through your bank account. To use it, you will need to have an account with one of their partner banks. In the UK, this list includes Lloyds, Barclay, Natwest, HSBC, Royal Bank of Scotland Santander, and several more. When you check out, choose Trustly as your payment method and you will be led to the Trustly site from which you can select your bank and login with your regular banking credentials. Then you approve the transaction and the payment is instantly complete, unlike with normal bank payments that typically take 2 days. Think of it as an expedited gateway.
There are plenty of Trustly casinos and we've compiled a list of the best ones in terms of game selection, customer service and promotions.
FEATURED TRUSTLY BINGO AND CASINO SITES
The advantages and disadvantages of using Trustly
Pros:
Fast and secure –Unlike bank transfers that typically take 2 work days before the payment goes through, with Trustly your transaction will be completed in the blink of an eye. No waiting around and you can start playing immediately. All transactions are encrypted according to the state of the art technology.
No debit card necessary – For those of us who don't have a debit card, Trustly is a great way to make online payments because all you need is a bank account with online banking activated.
No registration – Since Trustly is more a gateway than e-wallet, you won't have to fill in any forms. Just select it on check out and enter your usual banking info.
Cons:
Requires account with a partner bank – In the UK, Trustly works with 14 banks at the time of writing, including all the major banks. However, given that there are literally hundreds of banks in the UK, this obviously does not cover every single possibility.
Only available at some countries – While there are lots of Trustly deposit casinos, there aren't nearly as many countries where Trustly is operating. For players not in the UK or Europe, Trustly is not an available option for now.
Banking with Trustly
Need more information about Trustly casinos? We have more details for you below.
Deposit and withdrawal times
Deposits are real time and instant. The moment you approve the transaction, your casino account will reflect that deposit and you can jump right in on the gaming action.
Withdrawal from a Trustly casino will depend on the specific casino, but usually it's quite quick. After you get through the pending period, which can be instant or up to 3 days at some casinos, you can receive your money via Trustly within 24 hours. There is no additional processing time unlike withdrawing to a debit card.
Ease of opening an account
You don't actually have to open account. Since Trustly acts as a gateway, it simply connects your existing bank account to the casino through an anonymous and encrypted process so that your banking information is never exposed to the casino. Just select Trustly when you make your payment, and you'll be done in about 3 clicks.
Fees structure
There are no fees associated with using Trustly. Some casinos do charge withdrawal fees, and in a few rare cases deposit fees. However, the casinos we recommend generally have no fees but it's best to check to avoid unpleasant surprises.
List of UK Banks Partnered with Trustly
There is a selection of banks in the UK that are partnered with Trustly and luckily most of the big name banks that are common amongst players are available to use:
Halifax
Royal Bank of Scotland
Lloyds Bank
Barclays
Nat West
The Co-Operative Bank
Santander
HSBC
Nationwide
TSB
Ulster Bank
Virgin Money
Metro Bank
Pay N Play Coverage
Trustly's Pay N Play complete solution was launched in 2015 and in a short space of time has over 200 bands offering this service to its players across the European market. With this solution, players are able to make deposits, be instantly verified and enjoy lightning-fast payouts. This makes the payment method process for players as friction-free as it possibly can be.
This system currently boasts a nearly 100% rate for its instant payouts and this is available for UK players 24/7.
Pay N Play is being constantly updated to create a fantastic user experience and players can look forward to the addition of new features and an improvement on payout coverage across the EU.
Our final thoughts
Trustly is a convenient payment method for players in Europe and the UK. You won't need to go out and buy vouchers, nor do you need a debit card. You will have to have a bank account at one of their partner banks, although they do work with all the major banks in the UK and Europe. Payments are instant, making online gaming the pleasure that it should be. You can use Trustly at the recommended casino sites we've listed on this page.
Other Bingo Payment Methods