Online Blackjack
Blackjack is the most popular gambling card game in the world, even more popular than poker. Its popularity stems from its simplicity and the fact that with correct play, a casino only has a tiny advantage over the player.
People in the UK may know 'blackjack' as pontoon, twenty-one or vingt-et-un. It was originally a French game that made its way over to the United States in the 1800s. Fledgeling casinos in the US would offer a bonus to the player during a game of 'vingt-et-un' if they were dealt any ace and the jack of spades or the jack of clubs, i.e. a black jack. The game began to become known as 'Blackjack' and the bonus was extended to any winning two card total of twenty-one.
In the UK you can play online blackjack at the vast majority of online casinos.
Best Blackjack Casino Sites
Online blackjack bonuses
Most online casinos will offer some kind of incentive in order to encourage players to sign up with them. These are a great way of at least trying out any online casino without having to risk any of your own money. Here are a few of the most common types of online blackjack casino bonuses that you may find.
Welcome bonuses
A welcome bonus is bonus money paid on your first deposit at a site. Most welcome bonuses are in the form of '100% bonus up to £100' with a minimum deposit. With such a bonus, if you were to deposit £50, then you would receive £50 in bonus cash. If you were to deposit £200 though you would only receive £100 in bonus cash, as the bonus is capped at £100.
The minimum for most welcome bonuses is £10, so if you deposit £5 you would not earn a bonus as that would not meet the threshold.
Bonuses are paid as 'bonus money', which is money that you cannot cash out. If you deposit £100, gain a £100 bonus and then expect to be able to withdraw £200, then you are going to be disappointed. You can only use your bonus money to place wagers (including playing online blackjack), although typically you can then withdraw any winnings you make … as long as you meet wagering requirements.
Wagering requirements are set by the online blackjack best casinos and are usually in the form of '40x deposit and bonus'. This means you have to place wager totalling forty times your deposit and bonus. In the example above you would need to wager (40 x (£100 deposit + £100 bonus)) = £8,000. This does not mean you have to spend £8,000 – you just have to wager it. For example, you could play 800 hands of blackjack at £10 per hand. You would not lose every hand and indeed there's a chance you may come out on top. No matter what happens, once you have completed your 800 hands you will now be able to withdraw your blackjack welcome bonus winnings.
Every welcome bonus offered by an online blackjack casino is different and has different T&Cs. Make sure you understand the terms of any bonus before you sign up and make a deposit.
Reload bonuses
A reload bonus is one that comes available once you have completed your welcome bonus at a casino that offers one. They work in exactly the same way as welcome bonuses, except that they are available while you are a regular player at the casino.
Not all sites offer reload bonuses. Some offer 2nd, 3rd and even 4th welcome reload bonuses, while others offer bonuses on a weekly or even on a daily basis.
Free / no deposit bonuses
A no deposit bonus – if offered – is available as soon as you have completed your registration at the site. They are the same as welcome bonuses except that you do not have to make a deposit to gain one – they are simply available in your bonus account once your registration is complete.
No deposit bonuses are typically for small amounts (usually for less than £10) and come with high wagering requirements (typically at least 80x the bonus amount).
VIP / high roller bonuses
High roller bonuses or VIP bonuses are usually only available to those willing to make a substantial first deposit, say in excess of £1,000. The wagering requirements are typically a little more friendly than welcome bonuses, because of the amount of cash involved.
Online casinos tend not to publicise their VIP/High Roller bonuses. If you want to see if an online blackjack casino will offer you one, you will need to contact the casino directly.
What to look for in an online blackjack site
Proper licensing and regulations
In the UK, ALL online casinos need to have a license issued to it by the United Kingdom Gambling Commission (UKGC). If you are in the UK and are thinking about joining an online casino, then you need to make 100 percent sure that it has a legitimate UKGC licence. If it doesn't, then you need to look for a better blackjack casino online.
If a site has a UKGC license then it has shown that it uses an independently-audited random number generator when it comes to its games. This makes sure that online games are virtually as random as the games played at real, bricks-and-mortar casinos.
A variety of blackjack games from different software platforms
Even if you are really only interested in playing one version of blackjack, you should always choose an online casino that has lots of different blackjack games. You never know, you might discover a different game that you find more interesting or a version of your favourite variant from a different provider. Some provider names to look out for are NetEnt, Microgaming and Playtech.
Bonuses with fair wagering requirements
The best online blackjack casinos will always offer decent bonuses, including both welcome and reload bonuses. Check the T&Cs of any bonus to make sure you are likely to come out on the positive side when you complete your wagering. Bonuses with wagering below 40x (deposit and bonus) and will no winnings caps are the kind of bonuses you need to look out for.
Blackjack variations
Classic blackjack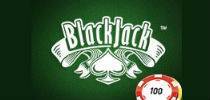 Classic blackjack is the game you are probably most familiar with. The aim of the game is to outscore the dealer without scoring over twenty-one. If you lose, you lose your stake, and if you win, you win back your stake and the same amount from the dealer. You will also be paid a bonus if you are dealt a blackjack.
Live blackjack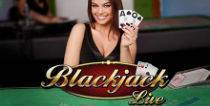 Live blackjack is available at all the best blackjack online casinos. Here, the cards are dealt not by the computer, but by a live dealer in a TV studio that is made up to look like a casino. You play by relaying your instructions via a software interface, and you can witness all the action via a live video feed. It the closest you can get to online blackjack live action without ever leaving the comfort of your own sofa!
Blackjack Switch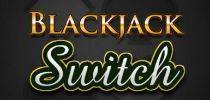 Blackjack Switch is a recent innovation to online casino blackjack. Here you are dealt two, two-card blackjack hands. If you wish you can double your stake in order to switch the second card of each hand to improve your chance of winning.
For example, say you are dealt 9-7 and 4-T – two bad hands. You can switch your hands around to make 9-T and 4-7 – two much better hands.
Pontoon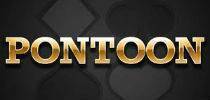 Pontoon is the English (UK) version of blackjack. The rules vary depending upon which version of pontoon you are playing, and some 'blackjack options' such as insurance, splitting and surrendering may not be available. You should though gain an advantage if you land a 'five card trick' (i.e. a hand containing at least five cards totalling twenty-one or under), which is something that's unheard of in blackjack.
Spanish 21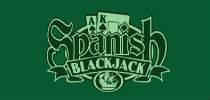 Spanish 21 is – as you might have guessed – a version of blackjack that is largely played in Spain.
There are several variations, all of which add extra rules to blackjack, and most to the player's advantage. For example in some versions of Spanish 21 a player scoring 21 always wins, while in others a hand of 7-7-7 or 6-7-8 wins an extra bonus.
Progressive blackjack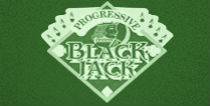 A progressive blackjack game at on online blackjack casino sets aside a small proportion of each bet made by all players playing it (usually across multiple casinos) in order to build a progressive jackpot.
That jackpot is then paid out upon a very rare circumstance, such as a player being dealt a special and extremely hard-to-find jackpot card during a game.
Multiplayer blackjack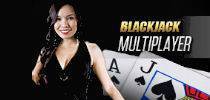 Multiplayer blackjack is simply a game of RNG-based blackjack where more than one player is allowed to play at the same table at the same time.
With some multiple player blackjack games, you yourself can take as many of the spots at such a table as you want.
The rules of blackjack
Basic rules
Play begins with two cards being dealt to the player face up, and two cards to the dealer, one face up and one face down. In some games the dealer will 'check for blackjack', and the hand will end if the dealer does have blackjack. The player loses his stake unless they too have blackjack which results in a tie or 'push'. If the hands are tied the player's stake is returned to him.
If the dealer does not have blackjack then the player must 'hit' (take another card) or 'stand' (take no more cards). This continues until the player decides to stand, or scores over twenty-one (goes 'bust').
Once the player stands and has not bust, then it is the dealer's turn to act. The dealer must keep dealing cards until they have a score of seventeen or more, or they bust. Note that the dealer must keep dealing cards until seventeen is reached, even if they have already outscored the player. This is to mimic play in real-world casinos where the dealer will be playing multiple hands at once.
The player loses his stake if the dealer beats him, or if he busts. He wins his stake back plus the same amount from the dealer if he outscores the dealer, or if the dealer busts.
Insurance
Insurance is a side bet against the dealer having blackjack. Insurance is offered if the dealer's face-up card is an ace. If you take insurance and the dealer does have blackjack, then you win back double your insurance stake, although you will likely lose your main stake. If you take insurance and the dealer doesn't have blackjack, then you lose your insurance side-bet stake.
Double down
If you have an inviting total after two cards, such as eleven. Then you can 'double down'. You double your initial stake, but after taking your next card you must then stand.
Split
If you are dealt a pair you can split them. You make another bet equal to your first for your new second hand, and you are dealt a new card to each original card, forming two hands. You then play each hand separately. Some online blackjack casinos will allow you to split hands that have already been split should a new pair arise, but most don't.
Surrender
Only available with certain blackjack variants. If you are dealt a total that you don't think has much of a chance of beating the dealer (say 12, 13, 14, 15 or 16) then you can surrender the hand by taking back half your stake and admitting defeat.
Different types of hands in blackjack
Hard hands
A hard hand is one where the hand can only be scored one way. For example, 9-7 is a hard hand, as is A-T-5. If A-T-5 was scored as 26, then it will have bust.
Soft hands
A soft hand is one where the hand can be scored in more than one way. For example, A-2-5 has a total of 8 (1+2+5) or 18 (11+2+5). This particular hand would be known as a 'soft 18'.
Real money blackjack
Is it possible to win real money playing online blackjack?
Blackjack is one of the best games to play at an online casino in the hope of winning money, as the house advantage is one of the lowest of all casino games. Some varieties have a house edge of less than 1 percent, compared to say, European roulette which has a house edge of 2.7 percent.
The house edge is the predicted amount that the house will win over an extended period of play. With a blackjack variant that has a house edge of 1 percent, if you begin with £100 then after a large number of hands you will have £99 left.
That is how the house edge works in theory but in reality, things tend to not work out that way. Blackjack is a very 'streaky' game in that as a player you are prone to both winning streaks and losing streaks. If you are lucky enough to experience a winning streak then you will end up on top. If you are unlucky then the reverse will happen.
The key is to enjoy your online blackjack casino time and to never gamble with money that you cannot afford to lose.
Is it safe to play for real money?
As explained previously, as long as you play at an online blackjack casino that has a UKGC licence, then your money is perfectly safe. You will be able to play as much as you like, safe in the knowledge that any winnings you make will be made available to you to withdraw without a quibble.
It is worth reiterating that you must always gamble responsibly. For example, if you have a bad run of luck then you should walk away from the table rather than deposit more money in the hope of winning back what you have lost.
What is RTP?
RTP stands for 'return-to-player'. This is the expected return to the player in terms of cash after an extended period of play. For example, a blackjack game with an RTP of 99 percent will, on average, return 99 percent of a player's stake to him after a few hundred hands have been played.
You should always play variations of blackjack that have high RTPs. For example, the version of blackjack created by Microgaming has an excellent RTP of 99.89 percent, while the game Blackjack Bonanza made by the same company has an RTP of only 94.50 percent.
What are table limits?
You cannot just bet everything you have at even the best online blackjack casinos. Each game will have a table limit, i.e. the maximum bet per hand that can be made.
The limit is to discourage 'double your bet if you lose' strategies such as the Martingale. Such systems will only work (and hence the casino would lose money) if tables had no limits. A player using the Martingale would also need a hefty bank balance too, in order to guarantee success.
Conclusion
Blackjack is unique as a casino game as (a) it's fun to play and (b) you can win real money while playing it, as long as you gamble responsibly. It's also a very strategic game, as you need to know exactly what to do upon any given situation if you want to maximise your chances of coming out on top.
With dozens of blackjack varieties out there and some tasty welcome bonuses, what are you waiting for? Sign up for one of the best online blackjack casinos today, and get your own blackjack career off the ground!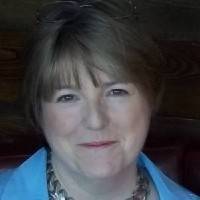 Author And Contributing Editor
Anita is a well-known bingo-lover and has been involved with online bingo since the late 1990's. She has been along for the ride and seen the industry grow and develop into what it is today. She has worked with the biggest names in the industry and has a reputation for being fair and to the point in her writing.