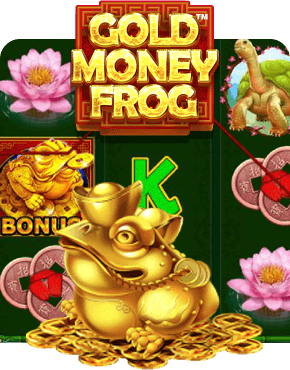 Gold Money Frog Slot Review
Once you have skinned an animal you can't really re-skin it, but you can reskin a slot and that's what many online slots software companies do. If you don't know what re-skinning is, it's where an online software company takes a slot, strips off all the graphics, music and sound effects and replaces them with new ones, then launches the slot as a brand-new game when in fact it's simply an old game wearing – if you like – new clothes.
Play Gold Money Frog at these suggested casinos
In some cases this can be a good thing as many decent games are forgotten before their time, so a re-skinning can bring them back to life. In other cases it's a bit of a cheat to allow an online slots company to say they are releasing a new game when they actually aren't.
Gold Money Frog by NetEnt is indeed a re-skinned version of a very old slot called Super Lucky Frog. Read on to see what we at WhichBingo think about this re-skinned NetEnt slot.
How to Play
Gold Money Frog is a typical online video slot with five reels, three rows, 25 fixed paylines and three progressive jackpots. All the symbols are Oriental-themed, as this slot has been re-skinned to appeal to the Asian market.
To get your bet together you need to select your coin size (from 0.01 to 0.50) and your bet level (from 1 to 4). As there are 25 paylines each spin costs 25 coins. Your total bet is your coin size multiplied by your bet level multiplied by 25. Payouts are paid as coins multiplied by bet size. Wins are achieved by landing three identical symbols in sequence on an active payline from the left-hand reel onwards.
The 'Wild' symbol is wild in this game and substitutes for all other symbols aside from the scatter and bonus symbols.
5 x Wild symbols = 7,500 coins x bet level (max £15,000)
5 x Gold Money Frog symbols = 500 coins x bet level (max £1,000)
5 x Gold Bat symbols = 500 coins x bet level (max £1,000)
5 x Blossom Bridge symbols = 250 coins x bet level (max £500)
5 x Kite symbols = 125 coins x bet level (max £250)
5 x Ace symbols = 100 coins x bet level (max £200)
5 x King symbols = 100 coins x bet level (max £200)
5 x Queen symbols = 75 coins x bet level (max £150)
5 x Jack symbols = 75 coins x bet level (max £150)
Jackpot
This game has three progressive jackpots:
Minor – seeds at £50
Major – seeds at £500
Super – seeds at £5,000
To win a progressive jackpot you need to earn the bonus game (see below). All players playing this slot across multiple casinos contribute towards all jackpots. All jackpots roll over until they are won at which point they are set back at their seeded levels.
Bonus Features
Scatters
Three lanterns act as the scatter symbol in this game. You need to land two anywhere to win a prize, or three or more to earn free spins. You win ten free spins for three scatters, twenty for four and thirty for five. During free spins all wins are trebled. Free spins can be re-triggered.
Bonus game
You are required to land three, four or five bonus game symbols on a payline in order to trigger the bonus game. The bonus wheel will appear, which is divided into a dozen sections. The wheel will start up automatically, and you can stop it by clicking the stop button. If you do not click the stop button after ten seconds the wheel will stop by itself.
The wheel is covered in coin values and jackpot symbols. If the wheel stops on a coin value, then you win that value and the bonus game ends. If the wheel stops on a jackpot symbol then you win that jackpot and the bonus game ends.
Graphics and Sounds
First up we must give a shout out to whomever composed or sourced the music for this game as it's quite lovely … almost hypnotic. We genuinely could listen to it for hours. The rest of the sounds fit in wonderfully with this slot's Asian theme.
The graphics are crystal clear and well up to NetEnt's usual standards. There is not much in the way of animation, but everything runs very smoothly, as we have come to expect of NetEnt's games.
Conclusion
You might not be able to reskin a rabbit, but NetEnt have proven that you can re-skin a frog, albeit a super lucky one. We would swear that this was a new game if we didn't already know otherwise. Yes, it's a bit simplistic but not everything has to be super complicated in the slotting realm!
Why not have a play with the Gold Money Frog at one of WhichBingo's recommended bingo, slots and casino sites?