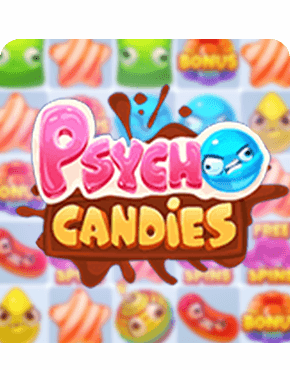 Psycho Candies Slot Review
The first thing you will notice about Psycho Candies is that it doesn't look like any slot you've ever seen before. Likewise, the gameplay is packed full of innovative features that take the action in a range of new directions.
Play Psycho Candies at these suggested casinos
Produced by g.games and first released in April 2020, Psycho Candies is a cluster based game where there are no paylines, and wins instead are paid when 4 or more matching symbols appear adjacent and touching horizontally or vertically (or a combination of both). g.games' casual games heritage is very evident in the design of the game, with its fairy tale comic book style, and it has a host of gamification features and bonus rounds that enhance the player engagement throughout.
You can explore the colourful, zany world of Psycho Candies at any of our featured UK slot sites.
How to Play
Psycho Candies is a 6 reel, 6 row cluster pays game where wins pay in clusters of 4+ matching symbols touching horizontally or vertically, and are multiples of the total bet. Wagers range in size from £0.10 to £20.
The game features cascading symbols where after a winning combination is hit, the symbols explode and new symbols cascade in from above to take their place, creating the potential for multiple wins from a single spin. A multiplier is applied to each cascade win, and increases 1x with each subsequent cascade win.
Multi-colour jelly symbol is the Bonus symbol
Hitting 4+ Bonus symbols triggers the Bonus Game
Bomb symbol can explode adjacent symbols to replace them with new ones
Hitting 4+ Bomb symbols applies a multiplier to any win caused by a Bomb explosion
Hitting 4+ Free Spins symbols triggers the Free Spins Bonus Round
Hitting 7+ star symbols = 2 x total bet (up to £40)
Hitting 7+ red jelly symbols = 3.5 x total bet (up to £70)
Hitting 7+ purple jelly symbols = 3.5 x total bet (up to £70)
Hitting 7+ blue jelly symbols = 5 x total bet (up to £100)
Hitting 7+ green jelly symbols = 5 x total bet (up to £100)
Hitting 7+ yellow jelly symbols = 10 x total bet (up to £200)
Jackpot
The maximum payout that can be won on Psycho Candies is 5,000x total bet (£100,000 when betting the max). This can be won from a combination of cascade wins, free spins and boss wheel payouts on a single spin.
Psycho Candies is a medium volatility slot with a 97.5% RTP.
Special features
Free Spin Bonus Round
The Free Spin Bonus Round is triggered by hitting 4+ Free Spins symbols. The number of spins awarded depends on how many Free Spin symbols activate the feature:
Hitting 4 Free Spins symbols = 12 free spins
Hitting 5 Free Spins symbols = 14 free spins
Hitting 6 Free Spins symbols = 18 free spins
Hitting 7+ Free Spins symbols = 22 free spins
You can also win access to the Free Spin Bonus Round as part of the Jackpot Wheel Feature.
Bonus Game
The Bonus Game is a pick and click games triggered by hitting 4+ Bonus symbols, with the number of picks determined by the number of Bonus symbols that activate the feature:
Hitting 4 Bonus symbols = 2 picks
Hitting 5 Bonus symbols = 3 picks
Hitting 6 Bonus symbols = 4 picks
Hitting 7+ Bonus symbols = 5 picks
The game is played on a separate screen where you are presented with a selection of jellies — you then click a jelly and it reveals a cash prize, with higher prizes available the greater the number of symbols that trigger the Bonus Game.
Bomb Symbol
Hitting 4+ Bomb symbols causes an explosion, with these any and adjacent symbols touching them also being destroyed.
Any symbols that are destroyed in an explosion count towards filling a cauldron, or can cause additional damage during the Boss Fighting Feature. They also apply a multiplier according to how many bomb symbols explode:
Hitting 7+ bomb symbols = 9x – 18x multiplier
Hitting 6 bomb symbols = 7x – 16x multiplier
Hitting 5 bomb symbols = 5x – 14x multiplier
Hitting 4 bomb symbols = 1x – 10x multiplier
Boss Fighting Feature
Above the reels are five coloured cauldrons — red, purple, blue, green and yellow —each of which shows a value. When you hit a winning combination featuring coloured jelly symbols, that number of symbols are moved to the corresponding cauldron. When the cauldron is full, the Boss Fighting Feature begins.
When the feature is in play, every winning combination reduces the power of the Boss (as indicated by a progress bar above the reels). When the bar is full, the Jackpot Wheel Feature is activated.
Jackpot Wheel Feature
Once triggered, a five-tier jackpot wheel appears. There are four cash payout levels — common, rare, epic and mythical — as well as free spins. The size of the prizes depends on which Boss Fighting Feature gives access to the Jackpot Wheel.
Graphics and Sounds
In terms of style and design, Psycho Candies is an unique game that looks unlike almost any other slot game, and overall it probably has more affinities with video games or social games in terms of the characters, colour scheme and symbols. The game is presided over by a girl reading a magic book, while the jelly symbols all have their own distinct designs and personalities, and the game is suffused with a gentle, even feminine, humour.
Another unusual feature of the game is that the reels don't spin in a conventional sense, but rather drop into place, and this also contributes to its unique look and feel.
Conclusion
This is undoubtedly a slot game that stands out from the crowd in terms of its theme, design and gameplay. Like many games in the g.games catalogue, it has a number of gamification features that take it beyond conventional slot gameplay, and so there is always something going on to keep players engaged.
Admittedly, this won't be to everyone's taste, as players who prefer more straightforward action may find the gamification features a distraction, but for those who want more from a slot game, there will be much to enjoy. Likewise, if you enjoy offbeat characters and stories, and slot games that have unconventional themes, then Psycho Candies is definitely a game that you will want to explore.
You can check out Psycho Candies and other slots in the g.games portfolio at our recommended UK slot sites.