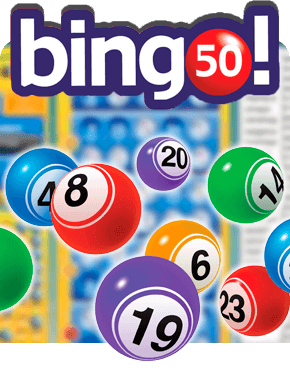 Bingo50 Review
Bingo50 gives you a choice of two chat rooms and tickets cost between 25p and £1. However, unlike some online bingo sites, Tombola allows you to choose your preferred ticket cost, and whether you opt for a modest or a larger stake, the prizes that you can win are always fair as they're directly tied to the value of your ticket.
Participating Rooms
Bingo50 room
Play Bingo50 at these suggested casinos
18+. Deposit from £10. First deposit only. Players are offered a 200% bonus on top of their first deposit up to a maximum of £25. The minimum first deposit is £10. For example, a player depositing £10 will receive £20 bonus money from tombola. A player depositing the maximum amount of £25 will receive £50 bonus money from tombola.Any winnings can be withdrawn. Bonus money cannot be withdrawn. T&Cs apply. Please play responsibly. begambleaware.org #AD
Where Bingo50 differs from other 50-ball bingo games that you might have played elsewhere is that the numbers float above your tickets instead of being fixed, and when you get a match, you get to pop the number instead of it being automatically dabbed which is really fun!
The room is also optimized for mobile devices, so wherever you go, you can always get a piece of the action.
How to play
To start playing Bingo50, you'll need to decide which of the two chat rooms you want to enter (Apple or Strawberry).
Once you've made your choice, you'll be given the option to buy tickets for the next game. You can purchase 25p, 50p, 75p or £1 tickets.
Each game gives you 5 tickets to try and complete.
Popping all the numbers in a line on any ticket gets you the one-line prize while popping every number on a single ticket gets you the full house.
The values of the one-line and full house prizes depend on how many players have bought tickets to the game. You'll also notice that smaller cash amounts are offered in 25p games than £1 games.
Jackpot
The Bingo50 room has its own fixed jackpot that can be won on top of the one-line and full house prizes.
To win the jackpot, you must complete the full house within 19 calls and 100% of the pot goes to the winning player (i.e. none of it is shared with the community). Plus, even if multiple players manage to claim the same jackpot, they each receive the full jackpot amount.
The value of the Bingo50 jackpot depends on how much you paid for your ticket:
25p = £250
50p = £500
75p = £750
£1 = £1,000
Graphics and Sounds
The Bingo50 room is hosted by a virtual male bingo caller who excitedly announces the numbers until it's time for him to shout "Bingooooo!" However, if you're not a fan of his dulcet tones, you can choose to mute him and look at the numbers that appear on the screen instead.
Each chat room always has a chat host who is there to answer any questions, keep the conversation flowing, and congratulate the winners. They also run occasional chat games that give you the chance to win BBs. You can type any comments or question that you have in the space below the chat window on the right-hand side.
The playing area sits on the left-hand side of the screen, and everyone has 5 tickets to mark. When you see a match between a number on your ticket and the number that's just been announced, all you need to do is pop it by clicking on it.
Conclusion
Bingo50 games are fun and fast to play, and we like how you get to determine how much you're prepared to spend on tickets. They also offer good value-for-money as your stake gets you 5 tickets rather than just 1.
There's also a generous jackpot to play for which offers between £250 and £1,000 depending on the ticket cost, and if you're not a fan of community jackpots, you'll love that the entire Bingo50 jackpot is paid to the lucky winner.
Bingo50 is exclusive to Tombola, so if you're eager to give it a try, you'll need to head over to Tombola. Don't worry if you've yet to sign up as, if you register today and make a deposit of at least £10, the site will reward you with a brilliant welcome bonus.
Members of Tombola also have the option to play in a myriad of exclusive bingo rooms like Pulse, Roller-Coaster, Bubble Bingo, Cinco, and Blocks!