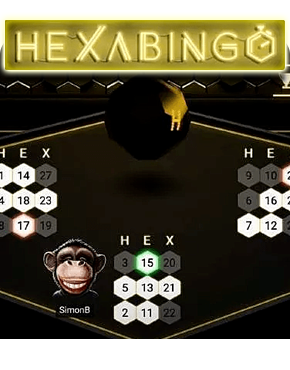 HexaBingo Review
The graphics and sounds work together seamlessly to create a tense game that does not drag on for an age. We simply do not think a 27-ball version of bingo could look or sound any better.
Jackpot
the maximum multiplier is 1,000x
Place your stake and choose your Avatar
Play HexaBingo at these suggested casinos
18+ | Please Gamble Responsibly | T&Cs Apply | begambleaware.org #AD
HexaBingo is a brand-new bingo game that has been created by the bingo experts at Relax Gaming for Unibet and Bingo.com. For the moment, it is only available at the popular sports betting site that has expanded over recent years to include casino games, online slots and of course, bingo and the dedicated bingo site that is Bingo.com.
HexaBingo is a bingo game that's completely unlike any other. For a start, instead of being shoved into a bingo room which could contain dozens or even hundreds of players, each round of HexaBingo has just three competitors. All players play until someone has obtained a single line on the 3×3 grid, at which point the lucky winner walks off with the cash prize offered at the start of the game.
How to Play
When you enter the HexaBingo arena you must first place your stake and choose your Avatar. Your stake can be anything from a minimum of 50p up to a maximum of £100. If you are the first player who wants to play for any specific stake, then you must wait until two other players join the arena who want to play for the same amount. If players are already in the arena waiting for a specific stake that you've just matched, then you will thrust into their game. Once three players are in the game, the HexaBingo entertainment begins.
The prize you are playing for is selected before play commences. A number of multiplied values from x2 to x1,000 the value of your stake will pop up and flash. Eventually, this will be reduced to just two, and then the prize amount will be settled. You know exactly how much you are playing for before the first ball drops!
The HexaBingo playing grid has twenty-seven numbers arranged in hexagons (hence, HexaBingo). Each player has allocated to them one-third of the grid, which means each player has a nine-number bingo card, three by three. Unusually for a bingo game, you can see the numbers on everyone's cards, so you can see who is the closest to marking off all the numbers on their card as the bingo balls drop.
As there are only twenty-seven numbers and every possible number must appear on someone's bingo card, play with HexaBingo is not only fast-paced, it is thrilling too, especially when you only need one number to complete your line and your opponents seem to be fast catching up with you!
Numbers are revealed by a slowing spinning ball filled with hexagons. First up you are shown a letter. This corresponds to one of three columns on your card – either H, E or X. The number is then revealed. If the turn of the ball could reveal a number that will complete a winning line for any of the players, then those potential numbers are highlighted. The ball also slows down and begins to jiggle about a bit when this happens, just to add to the tension.
If you are the first to complete any horizontal line on your card then congratulations, you are the winner! Your prize is added to your account and you are given the option to play all over again.
Jackpot
The maximum stake with HexaBingo is £100 and the maximum multiplier is 1,000x. This means that the highest amount you can win in one game is £100,000. Remember that no matter the size of the jackpot, one of the three players playing has to win it.
Special features
HexaBingo does not have anything in the way of special features.
Graphics and Sounds
We have to take our hats off to Relax Gaming as we do not see how this game could be rendered in any better way. The idea of showing a letter first before the number is revealed really does add an extra dimension of excitement to this game. With that one simple addition, you can instantly work out whether the next number drawn will win you the jackpot prize. This means you get a few nail-biting seconds of tension before the number is revealed.
The graphics and sounds work together seamlessly to create a tense game that does not drag on for an age. We simply do not think a 27-ball version of bingo could look or sound any better.
Conclusion
What is there to say? We think Relax Gaming has crafted a real winner here. We see new bingo variants all the time as software houses try and breath fresh life into the age-old game, but we haven't seen something as fresh and thrilling as HexaBingo for a long, long time. If you have a Unibet account we suggest you go give this unique bingo variant a try. If you've haven't, then you might want to seriously think about signing up for one!