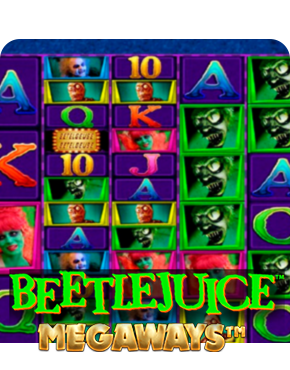 Beetlejuice
Volatility:
Medium to High
Beetlejuice is something of a surprise in the Barcrest slot games catalogue for two reasons — it is a themed slot, for which they are not renowned, and it's a Megaways game (the only Barcrest title to feature this mechanic).
Software provider
Barcrest
Play Beetlejuice at these suggested casinos
Based on the 1988 film of the same name directed by Tim Burton and starring Michael Keaton, Beetlejuice features authentic characters and music from the film, and the game's design successfully recreates Burton's unsettling world.
As it's a 248,832 ways to win Megaways slot, Beetlejuice has constantly changing gameplay along with a free spin bonus round with unlimited multipliers. The game offers a large range of wagers, from £0.10 to £500, and so is accessible to all.
This is a fast-paced, visually stunning game and we recommend it for anyone who loves the film or is a fan of Megaways slots. You can play Beetlejuice at any of our recommended UK online casinos.
How to play
Beetlejuice is a 5 reel Megaways slots offering up to 248,832 ways to win, where wins pay when you hit symbols on adjacent reels, starting with the far left reel. The minimum bet is £0.10, while the maximum wager is £500.
At the beginning of each spin, the top half of each reel is covered and inactive; however, after a win, the cascading reels feature kicks in. The top half of the reels then come into play, with symbols in the winning combination exploding to be replaced by other symbols that cascade down and take their place. This continues until there are no more winning combinations, potentially creating multiple wins from a single spin.
Each reel can show 2, 3 or 6 symbols; when the top half of each reel is in play, 4, 6 or 12 symbols can show on each reel.
WILD symbol substitutes for all other symbols except the Bonus and Ghost symbols
Betelgeuse symbol is the Bonus Scatter symbol
Hitting 3x or more Bonus Scatter symbols triggers the Free Spins feature
Ghost symbols will all randomly transform into another symbol (except Wild or Bonus)
Hitting 5x Beetlejuice character symbols = 5x total bet (up to £2,500)
Hitting 5x Lydia Deetzcharacter symbols = 2x total bet (up to £1,000)
Hitting 5x Snake character symbols = 1.6x total bet (up to £800)
Hitting 5x Miss Argentina character symbols = 1.2x total bet (up to £600)
Hitting 5x Shrunken Head character symbols = 0.8x total bet (up to £400)
Jackpot
The maximum jackpot available on Beetlejuice is capped at £250,000 (although as this is a 248,832 ways to win Megaways slot, it is theoretically possible to win 6,220.8 x your stake, or £3,110,400 when betting the max).
The game is a medium-high volatility slot, with RTP at 96%.
Special features
Free Spins Bonus Round
The Free Spins Bonus Round is triggered by hitting 3x, 4x or 5x Bonus Scatter symbols anywhere on the reels. Additional free spins can be won by hitting Bonus symbols when the bonus round is in play:
Hitting 3x Bonus symbols = 4 additional free spins
Hitting 4x Bonus symbols = 6 additional free spins
Hitting 5x Bonus symbols = 8 additional free spins
The multiplier is set at 1x at the beginning of the Free Spins Bonus Round, and increases by 1 after each winning combination cascade. There is no limit as to how high the multiplier can go.
Graphics and Sounds
This is a distinctive looking game, and in keeping with Tim Burton's film has some standout visual features. The most noticeable of these is that reels and symbols are in black and white at first but then burst into bright and vibrant colours when a win is hit and the cascading reels kick in.
The symbols are characters from the film, including Beetlejuice, Lydia Deetz, Shrunken Head, Miss Argentina and Snake, and they move from B&W to colour after a win as well. The soundtrack features music from the film, written and arranged by Danny Elfman, and successfully recreates the atmosphere of the original.
Conclusion
This is a slot likely to appeal to two groups of players — those who enjoy the films of Tim Burton and Beetlejuice in particular, and fans of Megaways slot games. The visuals and music are impressive and recreate the film's look and feel very well, and it is good to welcome back these popular characters into our lives. In terms of gaming action, like all Megaways slots, Beetlejuice offers fast-moving, ever-changing gameplay, which is made more lucrative by the inclusion of a free spins bonus round with potentially unlimited multipliers.
This game represents something of a departure for Barcrest, so for this reason alone, it's worth checking out. You can play Beetlejuice at any of our recommended UK slots sites.